Global Food Texturizers Market is estimated to reach USD 12.3 billion by 2026, growing at a CAGR of 5.7 % between 2018 and 2026
The global food texturizers market is valued at USD 9.6 billion in 2016 and is expected to reach USD 12.3 billion by the end of 2026, growing at a CAGR of 5.7 % between 2017 and 2025. Texturizers are ingredients used to improve texture and stability in food, which help them maintain their structure while providing a creamy feeling in the mouth. Texturizers are used to improve the consumer experience adding a variety of characteristics to food, such as consistency, mouthfeel, crunchy, chewy and taste. They are used alone or in a blend to improve the properties of the end-product, providing a stable structure to the food and increasing its shelf-life.
Gelatin, pectin, guar gum, carrageenan, xanthan gum, and whey are some of the common food texturizers found in food industry. Food are used in foods like frozen desserts, dairy products, cakes, pudding and gelatin mixes, dressings, jams and jellies, beverages, chewing gum and sauces. Food texture analysis provides quality improvement opportunities throughout the supply chain and the production process. The increasing demand from consumer for healthier and natural finished products with minimum sugar and fat having improved taste is driving food texturizers market.
North America is the largest food texturizers market followed by Europe and Asia-Pacific. North America and Europe are largest market due to well established food processing industries and supply chain. Asia Pacific is anticipated to witness an exponential during the forecast period due to its flourishing economy. Increasing urbanization and industrialization with busy lifestyle, rapid increase in convenience foods consumption, increased purchasing power and growing health awareness are increasing demand for processed foods which is boosting global food texturizers market.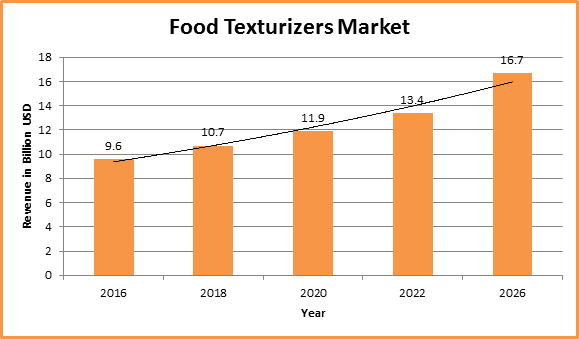 Food Texturizers Market : Product Type
Cellulose Derivatives
Algae Extract
Starch
Dextrins
Inulin
Food Texturizers Market : Application
Dairy Products & Ice Creams
Confectionery
Bakery
Beverage
Meat Products
Global Food Texturizers Market: Competitive Analysis
Report includes accurate analysis of key players with Market Value, Company profile, SWOT analysis. The Study constitutes of following key players in Global Food Texturizers Market:

Cargill
E.I. Dupont
Royal DSM
Archer Daniels Midland
Kerry Group
Naturex
FMC Corporation
Estelle Chemicals
Lonza Group
Taiyo Kagaku
Fiberstar
Tate & Lyle
Penford Corporation
Fuerst Day Lawson
Ingredion
Tic Gums
Puratos Group
Riken Vitamin
Premium Ingredients
Geographical analysis of Food Texturizers Market:
North America
Europe

France
Germany
Spain
UK
Rest of Europe

Asia Pacific

China
Japan
India
South East Asia

Latin America
Middle East and Africa
Food Texturizers Market Report delivers comprehensive analysis of :
Market Forecast for 2018-26
Market growth drivers
Challenges and Opportunities
Emerging and Current market trends
Market player Capacity, Production, Revenue (Value)
Supply (Production), Consumption, Export, Import analysis
End user/application Analysis
---
Food Texturizers Market was valued at around USD million in 2021 & estimated to reach USD by 2028.
Food Texturizers Market is likely to grow at compounded annual growth rate (CAGR) of % between 2022 to 2028.
Yes, the report includes COVID 19 impact on the market.