The global argan oil market is valued at USD 434.6 million in 2016 and is expected to reach USD 3280.2 million by the end of 2026, growing at a CAGR of 22.4 % between 2016 and 2026. Argan Oil also known as Oil of Morocco or 'Liquid Gold'. Argan Oil remains one of the rarest oils in the world due to the small and very specific growing areas. Argan oil is an organic product extracted from the kernels of the argan tree, which grows in South Western Morocco. Its properties make it particularly beneficial for the hair and skin, which makes it a popular cosmetic choice for many celebrities.
Argan Oil is extremely rich in beneficial nutrients including fatty acids and vitamin E as well as vital antioxidants, phenols, carotenes and squalene. It has astonishing moisturising and conditioning properties that assist in keeping hair and skin feeling nourished and hydrated. Argan oil has huge demands from cosmetics, food, and medical industry. The cosmetics segment accounted for the largest market share in 2016. R&D investments and technological advancements in the area of processing argan oil have been the key factors responsible for driving industry growth over the past few years.
Argon oil used in skin moisturizer, hair conditioner, sleek and shine styling, anti-aging, dry skin conditions, acne, protection and healing, pregnancy, foot, hand and nail treatment, lip moisturizer. Some of the most important health benefits of argan oil include its ability to speed wound healing, moisturize the skin, slow aging, lower cholesterol, treat cancer, improve hair health, optimize digestion, reduce inflammation, protect the liver, manage diabetes, strengthen the nails, and boost heart health. High-cost of argan oil is acting as a barrier in the growth of this market as its high cost limits its selection among purchasers. The widening of distribution channels has made these products readily available to the consumer.
Europe is the largest argan oil market both in terms of volume and revenue in 2016 followed by North America. Europe will remain dominant in the global market for argan oil, with sales projected to register the fastest expansion through 2022. North America is estimated to remain the second most lucrative market for argan oil. Growing disposable income, demand for branded luxury cosmetics, and preference for organic ingredients is anticipated to augment growth. Increasing application scope in medical and food industries is likely to drive demand over the forecast period.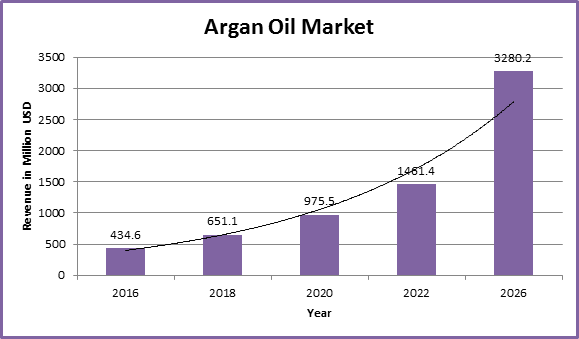 Argan Oil Market : Product Type
Cosmetic Argan Oil
Culinary Argan Oil
Argan Oil Market : Application
Argan Oil Market : Company Analysis
OLVEA Morocco
Zineglobe
Biopur
Nadifi Argan
Argania
ARGANisme Cosmetics
Brenntag Specialities
Aura Cacia
Sidi Yassine
OLVEA Group
Argan Oils
Simply Agadir
Argan Export Company
Purus
Melvita
Babybliss Pro
John Masters
Geographical analysis of Argan Oil Market:
United States
Europe
China
Japan
Southeast Asia
India
Argan Oil Market Report delivers comprehensive analysis of :
Market Forecast for 2018-26
Market growth drivers
Challenges and Opportunities
Emerging and Current Market trends
Market player Capacity, Production, Revenue (Value)
Supply (Production), Consumption, Export, Import analysis
End user/application Analysis
---
Argan Oil Market was valued at around USD million in 2021 & estimated to reach USD by 2028.
Argan Oil Market is likely to grow at compounded annual growth rate (CAGR) of % between 2022 to 2028.
Yes, the report includes COVID 19 impact on the market.