The global food intolerance products market is valued at USD 8.2 billion in 2016 and is expected to reach USD 17.2 billion by the end of 2026, growing at a CAGR of 7.7% between 2016 and 2026. Food intolerance is difficulty digesting certain foods and having an unpleasant physical reaction to them. Food Intolerance is caused when the digestive system is unable to completely break down food into smaller components due to insufficient amount of enzymes produced. Food intolerance causes symptoms, such as stomach pain, bloating, headaches, nausea, diarrhea, runny nose, skin rashes and itching which usually come on a few hours after consuming the food.
Food intolerance and food allergy are two different things and are completely different from each other. Food allergy is caused by a response of the immune system against food proteins while food intolerance is not food poisoning. Food intolerance doesn't involve your immune system and there is no allergic reaction. Food intolerance is not life threatening either. There are no tests for food intolerances. The only way to know if you have one is to monitor your symptoms and the food you eat. The easiest test for food intolerance is to remove the food from diet for at least two weeks. If symptoms improve then try reintroducing the food (one by one). If symptoms return, then food intolerance is present.
North America is the largest market size for food intolerance product market both in terms of volume and revenue in 2016 due to high production and consumption capacity of the region. Asia Pacific is anticipated to witness an exponential during the forecast period. The number of people having food intolerance has risen dramatically over recent years. Food intolerances are now extremely common and seem to be on the rise. In fact, it is estimated that up to 20% of the world's population may have food intolerance. This will drive the global food intolerance product market rapidly. Food intolerances can be hard to diagnose due to their wide range of symptoms.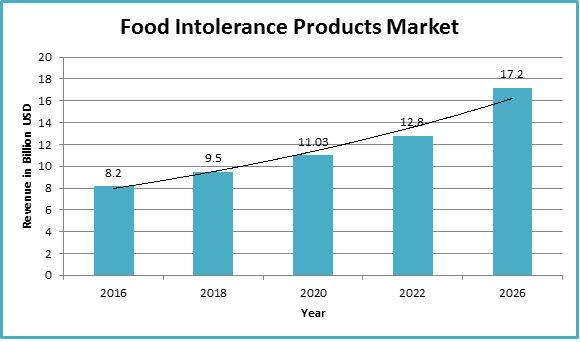 Food Intolerance Products Market : Product Type
Diabetic Food
Gluten-Free Food
Lactose-Free Food
Food Intolerance Products Market : Application
Supermarkets and Hypermarkets
Convenience Stores
Specialist Retailers
Online Stores
Food Intolerance Products Market : Company Analysis
The Kraft Heinz (US)
Nestle (Switzerland)
Danone (France)
Kellogg (US)
General Mills (US)
The Hain Celestial Group (US)
Doves Farm Foods (UK)
Dr Schar UK (UK)
Amy's Kitchen (US)
Pamela's Products (US)
Roma Food Products (US)
Gluten Free Foods (UK)
Glutino Food Group (Canada)
Green Valley Organics (US)
Nature's Path Foods (US)
Galaxy Nutritional Foods (US)
Alpro UK (UK)
Barry Callebaut (Switzerland)
Daiya Foods (Canada)
Sweet William (Australia)
Geographical analysis of Food Intolerance Products Market:
North America
Europe
China
Japan
Southeast Asia
India
Food Intolerance Products Market Report delivers comprehensive analysis of :
Market Forecast for 2018-26
Market growth drivers
Challenges and Opportunities
Emerging and Current Market trends
Market player Capacity, Production, Revenue (Value)
Supply (Production), Consumption, Export, Import analysis
End user/application Analysis
---
Food Intolerance Products Market was valued at around USD million in 2021 & estimated to reach USD by 2028.
Food Intolerance Products Market is likely to grow at compounded annual growth rate (CAGR) of % between 2022 to 2028.
Yes, the report includes COVID 19 impact on the market.