The global D-Mannose is valued at USD 676.3 million in 2016 and is expected to reach USD 1030.3 million by the end of 2026, growing at a CAGR of 4.3% between 2018-26.
D-Mannose is a kind of sugar that is found in many fruits. It is related to glucose. It also occurs naturally in some cells in the human body. D-Mannose is also known as carubinose, d-manosa, mannose and seminose. Several fruits and vegetables contain D-Mannose. Some of them are cranberries (and cranberry juice), apples, oranges, peaches, broccoli and green beans. D-Mannose is primarily used for preventing urinary tract infections (UTIs) and treating carbohydrate-deficient glycoprotein syndrome which is an inherited metabolic disorder. It is mainly filtered through the kidneys and flushed out of the body.
D-Mannose market is segmented into powder, tablet and capsule by form type. The capsule segment is accounted for the largest market share of global D-Mannose market and is anticipated to grow at highest CAGR during the forecast period. Tablets and powder segment is mainly growing due to consumer convenience and relatively better absorption. By grade type this market is segmented into food grade and pharmaceutical grade. Food grade is expected to lead the overall market in the forecast period due to rising demand for natural, and non-GMO products.
North America is the largest D-Mannose market followed by Europe in 2016 and is expected to collectively accounted for more than 50% share in the global market in 2025 in terms of volume. However, Asia Pacific is expected to grow at highest CAGR during forecast period and will emerge as the largest D-Mannose market by 2025. Asia Pacific is emerging as a largest market player for manufacturers as gradual growth of the nutraceuticals and animal feed industrial base in Asia Pacific region has a positive influence on the growth of the market.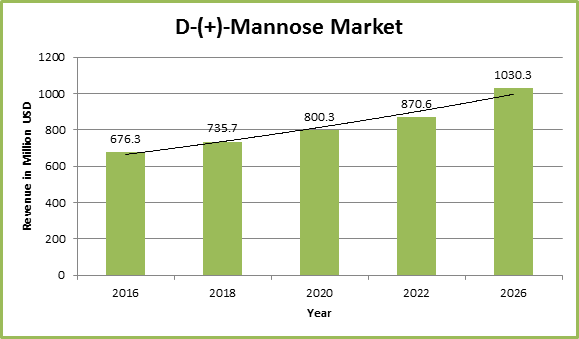 D-Mannose Market : Grade Type
Food Grade
Pharmaceutical Grade
D-Mannose Market : Form Type
D-Mannose Market : Application
Food Additives
Anti-inflammatory
Dietary Supplement
Global D-Mannose Market: Competitive Analysis
Report includes accurate analysis of key players with Market Value, Company profile, SWOT analysis. The Study constitutes of following key players in Global D-Mannose Market:
Danisco(Dupont)
Naturesupplies
Douglas Laboratories
Sweet Cures
Hebei Huaxu
Huachang
Hubei Widely
Specom Biochemical
Amresco LLC
Ferro Pfanstiehl Laboratories, Inc
Hanseler AG
Kyowa Hakko Kirin Co Ltd
Jarrow Formulas Inc
Geographical analysis of D-Mannose Market :
North America
Europe

France
Germany
Spain
UK
Rest of Europe

Asia Pacific

China
Japan
India
South East Asia

Latin America
Middle East and Africa
D-Mannose Market Report delivers comprehensive analysis of :
Market Forecast for 2018-26
Market growth drivers
Challenges and Opportunities
Emerging and Current market trends
Market player Capacity, Production, Revenue (Value)
Supply (Production), Consumption, Export, Import analysis
End user/application Analysis
---
D-Mannose Market was valued at around USD million in 2021 & estimated to reach USD by 2028.
D-Mannose Market is likely to grow at compounded annual growth rate (CAGR) of % between 2022 to 2028.
Yes, the report includes COVID 19 impact on the market.