The global agricultural enzymes market is valued at USD 260.7 million in 2016 and is expected to reach USD 622.8 million by the end of 2026, growing at a CAGR of 9.1% between 2016 and 2026.
Agricultural enzymes unlock the soil to release nutrients. Agricultural enzymes are the necessary bioactive proteins in preserving soil health and its environment. Enzymes is natural nutrient for the soil. With the help of agricultural enzymes, fruits and vegetables not only increases but they also grows well. The growth period of vegetable is shortened and the vegetable is sweeter and bigger. Thus, agricultural enzymes help in improving fertility, crop protection, and plant growth regulation.
Agricultural industry faces pressure to produce more than ever before crops with least damage to environment. According to UN researchers, Demand for agricultural output is projected to grow by at least 70% by 2050. Thus, agricultural enzymes provide unique solutions that bring the industry closer to this goal. The uses of agricultural enzymes in arable agriculture especially in the processing of some major crops and in waste disposal systems are areas which have not been fully investigated. The uncertain regulatory environment regulations, such as integrated pest management (IPM) may hamper the growth of the market.
Increasing population and growing demand for organic food as people's increasing awareness towards hazardous properties of pesticides and other chemicals used in agricultural have raised the demand for agricultural enzymes which is driving agricultural enzymes market. Also, increasing export of organic food across the globe is giving boost to this market. The implementation of the latest technologies and huge investment in research and development by major players along with cost efficiency is further boosting the growth of global agricultural enzymes market.
North America is the largest Agricultural Enzymes Market in 2016 followed by Europe due to high level of awareness pertaining to the benefits of organic food, high adoption of latest agro biotechnology, technological advancements in agricultural enzymes market. Asia Pacific is expected to register double digit growth over the forecast period due to the high-untapped opportunities, increasing urbanization, supportive government initiatives and increasing investments by manufacturers especially in China and India. Rising focus on agriculture biotechnology and environment-friendly agricultural practices will continue to grow this market during forecast period.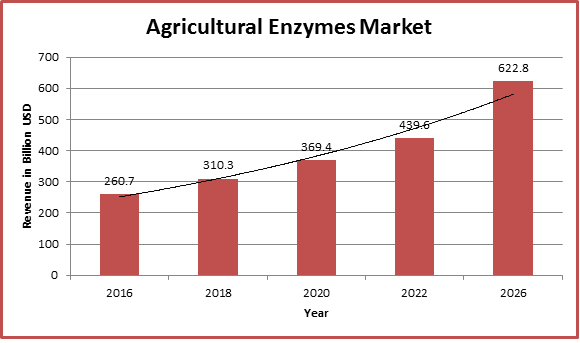 Agricultural Enzymes Market : Product Type
Carbohydrases
Proteases
Lipases
Polymerases & Nucleases
Agricultural Enzymes Market : Application
Fertility products
Growth-enhancing products
Control products
Agricultural Enzymes Market : Company Analysis
Novozymes
Stoller
Agri Life
Deepak Fertilizers and Petrochemicals Corporation Ltd. (DFPCL)
Bioworks
Greenmax Agro Tech
Syngenta
Camson Bio Technologies
Aries Agro
Agrinos
Geographical analysis of Agricultural Enzymes Market:
North America
Europe
China
Japan
Southeast Asia
India
Agricultural Enzymes Market Report delivers comprehensive analysis of :
Market Forecast for 2018-26
Market growth drivers
Challenges and Opportunities
Emerging and Current Market trends
Market player Capacity, Production, Revenue (Value)
Supply (Production), Consumption, Export, Import analysis
End user/application Analysis
---
Agricultural Enzymes Market was valued at around USD million in 2021 & estimated to reach USD by 2028.
Agricultural Enzymes Market is likely to grow at compounded annual growth rate (CAGR) of % between 2022 to 2028.
Yes, the report includes COVID 19 impact on the market.