The Walnut furniture is handy, elegant and extremely versatile furniture and its 'simple and sober' look makes it a great choice for almost any item of furniture a person wants. Walnut furniture is one of the most popular types of wood because of its phenomenal traditional and sophisticated appearance. It is a great choice for a wide range of interior design styles as it is easy to maintain and durable. The grain of walnut wood is characteristically straight, and many favour this uniform look in their furniture. The straight grain retains that traditional look and feel but with a 'neater' appearance to it. In fact, the striking appearance of walnut makes it a very popular choice as a veneer for other types of wood furniture where a solid walnut piece is out of budget.
The Global Walnut Furniture Sales market is projected to make a significant growth in the forecasted period due to increase in the demand of the furniture in the market. Today, everyone wants their house or office to look phenomenal which brings the interior designing market into the action and many of the designers suggests about the walnut furniture items which is increasing the demand of the walnut furniture in the market. There are many characteristics of walnut wood which are the reasons behind the growth of the Global Walnut Furniture Sales market. One of the important characteristic of Walnut furniture is it is very resilient to the environmental changes. Unlike other woods, it doesn't shrink or swell easily due to the rise in humidity which makes it more demandable in the market. Moreover, increase in population is further increasing the building of more housing societies which is resulting in increase in the demand of furniture.
The study covers detail analysis, growth and forecast of the Walnut Furniture Market. The report includes market analysis on global and regional level. The study covers historical data analysis from 2014 to 2017 and market forecast for 2019 to 2027 based on revenue generated. The study includes market value in terms of revenue in million USD for years 2014-27 and compound annual growth rate (CAGR) in % for from 2019-2027. The market is expected to show constant growth between 2019-2027. Global Walnut Furniture Market is estimated to reach USD 11616.55 million by 2027 with CAGR of 5.6 % between 2019 to 2027.
.The report comprises value chain analysis for each of the product segments. Value chain analysis offers in depth information about value addition at each stage. The study includes drivers and restraints for Walnut Furniture Market along with their impact on demand during the forecast period. The study also provides key market indicators affecting the growth of the market. Research report includes major player analysis with shares of each player inside market, growth rate and market attractiveness in different end users/regions. Our study Walnut Furniture Market helps user to make precise decision in order to expand their market presence and increase market share.
The report provides Walnut Furniture Market Dynamics ,includes industry growth drivers, challenges, opportunities , risk, constraints as well as threats .Reports also includes Manufacturing Cost Analysis mainly included Raw Materials Analysis, Price Trend of product, Mergers & Acquisitions, Expansion, Key Suppliers of product, Concentration Rate of Walnut Furniture Market, Manufacturing Process Analysis. Research Report contains Market Effect Factors analysis mainly included Technology Progress, Consumer Needs Trend, External Environmental Change.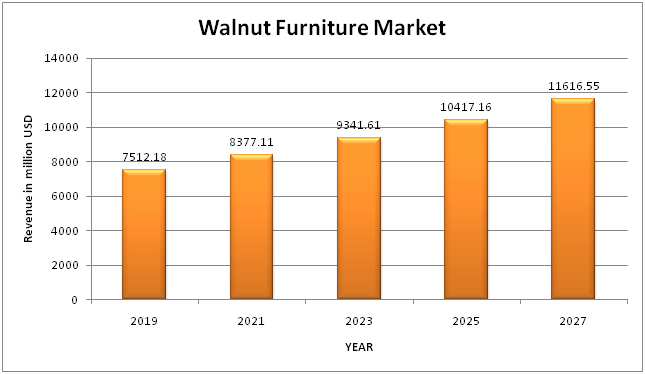 Walnut Furniture Market: Product Type
Walnut Furniture Market: Application
Home
Office
Commercial
Others
Walnut Furniture Market: Competitive Analysis
Report includes accurate analysis of key players with Market Value, Company profile, SWOT analysis. The Study constitutes of following key players in Walnut Furniture Market:

Bernhardt Furniture Company
Hartmann
Simex
Evrika
LUGI
Dizozols
VOGLAUER
Novart
Team 7
VinderupTraindustri
Ultimo Interiors
Wiemann UK
Spin Valisd.d.
Geographical analysis of Walnut Furniture Market:
North America
Europe

France
Germany
Spain
UK
Rest of Europe

Asia Pacific

China
Japan
India
South East Asia

Latin America
Middle East and Africa
Walnut Furniture Market Report delivers comprehensive analysis of :
Market Forecast for 2019-27
Market growth drivers
Challenges and Opportunities
Emerging and Current market trends
Market player Capacity, Production, Revenue (Value)
Supply (Production), Consumption, Export, Import analysis
End user/application Analysis
---
Walnut furniture market was valued at around USD 8377.11 million in 2021 & estimated to reach USD 12267.09266 by 2028.
Walnut furniture market is likely to grow at compounded annual growth rate (CAGR) of 5.6% between 2022 to 2028.
Yes, the report includes COVID 19 impact on the market.