The thread is a firmly twisted ply of two or more yarn. The yarn is made by whirling cotton, raw wool fibers, linen, or other materials. Sewing thread is used to stitch/sew fabric to other products. There are three basic types of thread based on their origin—animal, plant, and synthetic. Cotton thread is made up of cellulose from plants and is used to stitch fabrics like rayon, linen, etc. Cotton threads lack elasticity and have shrinkage characteristics, and hence are used in woven fabrics. Cotton is also used to make a basting thread.
The flourishing apparel and footwear industries are driving the global sewing thread market growth. The rising demand for apparel widely depends on increasing disposable income and economic conditions of a region. An increasing number of consumers are buying more garments at lower prices in both developed countries and developing economies, which is also propelling the global sewing thread industry. The significantly high production of affordable apparel globally is anticipated to further fuel the sewing thread market in the future.
The study covers detail analysis, growth and forecast of the Synthetic Sewing Thread Market. The report includes market analysis on global and regional level. The study covers historical data analysis from 2014 to 2017 and market forecast for 2019 to 2027 based on revenue generated. The study includes market value in terms of revenue in billion USD for years 2014-27 and compound annual growth rate (CAGR) in % for from 2019-2027. The market is expected to show constant growth between 2019-2027.
The report comprises value chain analysis for each of the product segments. Value chain analysis offers in depth information about value addition at each stage. The study includes drivers and restraints for Synthetic Sewing Thread Market along with their impact on demand during the forecast period. The study also provides key market indicators affecting the growth of the market. Research report includes major player analysis with shares of each player inside market, growth rate and market attractiveness in different end users/regions. Our study Synthetic Sewing Thread Market helps user to make precise decision in order to expand their market presence and increase market share.
The report provides Synthetic Sewing Thread Market Dynamics ,includes industry growth drivers, challenges, opportunities , risk, constraints as well as threats .Reports also includes Manufacturing Cost Analysis mainly included Raw Materials Analysis, Price Trend of product, Mergers & Acquisitions, Expansion, Key Suppliers of product, Concentration Rate of Synthetic Sewing Thread Market, Manufacturing Process Analysis. Research Report contains Market Effect Factors analysis mainly included Technology Progress, Consumer Needs Trend, External Environmental Change.
The major countries in the Asia Pacific sewing thread market are India, Japan, China, Indonesia, and Korea. The presence of top textile producing countries in the region, such as India and China, is responsible for the sewing thread market growth in the Asia Pacific. China dominated the production and export of textiles across the world in 2017,Textile is the second largest sector that provides employment in most developing and under-developing countries in the region. Huge investments for advancements and invention in the textile industry and the presence of textile exporter countries, such as Bangladesh, will further boost the sewing thread market in the Asia Pacific.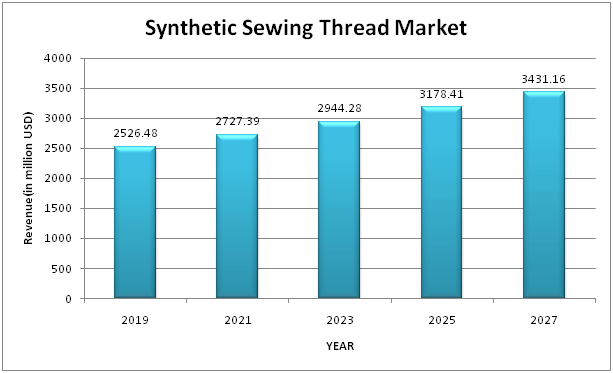 Synthetic Sewing Thread Market: Product Type
Polyester
Nylon
Vinylon
Acrylic
Rayon
Others
Synthetic Sewing Thread Market : Application
Synthetic Sewing Thread Market: Competitive Analysis
Report includes accurate analysis of key players with Market Value, Company profile, SWOT analysis. The Study constitutes of following key players in Synthetic Sewing Thread Market:

FUJIX
Coast Industrial
3M
Amann
A&E
Superior Threads
Onuki Limited
Durak
Cansew
Threads India Limited
RIO
Hujianggroup
Hmei Thread
Ningbo Veken
Ningbo MH Group
Huarui (China)
YiwuMingrongXianye
Sujata Synthetics Ltd
Shun Mark
Taizhou Gingko WeavCo.,Ltd
Innovation (Zhangjiagang) Sewing Thread Co. Ltd
Geographical analysis of Synthetic Sewing Thread Market:
North America
Europe

France
Germany
Spain
UK
Rest of Europe

Asia Pacific

China
Japan
India
South East Asia

Latin America
Middle East and Africa
Synthetic Sewing Thread Market Report delivers comprehensive analysis of :
Market Forecast for 2019-27
Market growth drivers
Challenges and Opportunities
Emerging and Current market trends
Market player Capacity, Production, Revenue (Value)
Supply (Production), Consumption, Export, Import analysis
End user/application Analysis
---
Synthetic Sewing Thread Market was valued at around USD 2727.39 million in 2021 & estimated to reach USD 3564.971619 by 2028.
Synthetic Sewing Thread Market is likely to grow at compounded annual growth rate (CAGR) of 3.9% between 2022 to 2028.
Yes, the report includes COVID 19 impact on the market.