Viscose yarn is a semi-synthetic fibre which is used in the production of a variety of clothing such as dresses, linings, shirts, shorts, coats, jackets, and other outerwear. Viscose yarn is very comfortable to wear and the recent designs of it have made it a popular choice in the clothing market. Viscose Yarn is also known as viscose rayon. The viscose yarn is made of regenerated cellulose. Although, viscose is structurally similar to cotton but is made of a variety of plants such as soy, bamboo, and sugar cane. Viscose is neither completely natural (like cotton, wool or silk) nor it is completely synthetic (like nylon or polyester). The viscose yarn is made by chemically treating cellulose and pulp is dissolved and treated with aqueous sodium hydroxide to form alkali cellulose. Then, the alkali cellulose is chemically treated with carbon disulfide to form sodium cellulose xanthate. The absorbing power of viscose yarn is excellent and it is smooth and cool as compared to other fibres. The elasticity of viscose yarn is good and it is comparatively easy to drape it.
The study covers detail analysis, growth and forecast of the Viscose Yarn Market. The report includes market analysis on global and regional level. The study covers historical data analysis from 2014 to 2017 and market forecast for 2019 to 2027 based on revenue generated. The study includes market value in terms of revenue in billion USD for years 2014-27 and compound annual growth rate (CAGR) in % for from 2019-2027. The market is expected to show constant CAGR of 3.7 % between 2019-2027.
The report comprises value chain analysis for each of the product segments. Value chain analysis offers in depth information about value addition at each stage. The study includes drivers and restraints for Viscose Yarn Market along with their impact on demand during the forecast period. The study also provides key market indicators affecting the growth of the market. Research report includes major player analysis with shares of each player inside market, growth rate and market attractiveness in different end users/regions. Our study Viscose Yarn Market helps user to make precise decision in order to expand their market presence and increase market share.
The report provides Viscose Yarn Market Dynamics ,includes industry growth drivers, challenges, opportunities , risk, constraints as well as threats .Reports also includes Manufacturing Cost Analysis mainly included Raw Materials Analysis, Price Trend of product, Mergers & Acquisitions, Expansion, Key Suppliers of product, Concentration Rate of Viscose Yarn Market, Manufacturing Process Analysis. Research Report contains Market Effect Factors analysis mainly included Technology Progress, Consumer Needs Trend, External Environmental Change.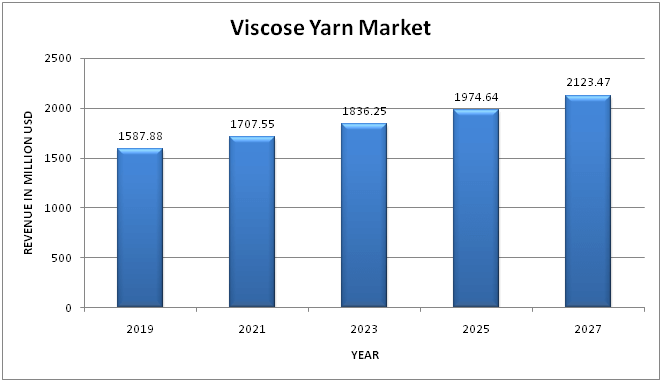 Viscose Yarn Market: Product Type
Viscose Filament Yarn
Viscose Staple Fiber
Viscose Yarn Market: Process Type
Viscose Process
Lyocell Process
Modal Process
Viscose Yarn Market: Competitive Analysis
Report includes accurate analysis of key players with Market Value, Company profile, SWOT analysis. The Study constitutes of following key players in Viscose Yarn Market:

Aditya Birla Group
Lenzing
Sanyou
Sateri Chemical Fibre
Xinjiang Zhongtai
Aoyang Technology
Xiangsheng
Shandong Bohi
Yibin Grace Group Company
Zhejiang Fulida
Silver Hawk
ManasiShunquan
Kelheim-Fibres
Xinxiang Bailu
Nanjing Chemical Fiber
SometFiber
Jilin Chemical Fiber
Geographical analysis ofViscose Yarn Market:
North America
Europe

France
Germany
Spain
UK
Rest of Europe

Asia Pacific

China
Japan
India
South East Asia

Latin America
Middle East and Africa
Asia PacificViscose Yarn market Report delivers comprehensive analysis of :
Market Forecast for 2019-27
Market growth drivers
Challenges and Opportunities
Emerging and Current market trends
Market player Capacity, Production, Revenue (Value)
Supply (Production), Consumption, Export, Import analysis
End user/application Analysis
---
Viscose Yarn Market was valued at around USD 1707.55 million in 2021 & estimated to reach USD 2202.037569 by 2028.
Viscose Yarn Market is likely to grow at compounded annual growth rate (CAGR) of 3.7% between 2022 to 2028.
Yes, the report includes COVID 19 impact on the market.