Global Steel Coupling Market is estimated to reach USD 10313.16 million by 2027, growing at a CAGR of 4.7 % between 2019 and 2027
A coupling can be defined as a device which is used to connect two shafts together at their ends for diffusing power. Steel couplings have a wide range of applications in end-user industries like oil and gas, steel and rolling mill, pulp and paper, wood manufacturing, mining and general manufacturing. It is mostly used to rotating machineries such as motors for driving conveyor belts. To connect and disconnect various fluid systems such as oil, gas, air, and chemicals, and powder systems Steel couplings are easy & reliable solution.
Steel couplings prevent tubes to get disconnect during process while some torque limiting couplings can limit rotating motion when a specific torque limit is surpassed. It also permits some degree of end movement or misalignment or both. Therefore, careful installation and selection of couplings that reduce downtime and maintenance cost offers cost advantages. Recent years massive expansion of industries occurred especially in Asia Pacific and hence Global Steel Couplings Market has seen impressive growth rate and expected to grow at significant CAGR .
Unlike the traditional nut and bolt joints, steel couplings are lubricant and oil free; they are light in weight, offer high torque, easy to mount and dismount, permit high variety of misalignment and deals high resistance to environmental conditions. Steel couplings are of two types; flexible couplings that permit misalignment and rigid couplings that hold shafts precisely and firmly and do not permit misalignment. The steel coupling industry has witnessed innovations in product technology. Some of the main trends that this steel coupling industry follows are developing steel couplings that require less space, usage of low weight materials with better inertia qualities for steel couplings. Optimized disc springs and usage of wear free materials also play an important role while designing steel couplings
The study covers detail analysis, growth and forecast of the Steel Coupling Market. The report includes market analysis on global and regional level. The study covers historical data analysis from 2014 to 2017 and market forecast for 2019 to 2027 based on revenue generated. The study includes market value in terms of revenue in billion USD for years 2014-27 and compound annual growth rate (CAGR) in % for from 2019-2027. The market is expected to show constant growth between 2019-2027.
The report comprises value chain analysis for each of the product segments. Value chain analysis offers in depth information about value addition at each stage. The study includes drivers and restraints for Steel Coupling Market along with their impact on demand during the forecast period. The study also provides key market indicators affecting the growth of the market. Research report includes major player analysis with shares of each player inside market, growth rate and market attractiveness in different end users/regions. Our study Steel Coupling Market helps user to make precise decision in order to expand their market presence and increase market share.
The report provides Steel Coupling Market Dynamics ,includes industry growth drivers, challenges, opportunities , risk, constraints as well as threats .Reports also includes Manufacturing Cost Analysis mainly included Raw Materials Analysis, Price Trend of product, Mergers & Acquisitions, Expansion, Key Suppliers of product, Concentration Rate of Steel Coupling Market, Manufacturing Process Analysis. Research Report contains Market Effect Factors analysis mainly included Technology Progress, Consumer Needs Trend, External Environmental Change.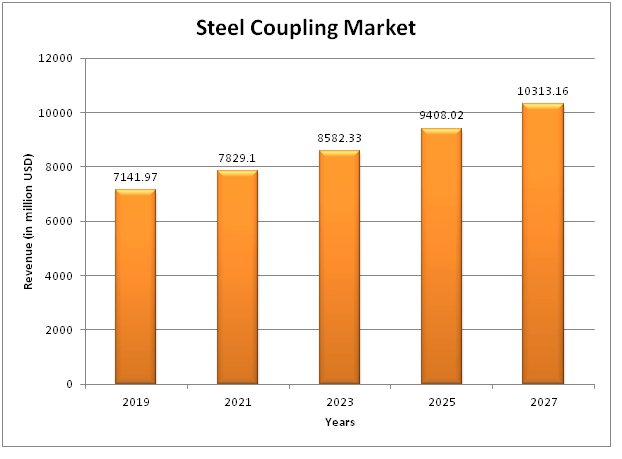 Global Steel Coupling Market: Product Type
Rigid Coupling
Flexible Coupling
Global Steel Coupling Market: Application
Oil Industry
Natural Gas Industry
Chemical Industry
Water Treatment Companies
Global Steel Coupling Market: Competitive Analysis
Report includes accurate analysis of key players with Market Value, Company profile, SWOT analysis. The Study constitutes of following key players in Global Steel Coupling Market:

Emerson Industrial
John Crane
Altra
Siemens
Mayr
KTR
Industrial Clutch Parts (ICP)
Daido Precision
VOITH
Nakamura Jico
Taier
ZPMC
Dandong Colossus
Deyang Lida
Wuxi Driveshafts
Unique Transmission Private Limited
Geographical analysis of Global Steel Coupling Market:
North America
Europe

France
Germany
Spain
UK
Rest of Europe

Asia Pacific

China
Japan
India
South East Asia

Latin America
Middle East and Africa
Global Steel Coupling Market Report delivers comprehensive analysis of :
Market Forecast for 2019-27
Market growth drivers
Challenges and Opportunities
Emerging and Current market trends
Market player Capacity, Production, Revenue (Value)
Supply (Production), Consumption, Export, Import analysis
End user/application Analysis
---
Steel Coupling Market was valued at around USD 7829.1 million in 2021 & estimated to reach USD 10797.88287 by 2028.
Steel Coupling Market is likely to grow at compounded annual growth rate (CAGR) of 4.7% between 2022 to 2028.
Yes, the report includes COVID 19 impact on the market.