Seed Treatment Market is estimated to grow at a CAGR of 8.9 % between 2022 and 2028
Overview
Higher yields & Crop quality considered to be most important factors while calculating prices of crops. Disease and insects problem could hamper both quality as well as quantity of crops and hence Seed Treatment holds paramount importance in the field of agriculture. Even though many agriculture experts value Seed Treatment same as farmers but it certainly has its own benefits. Only downside of applying chemicals over seed is it increase cost of production but certainly helps to overcome crop diseases. Increasing popularity of Seed Treatment helping market to grow at impressive growth rate & estimated to show CAGR of % between 2020 to 2028.
Product type & Competitive analysis
Seed Treatment Market study is primarily categorised in Process, Chemical, Application, Key player & Regional analysis. Dressing, Coating, Pelleting are primary process used in Seed Treatment. Seed Dressing most is widely used and most common method of seed treatment with around 45 % market share in 2018. Dressing cab be applied on seed in industries or farm & process is comparatively easier when compared to others. Adoption of climate change due to safeguarding seeds again pest and diseases can be managed successfully with dressing process. Coating & Pelleting process market is also estimated to show constant growth in upcoming years.
Competitive intelligence included in the study helps user to gain in-depth analysis of major Seed Treatment Market players. Technological advancement along with more focusing on R & D to introduce more efficient as well as innovative Chemical Seed Treatment creating many opportunities in Seed Treatment Market. BASF a leading market player developed ILeVO® fungicide in last quarter of 2019 for Australian canola growers for blackleg control. Blackleg most serious disease of canola in Australia that is caused by Leptosphaeria maculans fungus. It helps farmer to efficiently control Blackleg and increase yield of canola. In recent times manufacture are heavily investing in advertising and promotion in order to penetrate deeper into the market. Also many new manufacturers are entering into market as entry barrier is not big constraint in Seed Treatment Market.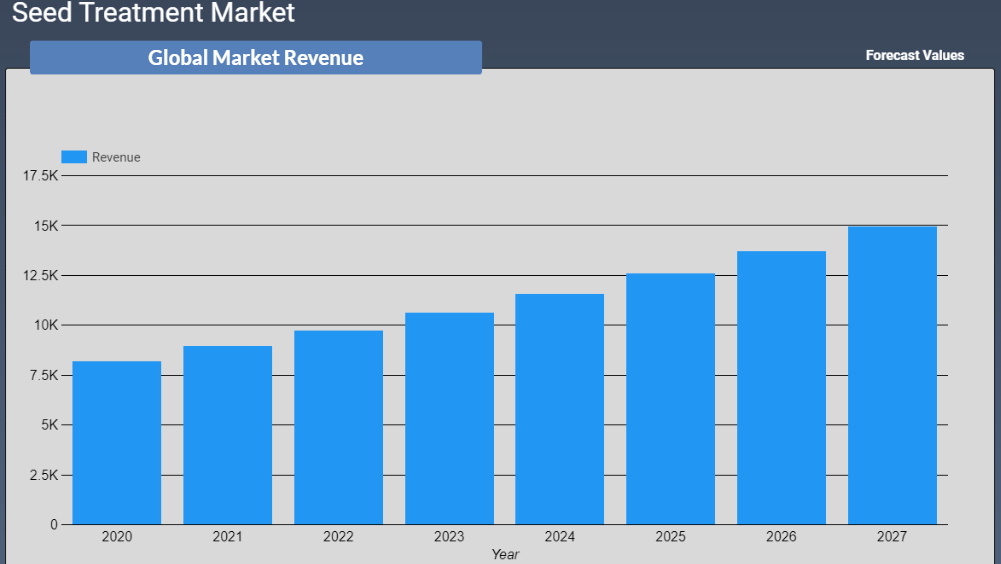 Application & Regional analysis
Application & Regional analysis
Primary Chemicals used in treatment includes Insecticides & Fungicides. Insecticides treatments hold the largest market share with neonicotinoids majorly used globally. As Crop rotations are being stretched there is lots of scope for new diseases. Insecticides & Fungicides treatments work efficiently to cope with these problems. Seed Treatments are applied on various crops that mainly in Corn, Soybean, Wheat, Rice, Canola, and Cotton. On global scale around 45 % of wheat, 90 % of Canola seeds, 70 % of Soybean & rice seeds are treated before sowing. Rice Seeds treatment leads the market followed by Corn & Soybean.
Regional outlook of study include North America, Europe, Asia, Africa, Middle East & South America regions. Asia Pacific market holds around 37 % of market share & expected to show massive growth in upcoming years. Around 60 % of world population and large number of countries with agriculture as largest industry Seed treatments hold tremendous importance. North America market has seen significant market penetration primarily due to more advance and robust seed treatment products. South America & Africa emerging as large importers as Seed Treatment chemical since 2012. Europe & Oceania region estimated to constant growth rate in upcoming years.
Research study has extensively worked on supply-demand analysis that has become important parameter in Agriculture. Supplier analysis helps to understand supply- demand scenario that certainly helps designed better manufacturing process. Analytical tools used while developing research studies includes Porter's 5 Forces model, PESTEL analysis, SWOT analysis, market sizing. Opportunities and threat analysis has gain significant importance in recent years primarily due to dynamic nature of Agriculture industry.

Global Seed Treatment Market: Process Type
Coating
Dressing
Pelleting
Global Seed Treatment Market: Chemicals
Insecticides
Fungicides
Other Chemicals
Global Seed Treatment Market: Application
Corn
Soybean
Wheat
Rice
Canola
Cotton
Global Seed Treatment Market: Competitive Analysis
Report includes accurate analysis of key players with Market Value, Company profile, SWOT analysis. The Study constitutes of following key players in Global Seed Treatment Market:

BASF
Bayer
Monsanto
Dupont
Chemtura Agrosolutions
Adama Agricultural Solutions
Incotec Group
Verdesian Life Sciences
Nufarm
Novozymes
Syngenta International
Advanced Biological Marketing
Geographical analysis of Global Seed Treatment Market:
North America

U.S.A
Canada
Mexico
Rest of NA

Europe

France
Germany
UK
Rest of Europe

Asia Pacific

China
Japan
India
Singapore
Rest of APAC

Latin America
Middle East
Africa
Rest of World
Seed Treatment Market Report delivers comprehensive analysis of following parameters :
Market Estimates & Forecast from 2022 to 2028

Market Intelligence to consolidate decisions

Market growth drivers, emerging and current market trends

Challenges and Opportunities overview

In-detailed segment & End user/application analysis

Top player Production insight, Revenue (Value), market share, recent developments & future outlook

Supply (Production), Consumption, Export-Import analysis

Covid 19 impact & sustainability strategies in a post-pandemic market
---
Seed Treatment Market was valued at around USD 9765.73 million in 2021 & estimated to reach USD 17737.80479 by 2028.
Seed Treatment Market is likely to grow at compounded annual growth rate (CAGR) of 8.9% between 2022 to 2028.
segment dominated the global market in terms of revenue generation. region is likely to show the highest growth rate between 2021 to 2028.
Yes, the report includes COVID 19 impact on the market.