Adipic Acid Market is estimated to grow at a CAGR of 5.1 % between 2022 and 2028
Overview
Adipic Acid also known as Hexanedioic acid is very important industrial compound used in various applications. In 2019 Global market of Adipic Acid Market is approximately valued at USD 6173.44 million & estimated to show CAGR of 5.1 % between 2020 to 2028. Expected CAGR is comparatively less than almost 1.2 % that of between 2014 to 2019. Market has seen small drop in growth percentage primarily due to increasing environmental concerns & majority of governments are tightening pollution laws around the globe.
Product type & Competitive analysis
Adipic Acid being one of the most important monomers in the polymer industry can be manufactured with various chemical compounds using different process. Report analysed market for KA Oil ( Cyclohexane + Cyclohexene) Oxidation and Carbonylation of Butadiene process in details. Widely used method is KA Oil ( Cyclohexane + Cyclohexene) Oxidation with nitric acid (HNO3) . This process covers around 70 % of market share followed by Carbonylation of Butadiene. Even though KA oil Oxidation with nitric acid is easy process but also considered to be most environmental damaging due to copious amounts of nitrous oxide (N2O), a greenhouse gas production by the use of nitric acid (HNO3).
Competitive analysis included in research study helps user to understand key players market positioning and marketing strategies. Adipic Acid manufacture always facing environmental pollution problems as it is insoluble in water and greenhouse gas produced during the manufacturing. According to New Jersey Dept of Health it Adipic Acid has many hazardous effects on Human-like breathing problem, irritation of Eyes & Skin. Manufactures needs to take precise measures to avoid these effects on workers. Market giants like BASF are investing more on R & D to reduce environment damage caused due to production of Adipic Acid. BASF N2O decomposition catalyst series O3-81 reduce N2O especially from Adipic Acid plants.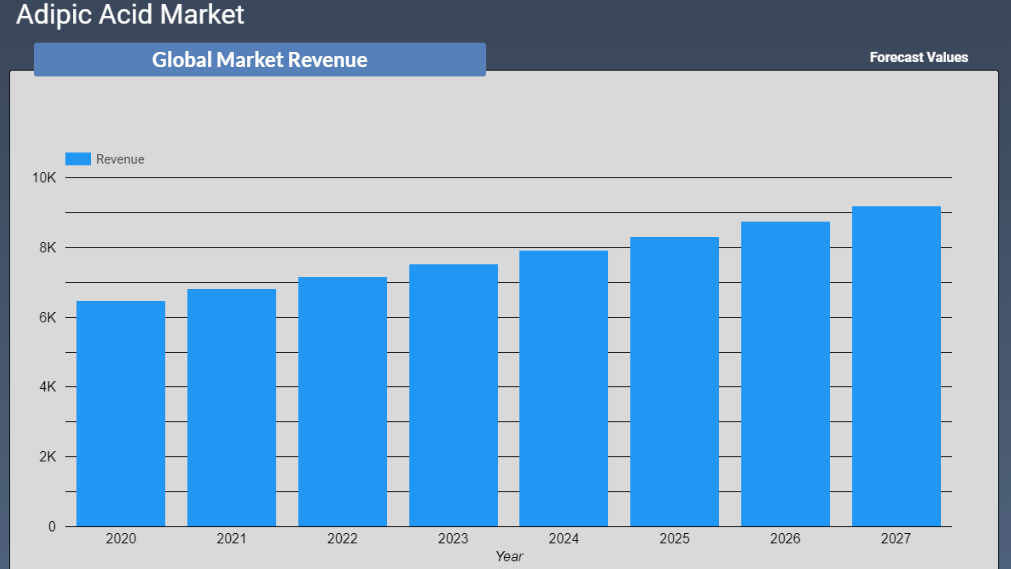 Application & Regional analysis
Application & Regional analysis
As a one of the most important monomers in the polymer industry Adipic Acid has many applications. Some of the primary applications of product include in manufacturing of Nylon 66, Synthetic Lubricants, and Plasticizers & Coatings. Adipic Acid in manufacturing of Nylon 66 generated around USD 5247 million revenue that is around 85 % of total revenue. Impressive resistance properties of Nylon 66 against heat as well as oil and grease driving the growth of Nylon 66 Market. Synthetic Lubricants and Plasticizers market is expected to show constant growth in forecasted years.
Regional outlook of research study is based on analysis of Adipic Acid Market in North America, Europe, Asia Pacific, Middle East, South America, and Africa & Rest of the World. Currently, North America is market leader with around 38 % of market share followed by Europe & Asia Pacific. North America is expected to show constant demand growth in upcoming years due to Nylon 66 high usage in automobile tire cord. Asia Pacific is emerging as most lucrative market since 2009 primarily due to exponential growth in Automobile & Textile industry. Adipic Acid Market in Middle East also shown impressive growth rate primarily due to the establishment of manufacturing plants.
Research study has extensively worked on supply-demand analysis that has become important parameter in Chemical industry. Supplier analysis helps to understand supply- demand scenario that certainly helps designed better manufacturing process. Analytical tools used while developing research studies include Porter's 5 Forces model, PESTEL analysis, SWOT analysis, market sizing. Opportunities and threat analysis has gained significant importance in recent years primarily due to dynamic nature of chemical industry.

KA Oil ( Cyclohexane + Cyclohexene) Oxidation with nitric acid (HNO3)
Carbonylation of Butadiene
Others
Global Adipic Acid Market: Application
Nylon 66
Synthetic Lubricants
Plasticizers
Coatings
Global Adipic Acid Market: Competitive Analysis
Report includes accurate analysis of key players with Market Value, Company profile, SWOT analysis. The Study constitutes of following key players in Global Adipic Acid Market:

Asahi Kasei
DuPont
Lanxess
Sumitomo Chemicals
BASF
DSM
Ascend Performance Materials
Invista
Rhodia
Ascend
Radici
Haili
Huafon
Shenma Industrial
Hualu-Hengsheng
Zhejiang Shuyang
Kailuan Group
Liaoyang Sinopec
Hongye
Tianli
Yangmei Fengxi
Geographical analysis of Global Adipic Acid Market:
North America

U.S.A
Canada
Mexico
Rest of NA

Europe

France
Germany
UK
Rest of Europe

Asia Pacific

China
Japan
India
Singapore
Rest of APAC

Latin America
Middle East
Africa
Rest of World
Adipic Acid Market Report delivers comprehensive analysis of following parameters :
Market Estimates & Forecast from 2022 to 2028

Market Intelligence to consolidate decisions

Market growth drivers, emerging and current market trends

Challenges and Opportunities overview

In-detailed segment & End user/application analysis

Top player Production insight, Revenue (Value), market share, recent developments & future outlook

Supply (Production), Consumption, Export-Import analysis

Covid 19 impact & sustainability strategies in a post-pandemic market
---
Adipic Acid Market was valued at around USD 7166.97 million in 2021 & estimated to reach USD 10152.06989 by 2028.
Adipic Acid Market is likely to grow at compounded annual growth rate (CAGR) of 5.1% between 2022 to 2028.
segment dominated the global market in terms of revenue generation. region is likely to show the highest growth rate between 2021 to 2028.
Yes, the report includes COVID 19 impact on the market.