Global CPVC Pipe & Fitting Market is expected to reach USD 2692.28 million by 2028 & estimated to show CAGR of 8.1 % between 2020 and 2028
Overview
Chlorinated Polyvinyl Chloride Pipe (CPVC) is a plumbing material made of a highly durable thermoplastic. CPVC more efficient in terms of flexibility & temperature compared to standard PV. It has excellent corrosion resistance even at a higher temperature. To connect straight pipe or tubing sections a CPVC fitting is used with different sizes or shapes for regulating fluid flow. Global Demand for Chlorinated Polyvinyl Chloride Pipes has risen significantly since 2011, especially in developing countries. According to research Global Chlorinated Polyvinyl Chloride Pipe (CPVC) Market is valued at USD 1335.64 million in 2019.
Product type & Competitive analysis
CPVC Pipes & CPVC Fitting are the main product types analysed in Chlorinated Polyvinyl Chloride Pipe (CPVC) Market report. CPVC Pipes segment leads the market due to high usage compared with the fitting segment. In 2015 CPVC Pipes generated revenue of USD 559.46 million with North America as the market leader. CPVC Pipes Market is thriving primarily because it's increased use in construction, chemical & heat sensitive applications. As CPVC Fitting is used as a different size pipes connector to regulating fluid flow it is massively used in industrial applications.
Competitive intelligence helps the user to understand the market on a micro level as it places more emphasis on strategies and planning of competitors. Chlorinated Polyvinyl Chloride Pipe (CPVC) Market is low concentrated and shows significant completion due to a large number of new manufacturers. Due to the establishment of new manufacturers in the Asia Pacific especially in China, established players are facing steep competition. Since 2017, raw material supply is disturbed due to trade war & slow economic growth impacting many major Chlorinated Polyvinyl Chloride Pipe (CPVC) Market players.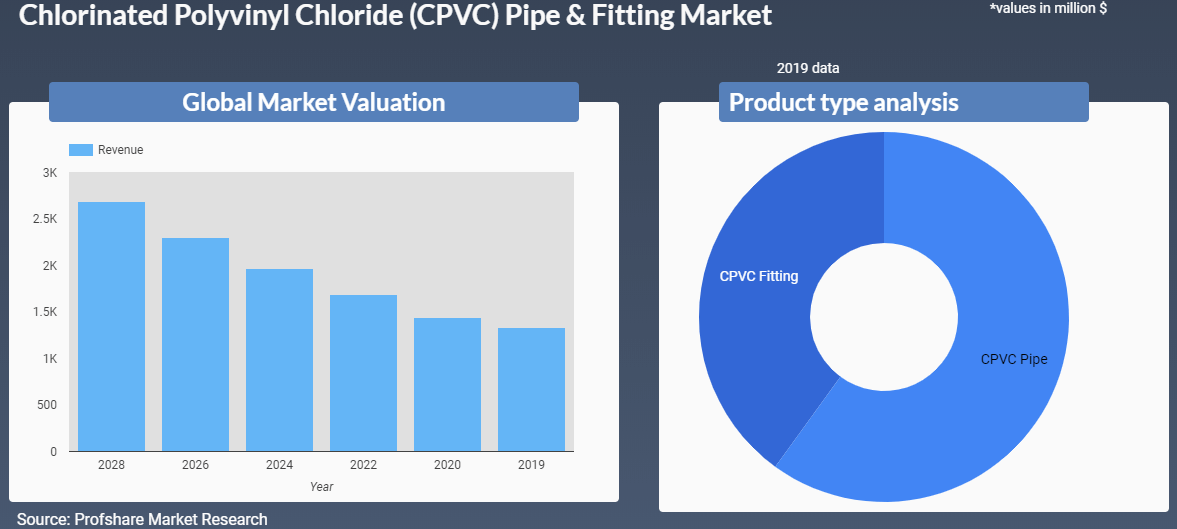 Application & Regional analysis
Application analysis is an integral part of market research as offers in-depth information about product position across different industry. CPVC pipe & fittings are majorly used in chemical processing, industrial manufacturing, wastewater treatment, hot and cold water distribution, fire sprinkler systems. Among these entire applications, fire sprinkler systems segment is expected to show the highest growth rate in upcoming years. As CPVC materials are more resistant to high temperatures, its demand has grown significantly in recent years. Application in Industrial manufacturing has grown by almost 3 % between 2015 to 2019 especially in the Asia Pacific region.
Geographical analysis of the market mainly covers North America, Europe, Asia Pacific & Rest of the World region. Currently, North America leading global CPVC Pipe & Fitting Market followed by Asia Pacific and Europe. Asia Pacific region is expected to show the highest growth rate in the upcoming years due to massive industrialization. Middles East & Africa region also estimated to show better CAGR in a forecasted year than between 2015 to 2019. Global ups and downs impacted supply chain of CPVC pipes market since 2017. US-China trade war with worlds most economies struggling to maintain anticipated growth rate are some major issues impacting CPVC pipes market. Between 2015 to 2019 market has shown an impressive CAGR of 9.4 % but due to these constraints market could show slight lower CAGR of 8.1 % between 2020 to 2027.

Value chain analysis offers in depth information about value addition at each stage. The study includes drivers and restraints for CPVC Pipe & Fitting Market along with their impact on demand during the forecast period. The study also provides key market indicators affecting the growth of the market. Research report includes major player analysis with shares of each player inside market, growth rate and market attractiveness in different end users / regions. Research study on CPVC Pipe & Fitting Market helps user to make precise decision in high competitive market scenario to expand market presence and increase their market share.
CPVC Pipe & Fitting Market: Product Type
Global CPVC Pipe & Fitting Market Report 2018: Application
Chemical Processing
Industrial Manufacturing
Wastewater Treatment
Hot and Cold Water Distribution
Fire Sprinkler Systems
CPVC Pipe & Fitting Market: Competitive Analysis
Report includes accurate analysis of key players with Market Value, Company profile, SWOT analysis. The Study constitutes of following key players in CPVC Pipe & Fitting Market:

Georg Fischer Harvel
NIBCO
IPEX
FIP
Fluidra Group
Ashirvad Pipes(Aliaxis)
Charlotte Pipe
Viking Group
Tyco
Paradise
FinOlex Industries
Supreme
Astral
Bow Plumbing Group
LASCO
Silver-Line Plastics
Tianjin Hongtai Pipe Industry
Huaya Industrial Plastics
Youli Holding
Geographical analysis of CPVC Pipe & Fitting Market:
North America
Europe

France
Germany
Spain
UK
Rest of Europe

Asia Pacific

China
Japan
India
South East Asia

Latin America
Middle East and Africa
CPVC Pipe & Fitting Market Report delivers comprehensive analysis of :
Market Forecast for 2020-28
Market growth drivers
Challenges and Opportunities
Emerging and Current market trends
Market player Capacity, Production, Revenue (Value)
Supply (Production), Consumption, Export, Import analysis
End user/application Analysis
---
CPVC Pipe & Fitting Market was valued at around USD 1687.2 million in 2020 & estimated to reach USD 2910.358067 by 2028.
CPVC Pipe & Fitting Market is likely to grow at compounded annual growth rate (CAGR) of 8.1% between 2021 to 2028.
segment dominated the global market in terms of revenue generation. region is likely to show the highest growth rate between 2021 to 2028.
Yes, the report includes COVID 19 impact on the market.