Fluoropolymers Market is estimated to grow at a CAGR of 5.4 % between 2022 and 2028
Overview
Fluoropolymers chemical backbone is formed by strong carbon-carbon bonds and stable carbon-fluorine bonds. It contains properties like high electronegativity, low polarizability and small van del Waals radius. These characteristic properties delivers high thermal stability, weather stability, low coefficient of friction and lower surface energy and hence superior to their non-fluorinated counterparts. Increase demand of Fluoropolymers leading to more advance technology in development of improved performing materials. Global market of Fluoropolymers is approximately valued at USD 10382.57 million in 2019.
Product type & Competitive analysis
In order to get better insight of market research study is broadly divided into Product types, Application, Key player analysis & Regional outlook. Product wise Fluoropolymers are divided into Polyvinylidene Fluoride (PVDF), Polytetrafluoroethylene (PTFE), Fluorinated ethylene propylene (FEP) and Ethylene tetrafluoroethylene (ETFE). Polytetrafluoroethylene (PTFE) segment holds the largest market share due to better thermal-weather stability & has wide range of applications in many industries. Fluorinated ethylene propylene (FEP) segment also seen significant growth rate in recent years & expected to continue similar growth rate in upcoming years. Polyvinyldene fluoride (PVDF) is a semi-crystalline thermoplastic polymer with appealing thermal, chemical, and physical properties.
Competitive intelligence is one the most important analytical section of research study that helps to gain detail insight of key market players. Fluoropolymers Market is highly competitive market & many new market players have emerged since 2015. Even though organic product development is considered to be emerging trend still inorganic production technique dominates the market primarily due to its cost effectiveness. 3M launched 3M™ Dyneon™ Fluoropolymers a Fuel cell technology offers advantages over conventional energy conversion technologies. It increase the performance to impressive level and hence energy output of fuel cells.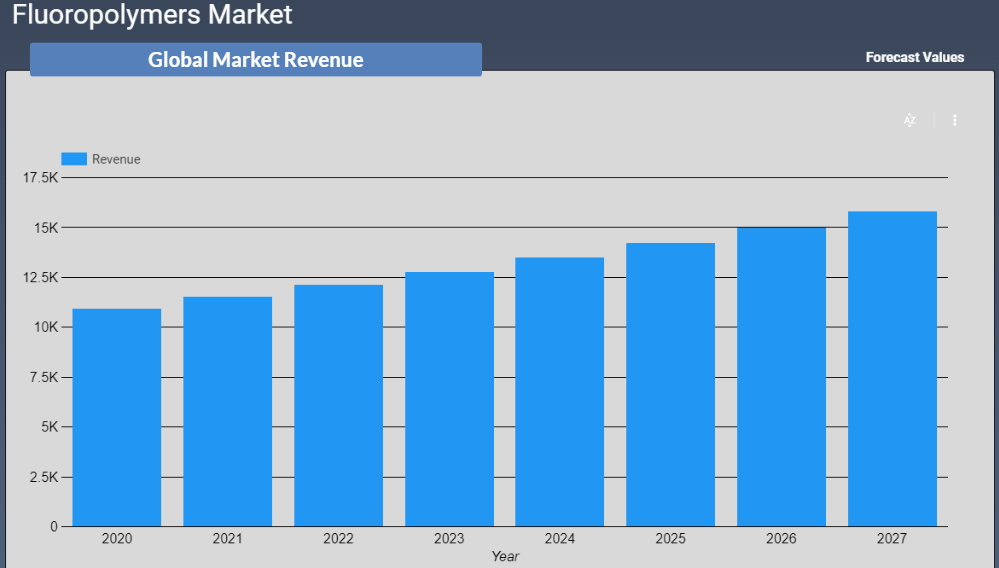 Application & Regional analysis
Application & Regional analysis
Study indicates that the Fluoropolymers find its high usage in Electronics, Industrial Processing, Automotive and Construction. Typical commercially available fluorinated polymers present high molecular weights, providing superior performance in Automobile & Industrial use. Fluoropolymers in Industrial Processing holds more than 28% of market share in 2018 with primarily used in textile processing, oil equipment, food production and pharma. Construction and Automobile application also contributed significant market share.
Geographical outlook of market offer in-depth information about revenue, volume & growth on regional level. In 2019 USA leads market with almost 23% market share followed by Western Europe. Japan Fluoropolymers Market is largest in Asia Pacific & second largest in world. Increasing Automobile production plants & Construction helping Asia Pacific market to grow at significant growth rate. Germany Fluoropolymers Market is most lucrative & shown high growth rate since 2015. Middle East & South America market has shown steady growth rate & expected to show positive revenue generation rate in forecast period.
The report comprises value chain analysis for each of the product segments. Value chain analysis offers in depth information about value addition at each stage. The study includes drivers and restraints for Fluoropolymers Market along with their impact on demand during the forecast period. The study also provides key market indicators affecting the growth of the market. Research report includes major player analysis with shares of each player inside market, growth rate and market attractiveness in different end users / regions. Our study on Fluoropolymers Market helps user to make precise decision in order to expand their market presence and increase their market share.

Global Fluoropolymers Market Report: Product Type
Polyvinylidene Fluoride (PVDF)
Polytetrafluoroethylene (PTFE)
Fluorinated ethylene propylene (FEP)
Ethylene tetrafluoroethylene (ETFE)
Global Fluoropolymers Market Report: Application
Electronics
Industrial Processing
Automotive
Construction
Global Fluoropolymers Market Report: Competitive Analysis
Report includes accurate analysis of key players with Market Value, Company profile, SWOT analysis. The Study constitutes of following key players in Global Fluoropolymers Market Report:

3M
Solvay
Kureha
DAIKIN
Gujrat Fluorochemicals Ltd.
Huaxia Shenzhou New Material
Arkema (Changsu)
Shandong Deyi New Material
Zhejiang Juhua
DuPont
Sinochem Lantian
Zhejiang Fluorine
Arkema
Geographical analysis of Global Fluoropolymers Market Report:
North America
Europe

France
Germany
Spain
UK
Rest of Europe

Asia Pacific

China
Japan
India
South East Asia

Latin America
Middle East and Africa
Fluoropolymers Market Report delivers comprehensive analysis of following parameters :
Market Estimates & Forecast from 2022 to 2028

Market Intelligence to consolidate decisions

Market growth drivers, emerging and current market trends

Challenges and Opportunities overview

In-detailed segment & End user/application analysis

Top player Production insight, Revenue (Value), market share, recent developments & future outlook

Supply (Production), Consumption, Export-Import analysis

Covid 19 impact & sustainability strategies in a post-pandemic market
---
Fluoropolymers Market was valued at around USD 12157.01 million in 2021 & estimated to reach USD 17567.544 by 2028.
Fluoropolymers Market is likely to grow at compounded annual growth rate (CAGR) of 5.4% between 2022 to 2028.
segment dominated the global market in terms of revenue generation. region is likely to show the highest growth rate between 2021 to 2028.
Yes, the report includes COVID 19 impact on the market.