Robotic Palletizing System is the configuration of the robotic machines or equipment which assists in compiling the products, parts or boxes on a pallet performing the application automatically. A palletizer is basically designed and structured to organize, align and pack various products on a pallet so that it can be shipped as a unit load. A palletizing robot is configured to potentially simplify palletizing by eliminating the upstream conveyor system. Several loads can be built inside the robot work envelope, allowing the arm to work on all of the loads at the same time while storing the partial loads in cubic form at floor level. Robotic Palletizing systems have a different layout from manual palletizing to semi-automatic and automatic procedures. The robotic Palletizer unlike other conventional palletizers, takes less space and can handle multiple products simultaneously.
Robotic Palletizing System is segmented into Inline Palletizing, Layer Palletizing and Mixed Case Palletizing. The Inline Palletizing is Safe and accurate palletizing with layer gripper and integrated centering device. In Inline Packaging, packages are moved actively and accurately in to the correct target positions on a mesh belt conveyor. Hereby the robot motion is synchronized with the conveyor speed thus allowing a reliable layer forming process. The Inline Palletizing is majorly used in Food and Beverage industry. In Layer Palletizing, two rubber rollers are creates pressure against the pallet layer from opposite sides. The packages are thereby lifted up and rolled onto two symmetrical carrier plates. The gripper control software adjusts the contact pressure on its own and height position of the rubber rollers automatically to suit the package weight and dimensions. The Mixed Case Palletizing gripper technology enlarges the application spectrum for mixed palletizing. The gripper works in tandem with a load station that elevates the product, allowing the gripper forks to gently lift the packages from the bottom.
The study covers detail analysis, growth and forecast of the Robotic Palletizing System Market. The report includes market analysis on global and regional level. The study covers historical data analysis from 2015 to 2018 and market forecast for 2020 to 2028 based on revenue generated. The study includes market value in terms of revenue in billion USD for years 2015-28 and compound annual growth rate (CAGR) in % for from 2020-2028. The market is expected to show constant growth between 2020-2028.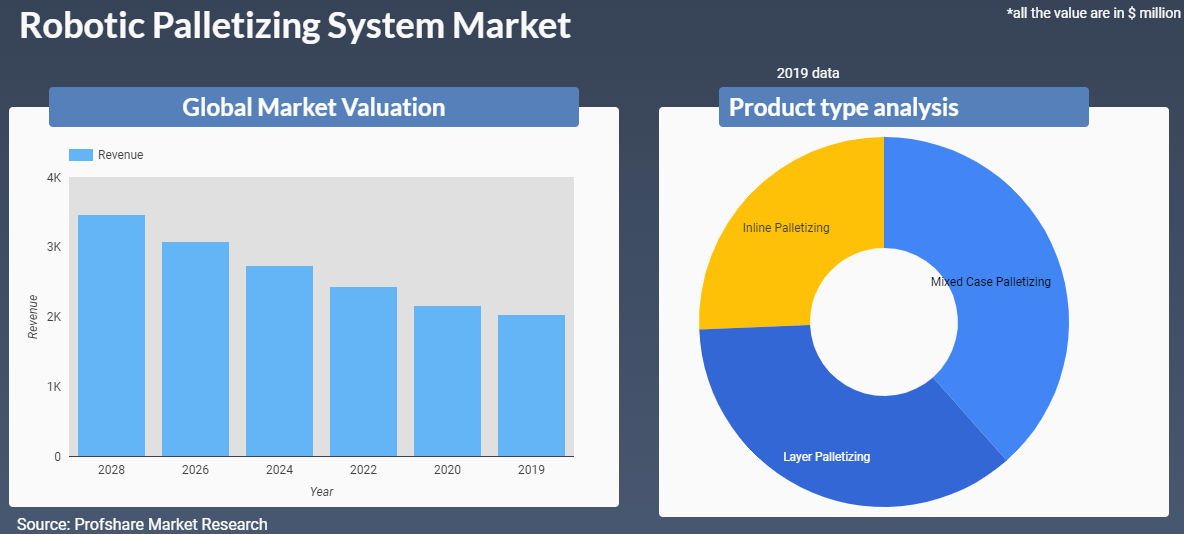 The report comprises value chain analysis for each of the product segments. Value chain analysis offers in depth information about value addition at each stage. The study includes drivers and restraints for Robotic Palletizing System Market along with their impact on demand during the forecast period. The study also provides key market indicators affecting the growth of the market. Research report includes major player analysis with shares of each player inside market, growth rate and market attractiveness in different end users/regions. Our study Robotic Palletizing System Market helps user to make precise decision in order to expand their market presence and increase market share.
The report provides Robotic Palletizing System Market Dynamics ,includes industry growth drivers, challenges, opportunities , risk, constraints as well as threats .Reports also includes Manufacturing Cost Analysis mainly included Raw Materials Analysis, Price Trend of product, Mergers & Acquisitions, Expansion, Key Suppliers of product, Concentration Rate of Robotic Palletizing System Market, Manufacturing Process Analysis. Research Report contains Market Effect Factors analysis mainly included Technology Progress, Consumer Needs Trend, External Environmental Change.

Global Robotic Palletizing System Market: Product Type
Inline Palletizing
Layer Palletizing
Mixed Case Palletizing
Global Robotic Palletizing System: Application
Food & Beverages
Electronics
Consumer Goods
Automobile
Others
Global Robotic Palletizing System Market: Competitive Analysis
Report includes accurate analysis of key players with Market Value, Company profile, SWOT analysis. The Study constitutes of following key players in Global Robotic Palletizing System Market:

Fanuc
Motoman
Bastian Solutions
Brenton Engineering
Columbia Okura
Premier Tech Chronos
ULMA Packaging
FLEXiCELL
MMCI Robotics
Gebo Cermex
Kawasaki Robotics
Douglas Machine
Webster Griffin Ltd
Hamer-Fischbein
PanPac Engineering a/s
Geographical analysis of Global Robotic Palletizing System Market:
North America
Europe

France
Germany
Spain
UK
Rest of Europe

Asia Pacific

China
Japan
India
South East Asia

Latin America
Middle East and Africa
Global Robotic Palletizing System Market Report delivers comprehensive analysis of :
Market Forecast for 2020-2028
Market growth drivers
Challenges and Opportunities
Emerging and Current market trends
Market player Capacity, Production, Revenue (Value)
Supply (Production), Consumption, Export, Import analysis
End user/application Analysis
---
Robotic Palletizing System was valued at around USD 2294.98 million in 2020 & estimated to reach USD 3473.654279 by 2028.
Robotic Palletizing System is likely to grow at compounded annual growth rate (CAGR) of 6.1% between 2021 to 2028.
segment dominated the global market in terms of revenue generation. region is likely to show the highest growth rate between 2021 to 2028.
Yes, the report includes COVID 19 impact on the market.