Global Mobile Phone Display Market is estimated to reach USD 106.52 billion by 2028, growing at a CAGR of 7.2 % between 2021 and 2028
Mobile phone display is the thick/thin electronic display screen made up of plastic, glass or other flexible substrates. These screens are foldable and lightweight. As the demand for universal and user-friendly displays is likely to grow, many industry players are working toward the development of large and high-resolution displays for mobile phones. Such displays make the screen of these devices resistant and durable to damage and increase the amount of content that can be displayed. In the future, it is possible that out of the rigid and flexible displays, the latter will be an inserted part of a wide range of applications. Some of the factors contributing towards the growth of LED technology in mobile phone display is increasing demand for brighter and power-efficient display panels.
However, the high cost of LED is the major challenge. Key players in the market are already working on producing high-resolution glass-free 3D in the market. With the rise in the amount of content being viewed on small screen, smartphone and tablet manufacturers are moving towards integrating glass-free 3D display. The biggest advantage of the glass-free 3D display is that it removes the need to wear glasses. However, the cost of these technologies is the biggest factor hampering the market growth. Hence, key players are focusing on research and development activities for establishing new display technology that can offer better image quality with high resolution at lower cost. Furthermore, upcoming applications in the mobile phone devices is expected to create lucrative growth opportunities for the global mobile phone display market.
By product type, the global mobile phone display market can be segmented into LCD, LED, OLED & AMOLED. LED display is likely to gain more than one-third of the market share. LED has a wide range of colours, it can also re-produce palette of colours at an unmatchable refresh rate. LED displays are also largely used in posters and store signs as it needs no extra protection, moreover, it is dustproof, waterproof and is bright enough to be seen under direct sunlight. It also offers bright image quality by enriching range of colours and enhancing the contrast colours. The LCD uses light modulating properties of liquid crystals (LCs). The liquid crystals do not emit light directly. So, a light source is needed for proper viewing. The OLED uses organic compounds that illuminate when exposed to electric currents. Hence, a backlight is not required for OLEDs. This makes OLED displays thinner than LCD displays.
As per application side, the global mobile phone display market can be categorized into Smartphone and Function Phone. Smartphones accounted for largest share of the market. The smartphone industry has witnessed substantial technological developments in the last 5 years. OLED displays have made significant inroads; smartphones have become more sophisticated, attractive, user-friendly, and high resolution. This growth will be propelled mainly by increasing adoption of OLED and flexible displays. Delivery of highly priced flexible OLED display are rising at a rapid rate; this trend is expected to continue during the forecast period. APAC is a major region in terms of demand for smartphone display panels due the presence of several smartphone vendors such as Samsung, Sony, Panasonic, Huawei, Xiaomi, OPPO, and Vivo.
In terms of region, the global mobile phone display market is divided into key regions such as Asia Pacific, North America, Europe and Middle East & Africa. The market in Asia Pacific is likely to grow at the highest CAGR during the forecast period. Asia Pacific is the leading region in terms of production and consumption of mobile phone display. The high demand for mobile phone display in countries such as South Korea, China, and Japan is the major factor for APAC's dominance in the global market. Several major original brand manufacturers and most of the mobile phone display manufacturers are based in the APAC region. China is expected to hold the largest share of the market during the forecast period owing to the fact that there are several mobile phone display manufacturers in the country with robust mobile phone display manufacturing capabilities (also a large number of major product manufacturers). North America is also likely to witness impressive growth during the forecast period. Presence of key players and introduction of innovative technologies are some of the factors fuelling mobile phone display device market growth in North America.
Major companies have established their dominance in the market by higher integration throughout the value chain. These companies also have long-term contracts with raw material suppliers as well as research institutes for product innovation. Companies are focusing on increasing their production capacities by expanding their operations to different regions. Some of the key players of global mobile phone display market are AUO, BOE, CPT, Giantplus, HannStar, InnoLux, JAPAN DISPLAY, LG DISPLAY, Panda, Samsung Display, Sharp, SZCSOT, Tianma Micro-electronics, and Truly International and Giantplus. Mobile phone manufacturers plan to incorporate flexible OLED displays to attract the consumers. Furthermore, the market is also in the process of producing energy saving devices, primarily in the wearable devices.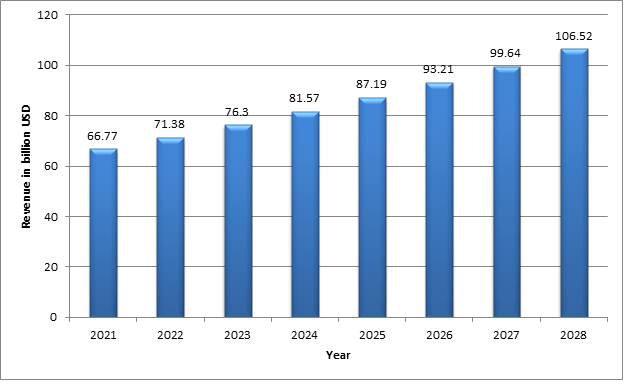 Global Mobile Phone Display Market: Product Type
Global Mobile Phone Display Market: Application
Smartphone
Function Phone
Global Mobile Phone Display Market: Competitive Analysis
Report includes accurate analysis of key players with Market Value, Company profile, SWOT analysis. The Study constitutes of following key players in Global Mobile Phone Display Market:

AUO
BOE
CPT
Giantplus
HannStar
InnoLux
Japan Display
LG Display
Panda
Samsung Display
Sharp
SZCSOT
Tianma
Micro-electronics
Truly International and Giantplus
Geographical analysis of Global Mobile Phone Display Market:
North America
Europe

France
Germany
Spain
UK
Rest of Europe

Asia Pacific

China
Japan
India
South East Asia

Latin America
Middle East and Africa
Global Mobile Phone Display Market Report delivers comprehensive analysis of :
Market Forecast for 2019-27
Market growth drivers
Challenges and Opportunities
Emerging and Current market trends
Market player Capacity, Production, Revenue (Value)
Supply (Production), Consumption, Export, Import analysis
End user/application Analysis
---
Mobile Phone Display Market was valued at around USD 139.11 million in 2021 & estimated to reach USD 210.5552322 by 2028.
Mobile Phone Display Market is likely to grow at compounded annual growth rate (CAGR) of 6.1% between 2022 to 2028.
Yes, the report includes COVID 19 impact on the market.