Global Observation Mini ROVs Market is estimated to reach USD 16977.06million by 2027, growing at a CAGR of 5.1 % between 2019 and 2027
The observation mini remotely operated vehicles (ROV) is an inspection class vehicle equipped with a forward-looking high-resolution colour zoom video camera. Observation ROVs include mini- and micro- unmanned vehicles with power less than 10 HP, which are used in underwater inspection, surveillance and monitoring. The progress of ROV technology has caused in the ever-growing application of observation mini ROVs in oil & gas industry, military/defence, scientific research and other sectors. The towering energy consumption has paved the way for the adoption of remotely operated vehicles in the oil & gas sector. Also, military & defense sector has been prognosticated to escalate investments in the purchase of ROVs for strengthening their surveillance, intelligence, and reconnaissance.
Accelerating economic activities in the end-user verticals is forecasted to boost the growth trajectory of the remotely operated vehicle (ROV) market over the assessment period. The naval sector is anticipated to play a crucial role in supporting the expansion of the market in the years to come. It is projected to account for a major proportion of the demand for ROVs to monitor and patrol. Furthermore, the growing need for studying the environmental changes is also prognosticated to support the growth of the remotely operated vehicle (ROV) market in the forthcoming years.
Competitive analysis is very important segment of research study that delivers in-detail information of Key Market players. Technological advancement along with Research & Development propelling fuel to growth of global market. Observation Mini ROVs Market is competitively low primarily due to high cost associated with the developing and using technology. Due to high cost associated with operations makes it difficult for new manufactures to step into market and expand.
The report comprises value chain analysis for each of the product segments. Value chain analysis offers in depth information about value addition at each stage. The study includes drivers and restraints for Observation Mini ROVs Market along with their impact on demand during the forecast period. The study also provides key market indicators affecting the growth of the market. Research report includes major player analysis with shares of each player inside market, growth rate and market attractiveness in different end users/regions. Our study Observation Mini ROVs Market helps user to make precise decision in order to expand their market presence and increase market share.
The report provides Observation Mini ROVs Market Dynamics ,includes industry growth drivers, challenges, opportunities , risk, constraints as well as threats .Reports also includes Manufacturing Cost Analysis mainly included Raw Materials Analysis, Price Trend of product, Mergers & Acquisitions, Expansion, Key Suppliers of product, Concentration Rate of Observation Mini ROVs Market, Manufacturing Process Analysis. Research Report contains Market Effect Factors analysis mainly included Technology Progress, Consumer Needs Trend, External Environmental Change.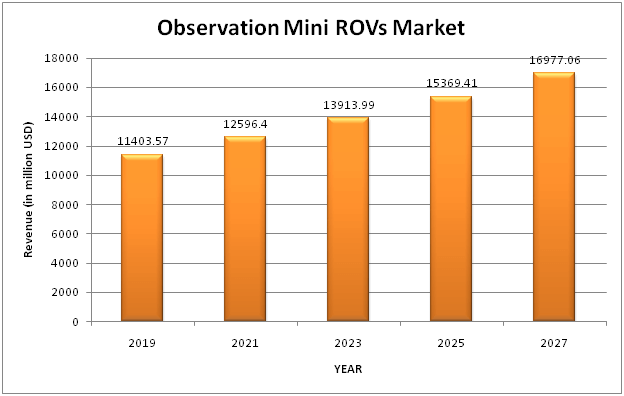 Global Observation Mini ROVs Market: Product Type
Micro Observation ROV
Mini Observation ROV
Global Observation Mini ROVs Market: Application
Oil and Gas Industry
Military and Defense
Scientific Research
Others
Global Observation Mini ROVs Market: Competitive Analysis
Report includes accurate analysis of key players with Market Value, Company profile, SWOT analysis. The Study constitutes of following key players in Global Observation Mini ROVs Market:

Deep Trekker
VideoRay
MarineNav
AC-CESS
Subsea Tech
CISCREA
Outland Technology
Ocean Modules Sweden
Seabotix
Geographical analysis of Global Observation Mini ROVs Market:
North America
Europe

France
Germany
Spain
UK
Rest of Europe

Asia Pacific

China
Japan
India
South East Asia

Latin America
Middle East and Africa
Global Observation Mini ROVs Market Report delivers comprehensive analysis of :
Market Forecast for 2019-27
Market growth drivers
Challenges and Opportunities
Emerging and Current market trends
Market player Capacity, Production, Revenue (Value)
Supply (Production), Consumption, Export, Import analysis
End user/application Analysis
---
Observation Mini ROVs Market was valued at around USD 12596.4 million in 2021 & estimated to reach USD 17842.90057 by 2028.
Observation Mini ROVs Market is likely to grow at compounded annual growth rate (CAGR) of 5.1% between 2022 to 2028.
Yes, the report includes COVID 19 impact on the market.