A pick and pack robotic system picks up several objects and pack them into a box, carton, tray or some other type of container, at a much faster rate than a human worker, improving production speed several times faster. Pick-and-place robots are widely employed for material handling, machine tending, packaging, and assembly tasks. An exceptional feature of these robots is their force-limited joints, which have been intended with greatest deliberation for identifying forces owing to impact and respond quickly. Factors such as need for declining ergonomic hazards for labours and increasing need for packaging across several industries to fuel demand for material handling application. These robots play a crucial role in warehouses and distribution centres for storing and handling materials.
Growth of the material handling robotics market is increasing demand for robotics in manufacturing industries, requirement for intelligent modernization to decrease product delivery time, and increased demand for high automation in packaging line are the crucial factors driving the global packaging robot market. However, High amount of capital investment is a major challenge for market players. Various innovative features such as low product damage and high accuracy offered by Pick and Pack robots would provide new business opportunities for the market in near future.
The study covers detail analysis, growth and forecast of the Pick and Pack Robot Market. The report includes market analysis on global and regional level. The study covers historical data analysis from 2014 to 2017 and market forecast for 2019 to 2027 based on revenue generated. The study includes market value in terms of revenue in billion USD for years 2014-27 and compound annual growth rate (CAGR) in % for from 2019-2027. The market is expected to show constant growth between 2019-2027.
The report comprises value chain analysis for each of the product segments. Value chain analysis offers in depth information about value addition at each stage. The study includes drivers and restraints for Pick and Pack Robot Market along with their impact on demand during the forecast period. The study also provides key market indicators affecting the growth of the market. Research report includes major player analysis with shares of each player inside market, growth rate and market attractiveness in different end users/regions. Our study Pick and Pack Robot Market helps user to make precise decision in order to expand their market presence and increase market share.
The report provides Pick and Pack Robot Market Dynamics ,includes industry growth drivers, challenges, opportunities , risk, constraints as well as threats .Reports also includes Manufacturing Cost Analysis mainly included Raw Materials Analysis, Price Trend of product, Mergers & Acquisitions, Expansion, Key Suppliers of product, Concentration Rate of Pick and Pack Robot Market, Manufacturing Process Analysis. Research Report contains Market Effect Factors analysis mainly included Technology Progress, Consumer Needs Trend, External Environmental Change.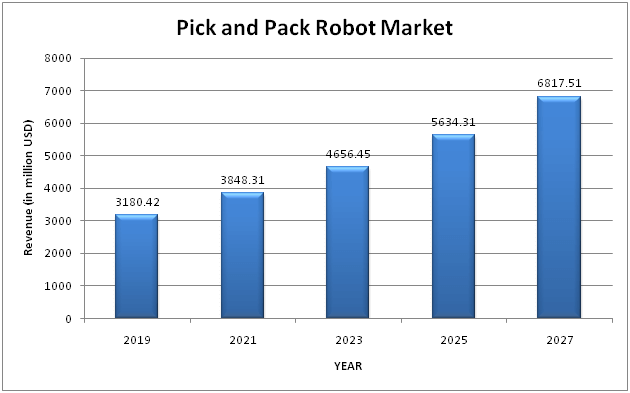 Global Pick and Pack Robot Market : Product Type
SCARA Robot
Articulated Robot
Parallel Robot
Cartesian Robot
Global Pick and Pack Robot Market : Application
Food and Beverages
Electronics
Consumer Goods
Automobile
Others
Global Pick and Pack Robot Market : Competitive Analysis
Report includes accurate analysis of key players with Market Value, Company profile, SWOT analysis. The Study constitutes of following key players in Global Pick and Pack Robot Market :

Fanuc
Moto Man
Cisco Eagle
ABB
Bosch Packaging Technology
Motion Controls Robotic
Quest Industrial
Bastian Solutions
SSI Schaefer
JLS Automation
Automated Motion
GeboCermex
Combi Packaging LLC.
Robotic Automation
Geographical analysis of Global Pick and Pack Robot Market :
North America
Europe

France
Germany
Spain
UK
Rest of Europe

Asia Pacific

China
Japan
India
South East Asia

Latin America
Middle East and Africa
Global Pick and Pack Robot Market Report delivers comprehensive analysis of :
Market Forecast for 2019-27
Market growth drivers
Challenges and Opportunities
Emerging and Current market trends
Market player Capacity, Production, Revenue (Value)
Supply (Production), Consumption, Export, Import analysis
End user/application Analysis
---
Pick and Pack Robot Market was valued at around USD 3848.31 million in 2021 & estimated to reach USD 7310.446924 by 2028.
Pick and Pack Robot Market is likely to grow at compounded annual growth rate (CAGR) of 9.6% between 2022 to 2028.
Yes, the report includes COVID 19 impact on the market.