Redskin Peanuts Market is estimated to reach USD 87348.84 million by 2027, growing at a CAGR of 5.6 % between 2019 and 2027
Peanut is a large scale commercial crop and majorly grown for edible purpose. It has high oil content along with several nutrients such as carbohydrates, vitamins, minerals, protein fat. Most of the peanuts produced in the word are redskin peanuts. Manufacturers use balanced peanuts to prepare other food products. Peanut skins contain up to 17% of its oil and it also contains several fatty acids which are useful in other industries. Redskin Peanuts offers high fiber content and an antioxidant called resveratrol. Antioxidants are increased in peanuts when they are roasted with their skin on rather than blanched. Apart from food products, redskin peanuts are also used in beverages and for medical purposes.
Increasing popularity for peanuts, both with and without skin and growing awareness regarding the health benefits of peanuts with skin are the major factors driving the market. Shifting of the product manufacturers towards peanuts with skin and advancements in food processing industries are also propelling the market growth. However, high fat and cholesterol content in peanuts and allergic reactions due to eating them are some of the major points responsible to obstruct impressive growth of market.
The Redskin peanuts market is categorized based on the type, applicationa and region. Based on type, the market is categorized into Original Flavor Redskin Peanuts & Processed Redskin Peanuts. Original Flavor Redskin Peanuts holds the largest market share with around 61 % of overall market .Processed redskin peanuts are expected to be the fastest growing segment due to the high demand for the processed food around the world.
Based on application, the market is segmented into food, personal care, pharmaceutical and others. Food is the major application of peanuts and dominating the market as they are used to prepare food products in large extent due to their high nutritional content. The rising interest in incorporating plant-based or natural solutions into daily products is a crucial driving factor for the personal care products segment. In the personal care products segment, peanut oil discoveries application in several categories such as baby care and skin products. Peanut oil is also used in a variety of pharmaceutical products such as cardiac, weight loss, cholesterol-lowering and constipation drugs.
The major players of Redskin Peanuts Market are highly focusing on innovation in production technologies to improve efficiency and shelf life. Long-term growth opportunities for this sector can be done by making ongoing process improvements and financial flexibility to invest in the optimal tactics & strategies. Some of the key players and participants in Asia pacific region of Redskin Peanuts Market Are Golden Peanut, Hubs Virginia Peanuts, Durham-Ellis Pecan Company, Wakefield Peanut Company LLC, Whitley's Peanut Factory, Feridies, Fisher, and Superior Nuts.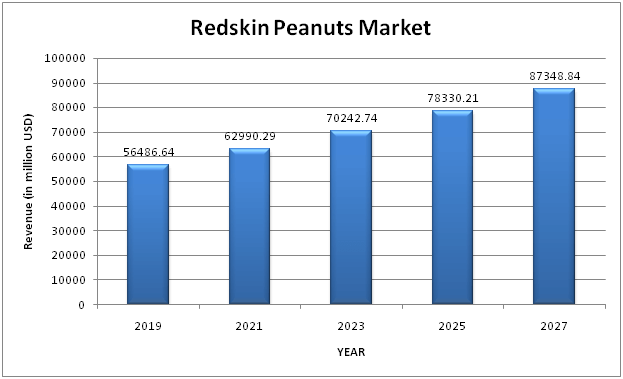 Redskin Peanuts Market: Product Type
Original Flavour Redskin Peanuts
Processes Redskin Peanuts
Redskin Peanuts Market: Application
Food
Personal Care
Pharmaceutical
Others
Redskin Peanuts Market: Competitive Analysis
Report includes accurate analysis of key players with Market Value, Company profile, SWOT analysis. The Study constitutes of following key players in Redskin Peanuts Market:

Hubs Virginia Peanuts
Golden Peanut
Wakefield Peanut Company LLC
Durham-Ellis Pecan Company
Feridies
Beer Nuts
Fisher
Whitley's Peanut Factory
Frito-Lay
Planters
Snak Club
Superior Nuts
Geographical analysis of Redskin Peanuts Market :
North America
Europe

France
Germany
Spain
UK
Rest of Europe

Asia Pacific

China
Japan
India
South East Asia

Latin America
Middle East and Africa
Redskin Peanuts Market Report delivers comprehensive analysis of :
Market Forecast for 2019-27
Market growth drivers
Challenges and Opportunities
Emerging and Current market trends
Market player Capacity, Production, Revenue (Value)
Supply (Production), Consumption, Export, Import analysis
End user/application Analysis
---
Redskin Peanuts Market was valued at around USD 62990.29 million in 2021 & estimated to reach USD 92240.36975 by 2028.
Redskin Peanuts Market is likely to grow at compounded annual growth rate (CAGR) of 5.6% between 2022 to 2028.
Yes, the report includes COVID 19 impact on the market.