Global Food Colorants Market is estimated to reach USD 5980.59 million by 2027, growing at a CAGR of 6.3 % between 2019 and 2027
Food colorants are ingredients primarily used to provide the desired shade to any food or beverage in order to render it visually more appealing. Food colorants are used not only in frozen, RTE (Ready to Eat) or processed foods, however also find numerous applications in carbonated drinks, alcoholic beverages as well as juices, sauces and so on. The food colorants to a great extent decides the food tastes and influence consumers to buy products which matches the colour perception in regard to taste. For example, consumer perception towards red coloured drinks would be drinks with taste of cherries or apple.
The food colorants consumption is limited up to 200 ppm for synthetic types according to food industry safety assessments. In this regard, natural food colorants dyes and pigments are widely used because of growing concern over synthetic ones. Some of the natural food colorants dyes includes chlorophyll, carotenoids, anthocyanin etc. The commercial food production holds major share in the terms of consumption in the global food colorants market. Natural food colorants also offer bioactive properties and thereby used therapeutic agents. For example, anthocyanin's are helpful in prevention of cardiovascular diseases.
The study covers detail analysis, growth and forecast of the Food Colorants Market. The report includes market analysis on global and regional level. The study covers historical data analysis from 2014 to 2017 and market forecast for 2019 to 2027 based on revenue generated. The study includes market value in terms of revenue in billion USD for years 2014-27 and compound annual growth rate (CAGR) in % for from 2019-2027. The market is expected to show constant growth between 2019-2027.
The report comprises value chain analysis for each of the product segments. Value chain analysis offers in depth information about value addition at each stage. The study includes drivers and restraints for Food Colorants Market along with their impact on demand during the forecast period. The study also provides key market indicators affecting the growth of the market. Research report includes major player analysis with shares of each player inside market, growth rate and market attractiveness in different end users/regions. Our study Food Colorants Market helps user to make precise decision in order to expand their market presence and increase market share.
The report provides Food Colorants Market Dynamics ,includes industry growth drivers, challenges, opportunities , risk, constraints as well as threats .Reports also includes Manufacturing Cost Analysis mainly included Raw Materials Analysis, Price Trend of product, Mergers & Acquisitions, Expansion, Key Suppliers of product, Concentration Rate of Food Colorants Market, Manufacturing Process Analysis. Research Report contains Market Effect Factors analysis mainly included Technology Progress, Consumer Needs Trend, External Environmental Change.
In the European Union, food colours are regulated as food additives, under a comprehensive set of regulations, for food improvement agents. Presently, in the European Union, 39 colours are authorized as colour additives, for usage in foods. European food colorants market continues to capture the largest market share, due to the growing demand for clean label foods and health awareness. The United Kingdom, the rising food safety concerns are pressurizing manufacturing to adopt clean labels, which is triggering the demand for natural colours. In France, key players like Naturex, are working on the development of 100% organic extract version of curcumin, to give a rainbow of yellow colour, to a range of culinary applications, from sauces and snacks to sweets, ice creams and baked goods.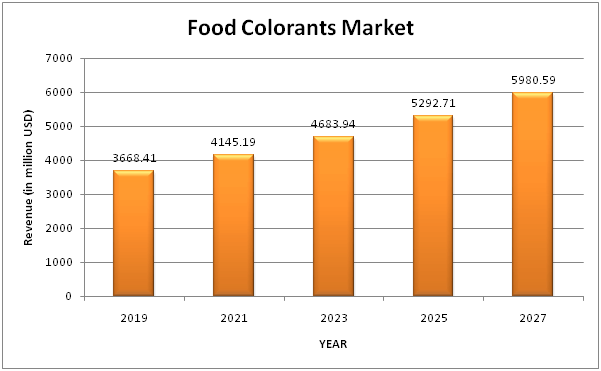 Global Food Colorants Market: Product Type
Synthetic Colorants
Natural Colorants
Global Food Colorants Market: Application
Processed Foods
Beverages
Bakery & Confectionery
Meat Products
Dairy
Others
Global Food Colorants Market: Competitive Analysis
Report includes accurate analysis of key players with Market Value, Company profile, SWOT analysis. The Study constitutes of following key players in Global Food Colorants Market:

Chr Hansen
DD Williamson
Royal DSM
Dohler Group
Fiorio Colori
Naturex
Kalsec
Riken Vitamin
WILD Flavours
Univar
BASF
FMC Group
Geographical analysis of Global Food Colorants Market:
North America
Europe

France
Germany
Spain
UK
Rest of Europe

Asia Pacific

China
Japan
India
South East Asia

Latin America
Middle East and Africa
Global Food Colorants Market Report delivers comprehensive analysis of :
Market Forecast for 2019-27
Market growth drivers
Challenges and Opportunities
Emerging and Current market trends
Market player Capacity, Production, Revenue (Value)
Supply (Production), Consumption, Export, Import analysis
End user/application Analysis
---
Food Colorants Market was valued at around USD 4145.19 million in 2021 & estimated to reach USD 6357.367149 by 2028.
Food Colorants Market is likely to grow at compounded annual growth rate (CAGR) of 6.3% between 2022 to 2028.
Yes, the report includes COVID 19 impact on the market.