Apple Juice Market is estimated to reach USD 8989.6 million by 2027, growing at a CAGR of 3.1 % between 2019 and 2027
Apple juice is made up of maceration and pressing of an apple & holds ample amount of health benefits. In production process of Apple Juice, it may be extra treated by enzymatic and centrifugal clarification to remove the pectin and starch. This process holds fine particulate in suspension, and then pasteurized for packaging in glass, metal or aseptic processing containers. Dehydration processes is used to a concentrate the juice. Global market has seen magnificent changes in terms of manufacturing as well as packaging to attract more consumers.
Apple is very beneficial to keep cholesterol levels under control, reduces the risk of various cancers, keep diabetes under control, and helps in weight loss. Apple concentrate consists of polyphenols that helps in protecting the bones during menopause, offers relief from respiratory disorders like asthma and others helps in preventing Alzheimer's disease. It can be related to the cognitive decline of normal aging, pulmonary function, bone health, and gastrointestinal protection. Increasing health concerns along with more inclination towards living healthy lifestyle are important factors that are propelling fuel to market growth.
The study covers detail analysis, growth and forecast of the Apple Juice Market. The report includes market analysis on global and regional level. The study covers historical data analysis from 2014 to 2017 and market forecast for 2019 to 2027 based on revenue generated. The study includes market value in terms of revenue in billion USD for years 2014-27 and compound annual growth rate (CAGR) in % for from 2019-2027. The market is expected to show constant growth between 2019-2027.
The report comprises value chain analysis for each of the product segments. Value chain analysis offers in depth information about value addition at each stage. The study includes drivers and restraints for Apple Juice Market along with their impact on demand during the forecast period. The study also provides key market indicators affecting the growth of the market. Research report includes major player analysis with shares of each player inside market, growth rate and market attractiveness in different end users/regions. Our study Apple Juice Market helps user to make precise decision in order to expand their market presence and increase market share.
The report provides Apple Juice Market Dynamics ,includes industry growth drivers, challenges, opportunities , risk, constraints as well as threats .Reports also includes Manufacturing Cost Analysis mainly included Raw Materials Analysis, Price Trend of product, Mergers & Acquisitions, Expansion, Key Suppliers of product, Concentration Rate of Apple Juice Market, Manufacturing Process Analysis. Research Report contains Market Effect Factors analysis mainly included Technology Progress, Consumer Needs Trend, External Environmental Change.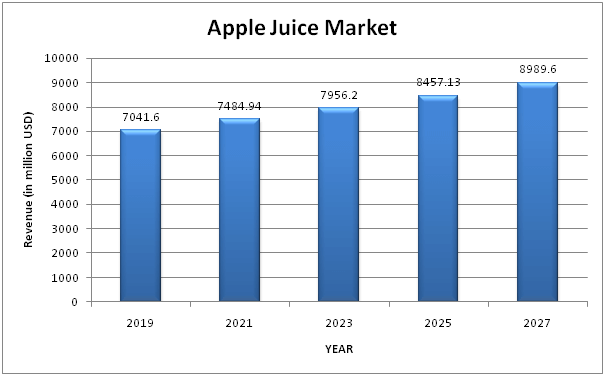 Apple Juice Market: Product Type
Unfiltered Apple Juice
Filtered Apple Juice
Apple Juice Market: Application
House Hold
Commercial
Others
Apple Juice Market: Competitive Analysis
Report includes accurate analysis of key players with Market Value, Company profile, SWOT analysis. The Study constitutes of following key players in Apple Juice Market:

Matinelli's Gold Medal
Simply Orange Juice
Eden Foods
Innocent
Manzana Products
TreeTop
SunRype
Santa Cruz
Mott's
Minute Maid (Coca-Cola)
James White Drinks
Geographical analysis of Apple Juice Market:
North America
Europe

France
Germany
Spain
UK
Rest of Europe

Asia Pacific

China
Japan
India
South East Asia

Latin America
Middle East and Africa
Apple Juice Market Report delivers comprehensive analysis of :
Market Forecast for 2019-27
Market growth drivers
Challenges and Opportunities
Emerging and Current market trends
Market player Capacity, Production, Revenue (Value)
Supply (Production), Consumption, Export, Import analysis
End user/application Analysis
---
Apple Juice Market was valued at around USD 7484.94 million in 2021 & estimated to reach USD 9268.276473 by 2028.
Apple Juice Market is likely to grow at compounded annual growth rate (CAGR) of 3.1% between 2022 to 2028.
Yes, the report includes COVID 19 impact on the market.