Cardamom Market is estimated to reach USD 49362.19 million by 2027, growing at a CAGR of 4 % between 2019 and 2027
Cardamom is a valuable spice that is obtained from the seeds of a perennial plant (Elettaria cardamomum). Cardamom is one of the world's best ancient spices. It is also known as 'Queen of spices' because of its pleasant aroma and taste. The Western Ghats forests of the Malabar is the centre of origin and diversity for cardamom. Cardamom has certain characteristics. It is colorless to pale yellow liquid with a sweet-spicy, warming fragrance and a woody-balsamic undertone. It blends well with rose, olibanum, orange, bergamot, cinnamon, cloves, caraway, ylang labdanum, cedarwood, organge blossom, and oriental bases in general. Cardamom has variety of uses. It is used to enhance the taste of the food, it is used as the medicines to treat many disorders. Cardamom is also utilized as a breath freshener. Cardamom has diuretic properties that can benefit cases of hypertension, heart failure, and epilepsy. These diuretic properties of cardamom also aid in detoxification. Traditionally, cardamom was used by the doctors to treat skin related problems. Cardamom must be dried before it is stored and sold for market.
The Cardamom Market is projected to grow exponentially in the forecasted period owing to cardamom's various phenomenal attributes and its variety of uses. Cardamom has its uses from making tea to treating heart related disorders. The major reason behind the growth of the Cardamom is its vital use in Ayurvedic medicines. The Ayurveda is growing especially in Asia Pacific region exponentially to treat the health related problem. The increase in demand Ayurvedic medicines, is leading to increase in demand of cardamom globally. Another major factor behind the growth of the cardamom market is its massive use in food and beverage industry and its taste enhancing ability. The Food and beverage industry is growing all across the world rapidly which is leading to the growth of the cardamom market. The increase in population plays an important role in the growth of the Cardamom market. As the population is increasing the cardamom's demand is increasing in household, in food beverage industry, in medical industry which is increasing the sales of the Cardamom especially in Asia-Pacific.
The study covers detail analysis, growth and forecast of the Cardamom Market. The report includes market analysis on global and regional level. The study covers historical data analysis from 2014 to 2017 and market forecast for 2019 to 2027 based on revenue generated. The study includes market value in terms of revenue in billion USD for years 2014-27 and compound annual growth rate (CAGR) in % for from 2019-2027. The market is expected to show constant growth between 2019-2027.
The report comprises value chain analysis for each of the product segments. Value chain analysis offers in depth information about value addition at each stage. The study includes drivers and restraints for Cardamom Market along with their impact on demand during the forecast period. The study also provides key market indicators affecting the growth of the market. Research report includes major player analysis with shares of each player inside market, growth rate and market attractiveness in different end users/regions. Our study Cardamom Market helps user to make precise decision in order to expand their market presence and increase market share.
The report provides Cardamom Market Dynamics ,includes industry growth drivers, challenges, opportunities , risk, constraints as well as threats .Reports also includes Manufacturing Cost Analysis mainly included Raw Materials Analysis, Price Trend of product, Mergers & Acquisitions, Expansion, Key Suppliers of product, Concentration Rate of Cardamom Market, Manufacturing Process Analysis. Research Report contains Market Effect Factors analysis mainly included Technology Progress, Consumer Needs Trend, External Environmental Change.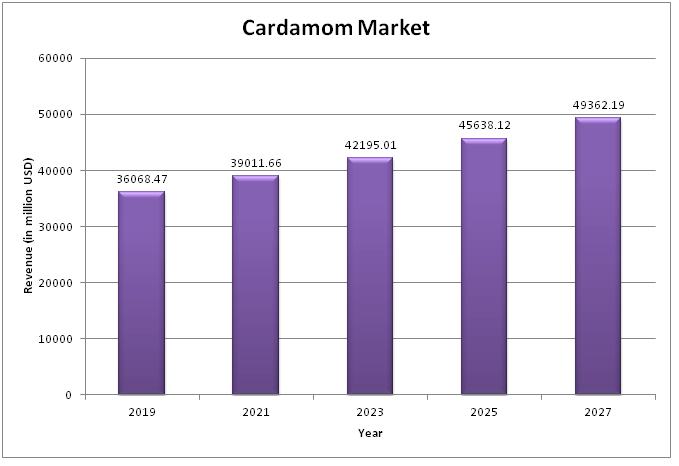 Cardamom Market : Product Type
Ingredients
Powder
Liquid Extract
Cardamom Market: Application
Cardamom Market : Competitive Analysis
Report includes accurate analysis of key players with Market Value, Company profile, SWOT analysis. The Study constitutes of following key players in Cardamom Market :

Cardex
DS Group
MAS Enterprises
McCormick & Company
Everest Spices
IMEXA
Kautilya Commodities
N C Bhojraj & Company
ROYAL SPICES
South Indian Green Cardamom Company
Synthite Industries
Geographical analysis of Cardamom Market :
North America
Europe

France
Germany
Spain
UK
Rest of Europe

Asia Pacific

China
Japan
India
South East Asia

Latin America
Middle East and Africa
Cardamom Market Report delivers comprehensive analysis of :
Market Forecast for 2019-27
Market growth drivers
Challenges and Opportunities
Emerging and Current market trends
Market player Capacity, Production, Revenue (Value)
Supply (Production), Consumption, Export, Import analysis
End user/application Analysis
---
Cardamom Market was valued at around USD 39011.66 million in 2021 & estimated to reach USD 51336.68315 by 2028.
Cardamom Market is likely to grow at compounded annual growth rate (CAGR) of 4% between 2022 to 2028.
Yes, the report includes COVID 19 impact on the market.