One-off Chopsticks Market is estimated to grow at a CAGR of 7.9 % between 2022 and 2028
Overview
Chopsticks is nothing but one pair of thin sticks which is used by people in Asia for eating food. This sticks are hold between thumb and fingers and used to lift the food to the mouth. Chopsticks are derived by china and it is the symbol of Chinese culture. Chinese people are proud of chopsticks and were called zhu in ancient china. It is come in wide variety of styles with various differences in geometry and material. Chopsticks are kitchen and eating utensils that are shaped pairs of similar length sticks. The first chopsticks were probably used for cooking and not as eating utensils. The chopsticks are started to be used as eating utensils during the Han dynasty. This chopsticks are used by Asia people for over two millennia. One-off chopsticks are made up off different material with different length. The chopsticks are generally made up of wood, bamboo, plastic and stainless steel. The very long chopsticks are generally used for cooking, especially for deep frying food. Length, Taper, Material and Embellishment are four important things of one-off chopsticks.
The demand for one-off chopsticks are predicted to be increased the market revenue of one-off chopsticks in coming years, because as we can see there is increased in demand for Chinese foods from last four to five years. The demand for one-off chopsticks has not only increased by Chinese food but also increased from noodles and magi. Today noodle and magi not only consume by small kid but also consume by young people and old age people. This has set the expansion of one-off chopsticks market across the globe. Firms in the food industry continually lining up themselves to customer opinion to emerge as a key players in local markets as well as in international market. Growth in import and exports of one-off chopsticks increasing and charging the market growth. The new growth opportunities has come across to one-off chopsticks market with both suppliers and distributors focusing on adapting to shifting customer taste. The demand for high quality products at low price will be challenges for market growth in coming years. The industry of one-off chopsticks manufacturing has to adopt the changing market condition and factors.
Product type & Competitive analysis
On the basis of product type, the one-off chopsticks are divided in four parts which are as follow: Bamboo, Plastic, Aspen Wood, and Stainless Steel. Bamboo and wood chopsticks are not expensive and provide good grip for holding food. Plastic chopsticks are expensive, low in temperature condition and resistant to wear. Aspen wood is one of the most popular material used for manufacturing chopsticks. The wood and bamboo chopsticks can be twist or bend. Both bamboo and wooden can be painted for decoration and for waterproofing. As compared to bamboo and wood, plastic chopsticks are not effective and does not give proper grip for holding food, because they tend to be slippery. The plastic one-off chopsticks cannot be used for cooking as high temperature will damage the chopsticks. Melamine is commonly used plastics for chopsticks. The stainless steel chopsticks are easy to clean and they are durable. The stainless steel chopsticks are slippery, so sometimes this chopsticks are roughened or scribed to make them less slippery.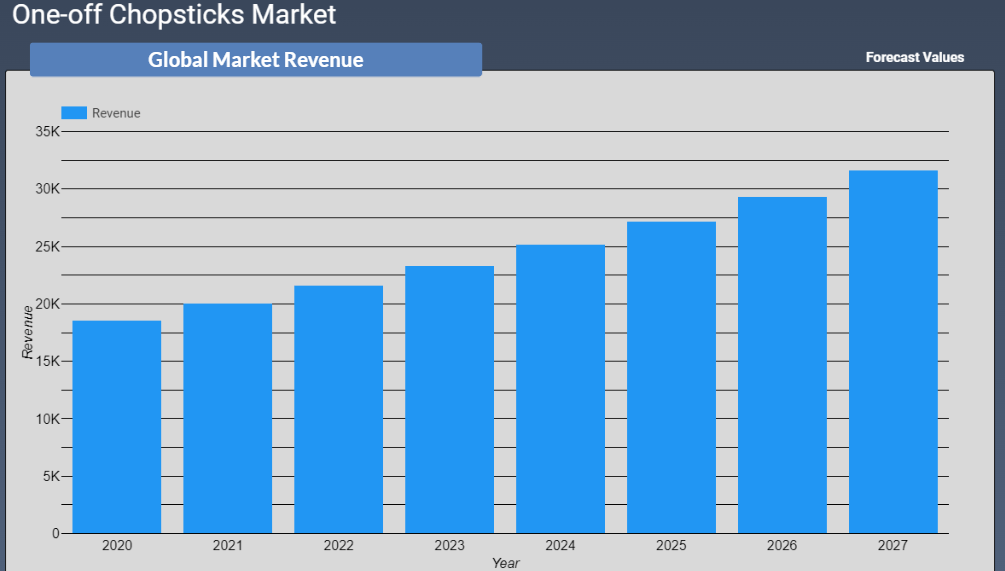 Application & Regional analysis
On the application side, there are various chopsticks which is used in various parts like in household, Restaurant, commercial. The chopsticks which is used for household will be based on the culture of that area where the people stay. Bamboo chopsticks and wood chopsticks are used in household as they are disposable. One-off chopsticks which is used in business, trade and private enterprises are known for commercial chopsticks. Due to some reasons Berger king has remove chopsticks from there firm by saying, people are not preferred to use chopstick while eating food in there firm. In restaurant, different types of one-off chopsticks are used. For customer there are different one-off chopsticks and for chef there are different one-off chopsticks, as chef used very long chopsticks for making food and for customer the regular length of chopsticks are to be provided.
On the basis of geographical analysis, the one off chopsticks are split into several region which are: China, Japan, South Korea, Taiwan, India, Southeast Asia, and Australia. The Asia pacific region held the largest market share of the industry share. The increase in the number of manufacturing plants coupled with high availability of aspen in this region to drive the regional one-off chopsticks market. North America region is predicted to be the fastest growing market in coming years.

One-off Chopsticks market: Product Type
Bamboo
Plastic
Aspen Wood
Stainless Steel
One-off Chopsticks market: Application
Household
Restaurant
Commercial
One-off Chopsticks market: Competitive Analysis
Report includes accurate analysis of key players with Market Value, Company profile, SWOT analysis. The Study constitutes of following key players in One-off Chopsticks market:

Nanchang Sanyou Industrial
Besta Bamboo Machine
Nine Zero Trade and Development
Pacific East Company
Ngoc Chau Enterprise
Dom Agri Products
Georgia
Blooming Wave
Senior Care Innovation
Geographical analysis of One-off Chopsticks market:
North America
Europe

France
Germany
Spain
UK
Rest of Europe

Asia Pacific

China
Japan
India
South East Asia

Latin America
Middle East and Africa
One-off Chopsticks Market Report delivers comprehensive analysis of following parameters :
Market Estimates & Forecast from 2022 to 2028

Market Intelligence to consolidate decisions

Market growth drivers, emerging and current market trends

Challenges and Opportunities overview

In-detailed segment & End user/application analysis

Top player Production insight, Revenue (Value), market share, recent developments & future outlook

Supply (Production), Consumption, Export-Import analysis

Covid 19 impact & sustainability strategies in a post-pandemic market
---
One-off Chopsticks Market was valued at around USD 20067.07 million in 2021 & estimated to reach USD 34169.14238 by 2028.
One-off Chopsticks Market is likely to grow at compounded annual growth rate (CAGR) of 7.9% between 2022 to 2028.
segment dominated the global market in terms of revenue generation. region is likely to show the highest growth rate between 2021 to 2028.
Yes, the report includes COVID 19 impact on the market.