Digital Video Recorder Market is estimated to grow at a CAGR of 7.4 % between 2022 and 2028
Overview
A digital video recorder (DVR) is an electronic device that is associated with a television and is used for recording television shows and movies. Digital video recorder refers to the technology used for recording audio and video in a digital format within a storage device such as USB flash drive, SD memory card, and any other networked or local mass storage device. It can be used to record television shows, movies, or video surveillance using IP cameras. Digital video recorder provides high image quality, fast data retrieval, and, recording of different videos from different channels concurrently.
Factors like the advent of time-shifting and ad-skipping features are expected to drive market growth during the forecast period. The time-shifting feature allows viewers to record incoming the video stream, whereas the ad-skipping feature allows viewers to skip or fast-forward advertisements. These features are generally present in new DVRs and allow viewers to record and watch videos at any time, attributed to increased digitization of television broadcasting, the rise in adoption of cloud-based DVRs, and growth in demand for HD videos. Other different factors that boost the Digital Video Recorder Market are an increase in the number of broadcast channels and rise in penetration of smartphones and smart devices. However, factors such as high initial cost, compatibility of videos, and requirement of large storage space are expected to restrict the growth of the market.
Product type & Competitive analysis
On the basis of product line, Global Digital Video Recorder Market is segmented into Embedded DVRs, Hybrid DVRs, and PC-based DVRs. Researchers have estimated the DTH segment to show the highest market growth rate during the forecast period. Features like the availability of HD channels, pay-to-use channels, easy user-interface, digital video recording, and value-added services are responsible for its rapid adoption during the next four years.
The major key players present in Global Digital Video Recorder Market are: Cisco, DirectTV, LG, Panasonic, Samsung, Tivo, Alcatel-Lucent, Comcast, Dish Network, Echostar, Funai, Honeywell, Kabel Deutschland, Koninklijke Philips, Nuvyyo¸ Sony, Time Warner Cable, Bosch, Intersil, FLIR, American Dynamics, Vivitar, Dahua Technology, and Defender. This market has immense growth opportunities and is highly competitive due to the presence of multiple vendors. However, factors like intense competition, rapid advances in technology, and frequent changes in consumer preferences pose significant challenges for the vendors in this market.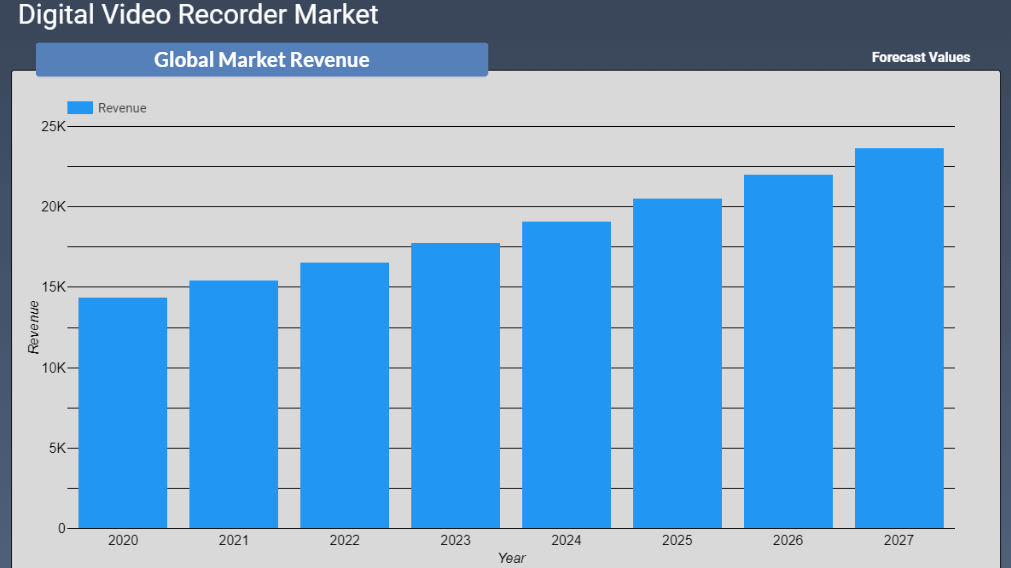 Application & Regional analysis
Application analysis of research study include, Global Digital Video Recorder Market can be split into BFSI sector, government and public sector, industrial sector, retail sector, and transport & logistic sector. On the basis of geography, Global digital video recorder is divided into several regions such as India, China, Japan, Europe, North America, and South East Asia. At present, the American market dominates the Global Digital Video Recorder Market followed by the EMEA and the APAC regions. However, as the DVR market in the Asia Pacific region is still in its growing stage, it is estimated to post the highest market growth rate during the forecast period. The high market growth rate of this region can be allocated to its large overall TV subscriber base.
Global Digital Video Recorder Market : Product Type
Embedded DVRs
Hybrid DVRs
PC-based DVRs
Global Digital Video Recorder Market : Application
BFSI sector
Government and public sector
Industrial sector
Retail sector
Transport & logistic sector
Global Digital Video Recorder Market : Competitive Analysis
Report includes accurate analysis of key players with Market Value, Company profile, SWOT analysis. The Study constitutes of following key players in Global Digital Video Recorder Market :

Cisco
DirectTV
LG
Panasonic
Samsung
Tivo
Alcatel-Lucent
Comcast
Dish Network
Echostar
Funai
Honeywell
Kabel Deutschland
Koninklijke Philips
Nuvyyo
Sony
Time Warner Cable
Bosch
Intersil
FLIR
American Dynamics
Vivitar
Dahua Technology
Defender
Geographical analysis of Global Digital Video Recorder Market :
North America
Europe

France
Germany
Spain
UK
Rest of Europe

Asia Pacific

China
Japan
India
South East Asia

Latin America
Middle East and Africa
Digital Video Recorder Market Report delivers comprehensive analysis of following parameters :
Market Estimates & Forecast from 2022 to 2028

Market Intelligence to consolidate decisions

Market growth drivers, emerging and current market trends

Challenges and Opportunities overview

In-detailed segment & End user/application analysis

Top player Production insight, Revenue (Value), market share, recent developments & future outlook

Supply (Production), Consumption, Export-Import analysis

Covid 19 impact & sustainability strategies in a post-pandemic market
---
Digital Video Recorder Market was valued at around USD 15432.83 million in 2021 & estimated to reach USD 25437.56532 by 2028.
Digital Video Recorder Market is likely to grow at compounded annual growth rate (CAGR) of 7.4% between 2022 to 2028.
segment dominated the global market in terms of revenue generation. region is likely to show the highest growth rate between 2021 to 2028.
Yes, the report includes COVID 19 impact on the market.