Overview
Bioactive Protein mean food elements that can affect biological processes and have an impact on body functions or ultimately on health. A balanced diet must include bioactive proteins. Properties like functional, biological and nutritional are constitute by bioactive protein. Bioactive Protein are part of a balanced diet. The functions of protein in bioactive protein are bioactivity, nutritional value and technological value. Bioactive protein are specific protein bit found in different foods. By consuming bioactive protein which can have positive impact on health conditions and body functions. The bioactive proteins are anti-microbial, anti-hypersensitive, anti-oxidative and anti-thrombotic and this all are psychological actions. Bioactive proteins are derived from animal sources and plant sources. Some of the animal sources proteins are eggs, milk and gelatin.
The bioactive protein market is growing due to escalation in use of personal care product and beauty care products. They find application in products like conditioners, shampoos, soap and skin care products. The growing demand for bioactive protein has shown the tight supply of raw materials such as soybean, which has affect the procurement cost. Bioactive proteins are deeply accountable for many biological and physiological functions. There are three market operators that are contributing to the growth of the global bioactive protein market which are: growing adoption of functional foods and beverages, increasing demand for bioactive protein in nutrition based products and rising demand for cosmetic and personal care application. There are various competitors for bioactive protein which are: Omega Protein Corporation, Ajinomoto, Kerry Group, Bunge Ltd, FMC Corporation, Cargill, Royal DSM, etc.
Product type & Competitive analysis
Bioactive protein market is divided into Animal Source and Plant Source. Animal sources are complete package of protein that give all required amino acids. In the animal sources, the dairy products segment leads the market. There are various animal sources which are preferred for bioactive proteins and amino acids which are as follows: dairy products, meat, seafood etc. The animal sources in Bioactive Protein Market are identify to grow in coming years due to technical advancements. Plant Sources are also plays vital role in providing proteins. It is also seen that there is rise in plant source bioactive protein market as people are shifting their focus towards consuming plants. Many people are interested to gain proteins form plant source instead of using animal sources. Vegetarian people always take proteins from plant source as they are vegetarian so they won't preferred to take proteins from animal sources.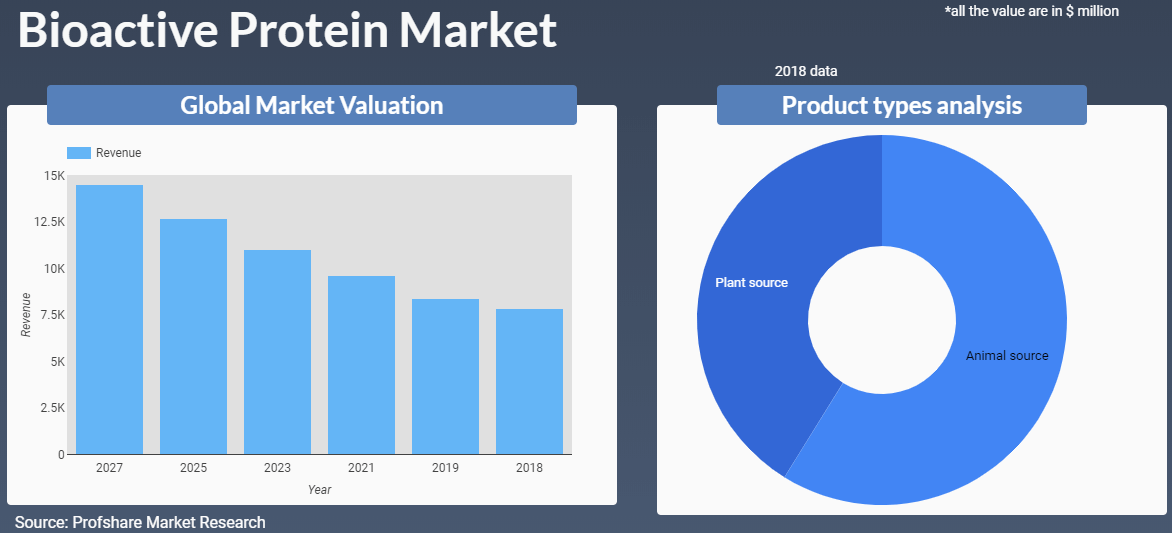 Application & Regional analysis
On the basis of application side, the global bioactive protein market is a path segment of the global dietary supplement market. Dietary supplements, companion the normal diet. They boost immune function, blood pressure, bone health, digestive health and help in weight loss. Functional foods are foods that have a positive result on health, beyond basic nutrition. The functional food a drink with antihypertensive peptides and protein-derived. Some food play a role in the onset of diseases and it can be applied in the prevention of diseases. The functional food market is growing at a compound annual growth rate. The development of foods that contribute to a better and healthier life. As bioactive proteins plays the vital role in people life by providing various types of food and beverages that help them in maintaining balanced diet and proper health and people are also gaining awareness regarding the types of food and beverages. Manufacturers are also focuses on the convenience factor for customers and providing them healthy nutrients in the form of food and beverages instead of supplements. Personal care products in bioactive protein also provide proteins through their products. Personal care products like soap, shampoos, hair care, skin care etc. cosmetics is the growing concept which merges bioactive with personal care.
On the basis of geographical analysis, the Bioactive Protein is divided into Asia Pacific, North America, Europe, Africa, Latin America and Middle East. North America is the main contributor towards revenue created by bioactive protein market due to growing demand in functional food and food and beverages areas. There is also increased demand for functional food which is proving a driving agent for the bioactive protein market. Among all the regions, North America is the only one geographical region which covers the largest share of the market.

Bioactive Protein Market : Product Type
Animal source
Plant source
Bioactive Protein Market : Application
Functional Food
Functional Beverages
Dietary Supplements
Personal Care
Other
Bioactive Protein Market : Competitive Analysis
Report includes accurate analysis of key players with Market Value, Company profile, SWOT analysis. The Study constitutes of following key players in Bioactive Protein Market :

Archer Daniels Midland Company
Cargill
E.I. Du Pont
Royal DSM
Omega Protein Corporation
Ajinomoto
Kerry Group
Bunge Ltd
FMC Corporation
Roquette
CHS Inc
Fonterra Co-operative Group
Arla Foods
Myos Rens Technology
Geographical analysis of Bioactive Protein Market :
North America
Europe

France
Germany
Spain
UK
Rest of Europe

Asia Pacific

China
Japan
India
South East Asia

Latin America
Middle East and Africa
Global Bioactive Protein Market Report delivers a comprehensive analysis of the following parameters:
Market Forecast for 2023-2029
Market growth drivers
Challenges and Opportunities
Emerging and Current market trends
Market player Capacity, Production, Revenue (Value)
Supply (Production), Consumption, Export, Import analysis
End user/application Analysis
Report Coverage
| Parameters | Details |
| --- | --- |
| Base Year | 2022 |
| Historical Data | 2017-2022 |
| Forecast Data | 2023-2029 |
| Base Year Value (2022) | USD 10509.46 million |
| Forecast Value (2029) | USD 19837.15 million |
| CAGR (2022 to 2028) | 9.5 % |
| Regional Scope | North America, Europe, Asian Pacific, Latin America, Middle East and Africa, and ROW |
---
Bioactive Protein Market was valued at around USD 10509.46 million in 2022 & estimated to reach USD 19837.15 million by 2029.
Bioactive Protein Market is likely to grow at compounded annual growth rate (CAGR) of 9.5% between 2023 to 2029.
Yes, the report includes COVID 19 impact on the market.