Natural Whey Protein Market is estimated to reach USD 18726.16 million by 2027, growing at a CAGR of 6.8 % between 2019 and 2027
Whey Proteins are extricated from whey and it is a liquid material which is created as a by-product of cheese production. Whey is made up of several proteins which include alpha-lactalbumin, beta-lactoglobulin, glycomacropeptide and serum albumin. In addition, whey protein has the ability to act as anti-oxidant, anti-tumour, anti-viral and chelating agent among others. Whey proteins are mainly considered as a dietary supplement and it results in various health benefits, thus providing an alternative to the medicine community. Whey proteins include multifunctional ingredients possessing properties such as water binding, solubility, gelation foaming and emulsification of foods. Advancement in technologies such as microfiltration, ultrafiltration, ion exchange, reverse osmosis as methods of processing has resulted in the production of different whey protein-based products consisting of different nutritional values.
Increasing demand for dairy based products combined with a tendency towards genuine health and wellness in order to maintain proper protein intake is expected to drive the global whey protein market during the forecast period. The uses of whey as a source of amino acids help in reduction in the risks of various diseases which include cancer, diabetes and heart diseases. The market for whey protein is primarily driven by increasing applications of whey in food and beverage products and rising emphasis towards ready to drink products. Strong research and development among the manufacturers have resulted in the development of new and versatile products contributing to favourable market growth.
On the basis of product line Natural Whey Protein Market is divided into three product types as whey isolate (WPI), concentrate (WPC), hydrolysates (WPH) and native whey. Concentrates typically have a low level of fat and cholesterol and a higher level of carbohydrates (in the form of lactose) and bioactive compounds. Isolates are formed by removing the lactose and fat component and have a low level of bioactive compounds. Hydrolysates are comparatively more expensive as compared to isolates and concentrate and are partially hydrolyzed, thus, making its metabolism easy. Furthermore, it also bears a lower risk of causing allergy than the other forms of whey. Native whey is the purest form of whey protein and is extracted from skim milk. Amongst all of these, the highest growth rate is estimated to be from WPI and WPH, whereas WPC owns greater market volume.
The major key players present in the Natural Whey Protein Market are: Lactalis Ingredients , Ingredia SA, Reflex Nutrition, Omega Protein Corporation, MILEI GmbH, Fonterra, Friesiandcampina, Firmus, Carbery, Agropur Inc, and Leprino Foods.
In terms of application, the whey protein market can be segmented into healthcare, nutritional, personal care, feed, food and pharmaceutical industry. In the food industry, it is predominantly used in the manufacturing of dairy products that are availed as substitutes for milk protein, for infants, children and adults. In the healthcare industry, whet protein is employed in the manufacturing of nutraceuticals as they aid in fighting against cancer, diabetes, HIV and heart diseases. In the case of these sicknesses, weight loss and loss of appetite are one of the most concerning issues, and thus, consumption of whey protein helps is necessary. Whey is used in the personal care industry, owing to mass gain, improved immunity, increase in strength and fat loss. The food industry, predominately consisting of dairy products, dominates the majority share of the whey protein market, followed by healthcare and nutritional.
The market, in terms of geography, can be segmented into North America, Latin America, Europe and Asia Pacific. Europe and North America are the largest correspondent to the natural whey protein market on account of increased whey protein production and distribution in countries, including United States in North America, and Germany, UK and Lithuania in Europe. In the Asia Pacific, apart from China, Japan, Korea, Thailand and Indonesia are the fastest growing markets on account of increasing awareness toward protein supplements. Over the forecast period, Russia is also expected to emerge as a leading region in the whey protein market.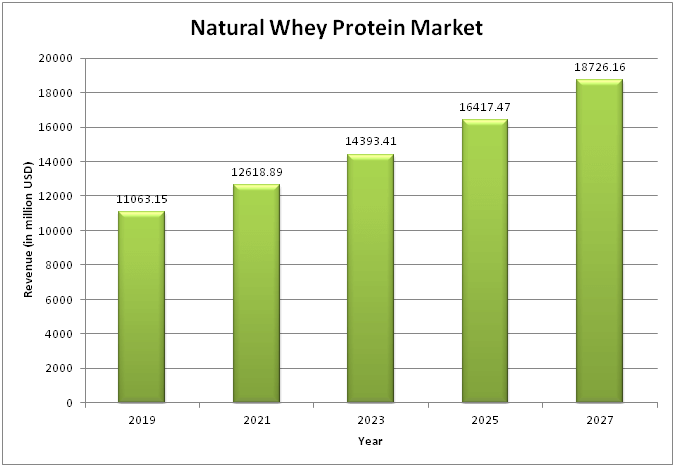 Natural Whey Protein Market: Product Type
Whey protein concentrate
Whey protein isolate
Whey protein hydrolysates
Natural Whey Protein Market: Application
Natural Whey Protein Market: Competitive Analysis
Report includes accurate analysis of key players with Market Value, Company profile, SWOT analysis. The Study constitutes of following key players in Natural Whey Protein Market :

Lactalis Ingredients
Ingredia SA
Reflex Nutrition
Omega Protein Corporation
MILEI GmbH
Fonterra
Friesiandcampina
Firmus
Carbery
Agropur Inc
Leprino Foods
Geographical analysis of Natural Whey Protein Market :
North America
Europe

France
Germany
Spain
UK
Rest of Europe

Asia Pacific

China
Japan
India
South East Asia

Latin America
Middle East and Africa
Natural Whey Protein Market Report delivers comprehensive analysis of :
Market Forecast for 2019-27
Market growth drivers
Challenges and Opportunities
Emerging and Current market trends
Market player Capacity, Production, Revenue (Value)
Supply (Production), Consumption, Export, Import analysis
End user/application Analysis
---
Natural Whey Protein Market was valued at around USD 12618.89 million in 2021 & estimated to reach USD 19999.53616 by 2028.
Natural Whey Protein Market is likely to grow at compounded annual growth rate (CAGR) of 6.8% between 2022 to 2028.
Yes, the report includes COVID 19 impact on the market.