Luxury Apparel Market is estimated to grow at a CAGR of 4 % between 2022 and 2028
Overview
Luxury Apparel is expensive clothing as compared to other normal cloths. The raw material which is used in Luxury Apparel is also expensive and the quality of that raw material is best as compared to other clothing raw material. Design, fitting, material, craftsmanship, quality symbol are main reasons for customers inclination towards Luxury Apparel. Global Luxury Apparel Market is primarily driven by growing middle and higher society class especially in developing countries. Clothing companies are providing wide range of expensive clothes for all sorts of occasions resulting into increasing demand. Also comfort and feel received by customer is top notch, results into buying more Luxury Apparel.
Product type & Competitive analysis
Cotton, Leather, Silk and Denim are the primary materials used in the manufacturing of Luxury Apparel. Cotton luxury clothing segment holds the highest market share primarily due high comfort. In 2019 Cotton luxury clothing segment accounted for 34 % of overall market share. In recent times more consumers are preferring to use Organic Cotton primarily due to health benefits compared to toxic pesticides, fertilizers used grown raw materials. Leather is a durable and flexible material also used heavily in manufacturing of luxury clothing. Silk and Denim Luxury Apparel segment also estimated to show impressive growth rate in upcoming years.
Competitive analysis included in research study helps user to understand key players market positioning and marketing strategies. Luxury Apparel Market is becoming highly competitive due to emergence new market players especially in Asia Pacific region. Despite of high entry barrier competitive edge in Luxury Apparel Market is growing primarily due to massive demand. Major manufacturers are constantly developing advance, cost-effective, quality product to attract more consumers and increase market share.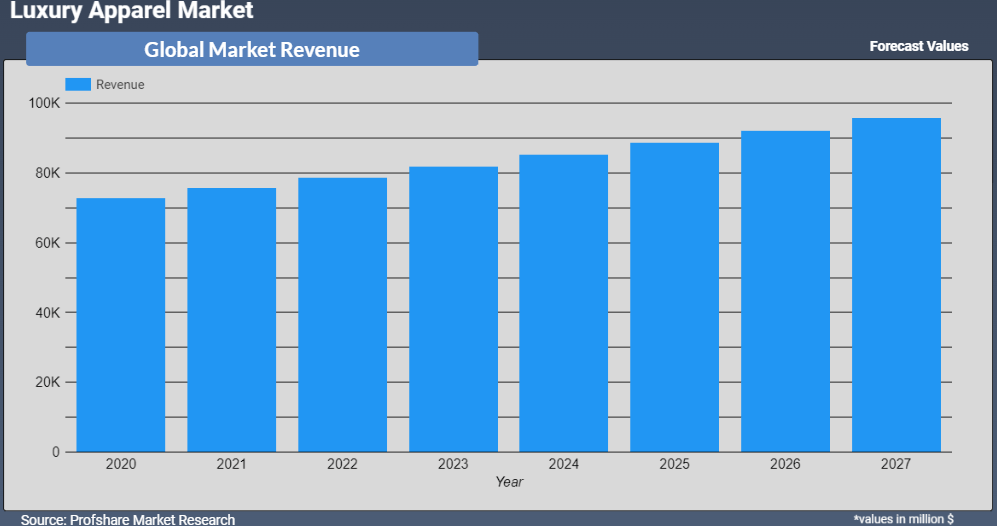 Application & Regional analysis
End User analysis of market is based on Luxury Apparel use in Men & Women. Increasing population along with household income resulting in improvement of lifestyle and fashion trends especially in Women Luxury Apparel segment. It holds around 60 % of market share revenue wise in 2019. Online retail, Shops, Malls are the primary distribution channel of Luxury Apparels. Offline retails like shops and malls are primary choice of consumer due to pricing and fitting concerns.
Geographical analysis of research study is based on analysis of Market insight in North America, Europe, Asia Pacific, Middle East, South America, and Africa & Rest of the World. Europe regions lead the market with almost 35 % of revenue generated from region in 2019. Luxury Apparel in Europe is mature and expected to show constant growth in upcoming years. Asia Pacific is emerged as fastest growing market especially China due to high population & rising household income. South America and Middle East also estimated to show high growth rate during forecasted period. North America Luxury Apparel Market estimated to grow at 3.6 % CAGR between 2020 to 2028.
Research study has extensively worked on supply-demand analysis that has become important parameter in Consumer Goods industry. Supplier analysis helps to understand supply- demand scenario that certainly helps designed better manufacturing process. Analytical tools used while developing research studies include Porter's 5 Forces model, PESTEL analysis, SWOT analysis, market sizing. Opportunities and threat analysis has gained significant importance in recent years primarily due to dynamic nature of Consumer Goods industry.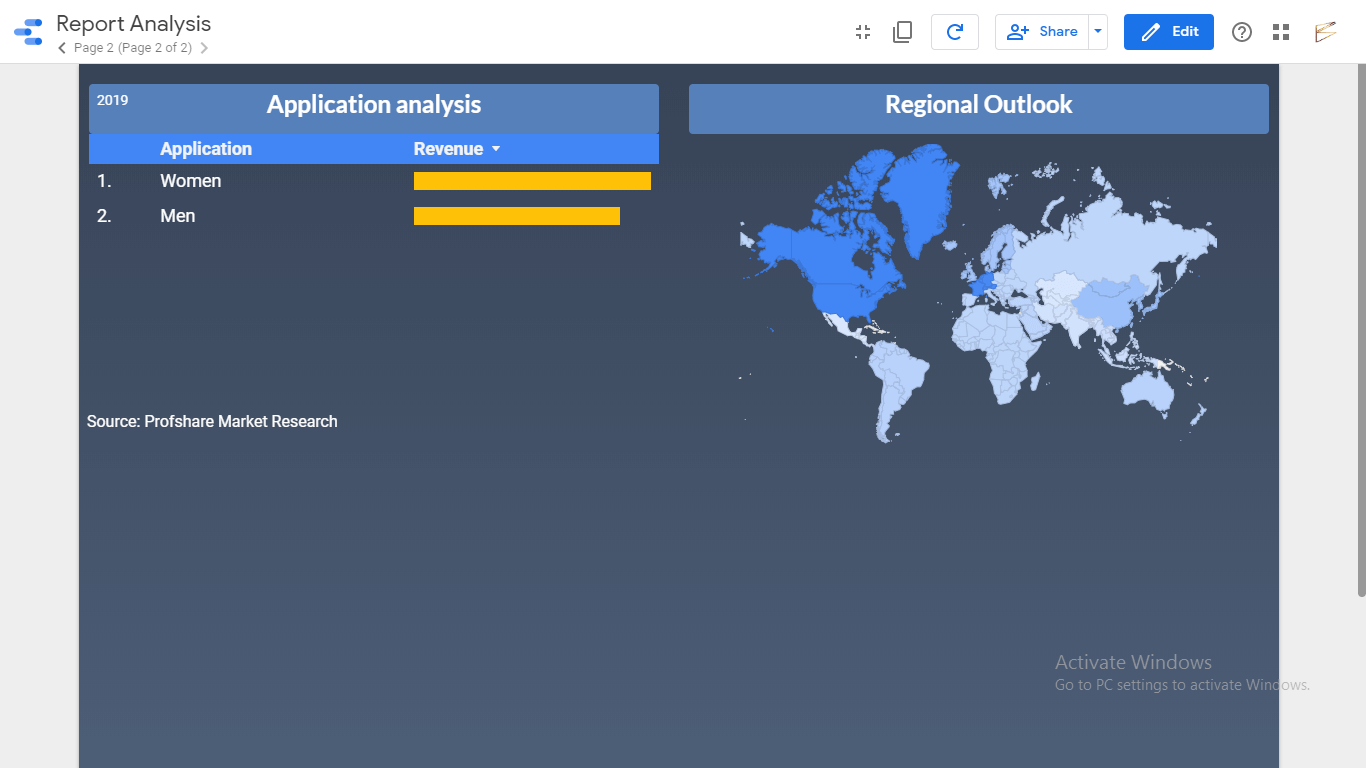 Global Luxury Apparel Market : Product Type
Cotton
Leather
Silk
Denim
Global Luxury Apparel Market : Application
Global Luxury Apparel Market : Distribution Channel
Global Luxury Apparel Market : Competitive Analysis
Report includes accurate analysis of key players with Market Value, Company profile, SWOT analysis. The Study constitutes of following key players in Global Luxury Apparel Market :

Kering SA
Hermes International S.A
Versace
Prada
Dolce and Gabbana
Burberry Group Inc
LVMH Moet Hennessy Louis Vuitton S.E
Giorgio Armani S.P.A
Ralph Lauren Corporation
Ermenegildo Zegna
Kiton
Hugo Boss A.G
Geographical analysis of Global Luxury Apparel Market :
North America

U.S.A
Canada
Mexico
Rest of NA

Europe

France
Germany
UK
Rest of Europe

Asia Pacific

China
Japan
India
Singapore
Rest of APAC

Latin America
Middle East
Africa
Rest of World
Luxury Apparel Market Report delivers comprehensive analysis of following parameters :
Market Estimates & Forecast from 2022 to 2028

Market Intelligence to consolidate decisions

Market growth drivers, emerging and current market trends

Challenges and Opportunities overview

In-detailed segment & End user/application analysis

Top player Production insight, Revenue (Value), market share, recent developments & future outlook

Supply (Production), Consumption, Export-Import analysis

Covid 19 impact & sustainability strategies in a post-pandemic market
---
Luxury Apparel Market was valued at around USD 78813.46 million in 2021 & estimated to reach USD 103713.1366 by 2028.
Luxury Apparel Market is likely to grow at compounded annual growth rate (CAGR) of 4% between 2022 to 2028.
segment dominated the global market in terms of revenue generation. region is likely to show the highest growth rate between 2021 to 2028.
Yes, the report includes COVID 19 impact on the market.