Global Disposable Cookware Market is expected to reach USD 1247.81 million by 2028 & show CAGR of 5.8 % between 2020 and 2028
Overview
Cookware or Kitchenware is Stainless Steel, wood, silicone or plastic implements. This Cookware is not disposable and hence not cost effective. Cost effectiveness is one the most important reason for increasing popularity of Disposable Cookware. These are eco-friendly, disposable, easily recycled and cost effective. Mini Loaf Baking Pans, Foil Dutch Oven Liner, Half Size Deep Foil Steam Pans with Lids , and White Cake board Round are some the frequently used Disposable Cookware. Population rise, increasing disposable income are also some important driving factors for growth of Disposable Cookware Market. Global Disposable Cookware Market is valued at USD 751.24 million in 2019 and estimated show significant growth rate in upcoming years.
Process type & Competitive analysis
Research report is mainly segmented into Material type, Applications, Competitive analysis & regional outlook. Primary materials used in the manufacturing of Disposable Cookware are Aluminium Foil, Polyethylene, and Paper. Aluminium Foils are widely used Disposable Cookware material & constitute around 78 % of market share in 2019. Aluminium made pans can be easily used instead of regular steam table pan and recycle after use. It can also form tin foil into little dishes or sheet pans. Due to increasing restrictions on using plastic/ Polyethylene, this segment has seen negative growth rate since 2015. Paper Disposable Cookware is eco-friendly but are not as efficient as Aluminium Foil. Technological advancement & Innovation for eco and user friendly material propelling fuel to growth of Disposable Cookware Market.
Key player analysis is important segment of research study that enlightens company position in market, regional presence, year on year growth, revenue & volume. In-detail competitive analysis helps to understand marketing strategies and future trends. Disposable Cookware Market is very competitive due to emergence new players especially in Asia Pacific region, low entry barrier. Major manufacturers are allocating larger budget in Research & Devolvement to produce more eco-friendly, efficient & cost effective Disposable Cookware to consumer.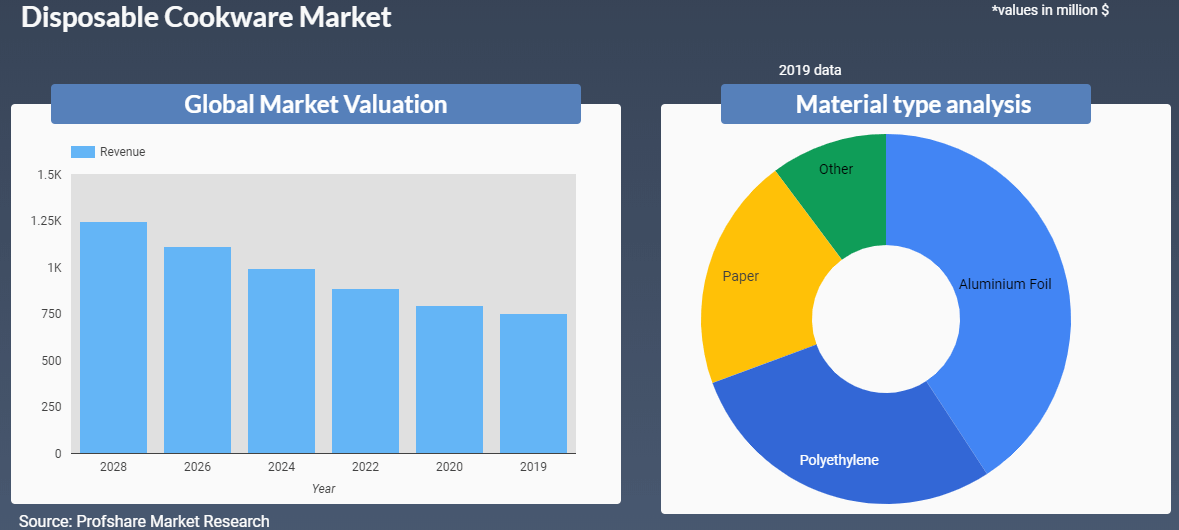 Application & Regional analysis
Disposable Cookware is used majorly in Commercial & Household applications. Commercial segment dominates the market with almost 72 % of market share. Cost effective Disposable Cookware is becoming prime choice of restaurants as it reduces labour cost, no maintenance and preferred consumer choice. In recent years Household use of Disposable Cookware witness impressive growth rate & expected to show higher growth rate compared to Commercial usage. Convenient usage, changing lifestyle, increasing income along with tendency to adapt new cooking techniques is major driving forces for growth of market. Urban area consumption of Disposable Cookware is increasing more rapidly due to changing lifestyle & inclination towards following emerging cooking trends.
Regional outlook must be integral part of business plan as it mainly focuses on key factors (revenue, volume, political view) based on various regions. Research study on Disposable Cookware Market includes North America, Europe, Asia Pacific, Middle East, South America, and Africa & Rest of the World as major regions. North America is market leader with estimated market size of USD 278.05 million in 2019. As No maintenance require in using Disposable Cookware makes it very efficient kitchen and hence results into heavy usage in North America. Europe & Asia Pacific market respectively follows North America market in terms on size. Asia Pacific regions estimated to show highest growth rate in forecasted years due to changing lifestyle of large population. South America, Middle East & Africa market also expected to show impressive growth in upcoming years.
Research study has extensively worked on supply-demand analysis that has become important parameter in Consumer goods industry. Supplier analysis helps to understand supply- demand scenario that certainly helps designed better manufacturing process. Analytical tools used while developing research studies include Porter's 5 Forces model, PESTAL analysis, SWOT analysis, market sizing. Opportunities and threat analysis has gained significant importance in recent years primarily due to dynamic nature of Consumer goods industry.

Global Disposable Cookware Market: Material Type
Aluminium Foil
Polyethylene
Paper
Other
Global Disposable Cookware Market : Application
Global Disposable Cookware Market : Competitive Analysis
Report includes accurate analysis of key players with Market Value, Company profile, SWOT analysis. The Study constitutes of following key players in Global Disposable Cookware Market :

American Metalcraft
Novacart
Pactiv
Western Plastics
Winco
Geographical analysis of Global Disposable Cookware Market :