Global Diving Mask Market is expected to reach USD 622.9 million by 2028 & show CAGR of 5.9 % between 2020 and 2028
Overview
A diving mask or scuba mask is essential and protective diving gear. It helps underwater divers to see clearly underwater, including scuba divers, free-divers, and snorkelers. Diving mask provides full protection to the human eyes and enables to have better visibility under water. Global demand of Diving Mask has risen significantly especially in last 2 decades. Rising population and disposable income along with more inclination towards exploring underwater environment are primary reasons for healthy growth of Diving Mask Market. Costal tourism is becoming immensely popular around the globe and hence the scuba diving.
Process type & Competitive analysis
Diving Mask can be divided into various categories with Single Lens, Double Lens, Full Face Mask considered for analysis in this research study. Single Lens contains single lens on the front of the dive mask and no solid nose bridge dividing the front window. These are most widely and simpler form of Diving Mask. In 2019 Single Lens Diving Mask segment holds around 39 % of market share. Cost-effective and better visibility is main reasons for higher sale and use of Single Lens Diving Mask. Double Lens and Full Face Mask market also estimated to show constant growth rate in upcoming years. Full Face Mask is typically used in professional diving applications as it provides fair protection to whole face.
Competitive analysis helps user to gain complete insight of its competitor and hence consolidates decision making. Global Diving Mask Market is becoming highly competitive primarily due to emerging new manufacturers especially in China region. Major manufacturers are consistently investing large budget in more innovative and user friendly approach towards developing improved diving mask. Along with innovation major companies are also focusing on acquisitions of new manufacturer to tackle with increasing competition and expanding business presence in the market. Growing demand leading to use best raw material for the production of diving mask.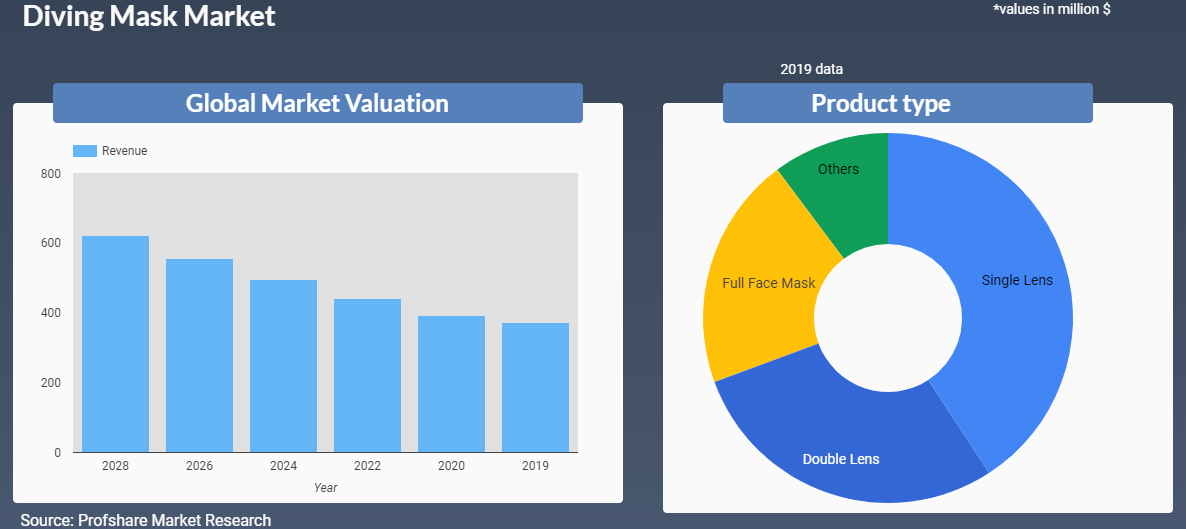 Application & Regional analysis
On application side, diving mask is majorly used in Entertainment, Fishing and Sport purpose. Recreational diving for the purpose of leisure and enjoyment is growing at impressive growth rate. Exponential rise in tourism and sight-seeing, extreme sport aspect, naturalist and underwater life observers along with other benefits like Stress management are important driving forces for growth of Diving Mask Entertainment or leisure segment. This segment currently holds around 52 % of market share. Fisherman also use Face Mask while diving to protect from hazards and to gain better visibility underwater.
Geographical analysis of research study focuses on North America, Europe, Asia Pacific, Middle East, South America, and Africa & Rest of the World. North America is market leader with around 30 % of market share in 2019. Large coastal regions with rich coral reef along with increasing international tourism are vital growth reasons for North America. Asia Pacific region has emerged as fastest growing region due to high population with growing disposable income and more inclination towards underwater activities. Oceania & South America also estimated to show impressive growth rate in forecasted period.
Supply-demand process is very important part of Consumer Goods industry and hence covered extensively in reach study. Supplier analysis helps to understand supply- demand scenario that certainly helps designed better manufacturing process. Analytical tools used while developing research studies include Porter's 5 Forces model, PESTAL analysis, SWOT analysis, market sizing. Opportunities and threat analysis has gained significant importance in recent years primarily due to dynamic nature of Consumer Goods industry. Market saturation and competitive index information covered in report is vital while building business strategies.

Global Diving Mask Market: Product Type
Single Lens
Double Lens
Full Face Mask
Others
Global Diving Mask Market: Application
Entertainment
Fishing
Sports
Global Diving Mask Market: Competitive Analysis
Report includes accurate analysis of key players with Market Value, Company profile, SWOT analysis. The Study constitutes of following key players in Global Diving Mask Market:

Action plus
Amaranto
Aqua Lung
Bare Divewear
Beaver
Beuchat
Cressi-Sub
Beuchat
H. Dessault
Hydro Optix
Imersion
Kirby Morgan
Mares
Northern Diver (International)
Ocean REEF
Riffe International
Scubapro
Seac sub
Sherwood Scuba
SPETTON
Tabata Deutschland
Typhoon International Limited
Geographical analysis of Global Diving Mask Market:
North America
Europe

France
Germany
Spain
UK
Rest of Europe

Asia Pacific

China
Japan
India
South East Asia

Latin America
Middle East and Africa
Global Diving Mask Market Report delivers comprehensive analysis of :
Market Forecast for 2019-27
Market growth drivers
Challenges and Opportunities
Emerging and Current market trends
Market player Capacity, Production, Revenue (Value)
Supply (Production), Consumption, Export, Import analysis
End user/application Analysis
---
Diving Mask Market was valued at around USD 441.62 million in 2021 & estimated to reach USD 659.6604613 by 2028.
Diving Mask Market is likely to grow at compounded annual growth rate (CAGR) of 5.9% between 2022 to 2028.
Yes, the report includes COVID 19 impact on the market.