Disposable Tableware Market is estimated to grow at a CAGR of 2.2 % between 2022 and 2028
Overview
Global Disposable Tableware Market is heavily influenced by rising population, increasing household income, changing food as well as cooking habits. Disposable Tableware has become integral part of urban population especially in developing countries. In recent times demand for smaller dishes, plates and bowls has increased exponentially due to health concerns and ease of use. Cost effective and readily available properties propelling fuel to growth of Global Disposable Tableware Market. Market is estimated to show steady growth in forecasted years primarily due to increasing environment concerns of Disposable Cutlery.
Product type & Competitive analysis
Disposable Cups, Plates, Bowls and Silverware are primary product types taken into consideration to prepare market analysis on Global Disposable Tableware Market. Disposable Cups segments hold the highest market share in 2019 with estimated revenue of USD 9527 million. This segment mainly includes paper cups, plastic cups and foam cups. Even though paper cups demand growing rapidly still plastic cups are the largest selling segment. Plates, Bowls and Silverware segment also estimated to grow at constant growth rate during the forecast years. Disposable Plates due to its easy disposal, light weight, and health benefits resulting in high usage.
Key players analysis included in research study helps user to understand manufacturers positioning and marketing strategies. Disposable Tableware Market is becoming highly competitive due to entry of new market players especially in Asia Pacific region. Despite of low entry barriers, increasing environmental concerns and strict plastic use policies in majority of countries making market more difficult to sustain. Major manufacturers are constantly developing advance, cost-effective, quality product to attract more consumers and increase market share.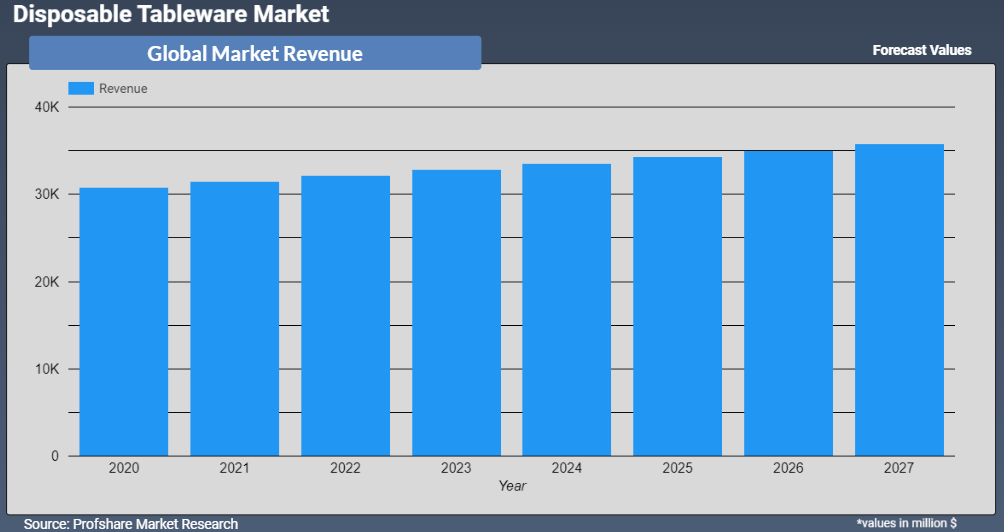 Application & Regional analysis
Disposal Tableware is used in Commercial, Household as well as other applications like schools. Commercial places like restaurants are among the high demand drivers and this segment holds around 60 % of market share in 2019. Due busy work schedules people finds commercial places more easy for dining instead of cooking at home, hence increasing the demand for disposable tableware. Household segment has seen massive sale since 2011 and estimated to show highest growth in upcoming years. In 2020 Covid 19 pandemic has slow down high usage of Disposal Tableware especially in commercial places.
Geographical analysis of research study is based on analysis of Market insight in North America, Europe, Asia Pacific, Middle East, South America, and Africa & Rest of the World. North America region leads the market with almost 37 % of revenue generated from region in 2019. Asia Pacific region holds large potential and market penetration. Disposable Cutleries are not highly penetrated in developing region market as that of developed regions; hence many manufacturers are settling plants in Asia Pacific and South America region.
Research study has extensively worked on supply-demand analysis that has become important parameter in Consumer Goods industry. Supplier analysis helps to understand supply- demand scenario that certainly helps designed better manufacturing process. Analytical tools used while developing research studies include Porter's 5 Forces model, PESTEL analysis, SWOT analysis, market sizing. Opportunities and threat analysis has gained significant importance in recent years primarily due to dynamic nature of Consumer Goods industry.

Global Disposable Tableware Market : Product Type
Disposable Cups
Disposable Plates
Disposable Bowls
Disposable Silverware
Global Disposable Tableware Market : Application
Household
Commercial
Others
Global Disposable Tableware Market : Competitive Analysis
Report includes accurate analysis of key players with Market Value, Company profile, SWOT analysis. The Study constitutes of following key players in Global Disposable Tableware Market :

Huhtamaki(Chinet)
Dart(Solo)
Dixie
International Paper
Hefty
Lollicup USA
Solia
Natural Tableware
TrueChoicePack(TCP
CKF Inc
Letica
Eco-Products
Taizhou Fuling Plastics
Snapcups
Swantex
Biopac
Dopla
Arkaplast
Kap Cones
Guangdong Huasheng Meto
Geographical analysis of Global Disposable Tableware Market :
North America

U.S.A
Canada
Mexico
Rest of NA

Europe

France
Germany
UK
Rest of Europe

Asia Pacific

China
Japan
India
Singapore
Rest of APAC
Disposable Tableware Market Report delivers comprehensive analysis of following parameters :
Market Estimates & Forecast from 2022 to 2028

Market Intelligence to consolidate decisions

Market growth drivers, emerging and current market trends

Challenges and Opportunities overview

In-detailed segment & End user/application analysis

Top player Production insight, Revenue (Value), market share, recent developments & future outlook

Supply (Production), Consumption, Export-Import analysis

Covid 19 impact & sustainability strategies in a post-pandemic market
---
Disposable Tableware Market was valued at around USD 32135.48 million in 2021 & estimated to reach USD 37423.21217 by 2028.
Disposable Tableware Market is likely to grow at compounded annual growth rate (CAGR) of 2.2% between 2022 to 2028.
segment dominated the global market in terms of revenue generation. region is likely to show the highest growth rate between 2021 to 2028.
Yes, the report includes COVID 19 impact on the market.