Kids Wear Market is estimated to reach USD 290.6 billion by 2027, growing at a CAGR of 4.4 % between 2019 and 2027
Kids Wear is clothing for children. These colourful clothes are designed for boys, girls and babies with various types like suits, jackets, sweaters, pants, T-shirts, etc. Cotton is the most used material of Kids Wear due to its characters like sweat-absorbent, soft and comfortable. Linen, fur, wool and silk are also major fabric materials. The Kids Wear Market can be segmented based on product type. On the basis of product type, the market can be classified into apparel and footwear. Furthermore, apparel can be classified into bottom wear, top wear, underwear, and others. Footwear segment is further divided into shoes, boots, slippers, and others. The Kids Wear Market is furthermore segmented into cotton Kids Wear, wool & fur Kids Wear, silk & linen Kids Wear.
Increase in the population, rise in disposable income of the consumers, and changes in shopping and purchasing methods drive the market growth. However, high cost of the branded clothes restrains the market growth. Kid's fashion is a growing trend at present with kids becoming conscious about fashion and what they wear. Kid's apparel is manufactured mainly of cotton, as cotton is easy to wash and leads to less shrinking or fading of colour. Moreover, parents prefer the soft and natural feel of cotton for their kids. Comfort, convenience, and safety are the most important factors that are taken into consideration by parents while buying clothes and footwear for their kids. One-piece outfits are more popular, as they are easy to wear and take off. Clothing with hanging strings or ribbons is usually avoided. Comfortable kid's outfits include wetsuits, leggings, and pyjamas. Some fashion-conscious parents look for cute and stylish designs in apparel for their children.
On the application side of Kids Wear Market is used as end user product by babies, younger kids, and old kids. In recent years, consumer buying behaviour has changed, with more attention given to a person's appearance, including that of kids. This factor has created a huge opportunity for companies and brands to produce more fashionable kid's wear with a variety of designs. Apparel and footwear are manufactured in such a way that they can be worn on different occasions. Kids wear market has followed recent trends in adult's fashion, which prioritizes performance and comfort. Most kids possibly do not perform yoga or go to the gym; however they copy their parents' style of dressing. Online distribution channel has increased the sales of kids wear in the market. Many customers tend to buy from online stores due to the increasing penetration of the internet and heavy discounts from these stores.
United States holds largest market share with around 20% share in 2018 with 9% of total production in the global market. The population of children is increasing stably and the demand is increasing correspondingly. China is the largest supplier of Kids Wear with more than 25% share of the manufacturing market. Products from China are largely exported to US, Europe and other countries. While mass foreign brands products are imported into China at the same time. For the consumption market, foreign brands occupied half of the total value.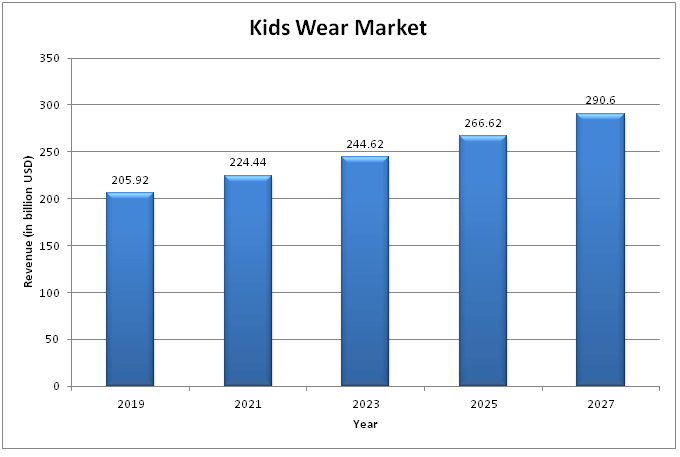 Kids Wear Market : Product Type
Cotton Kids Wear
Wool & fur Kids Wear
Silk & linen Kids Wear
Kids Wear Market : End User
Kids Wear Market : Competitive Analysis
Report includes accurate analysis of key players with Market Value, Company profile, SWOT analysis. The Study constitutes of following key players in Kids Wear Market :

Nike's
Carter's
GAP
Inditex
Adidas
H&M
Gymboree
VF corporation
fast retailing
C&A
Next
ID group
mothercare
orchestra
BESTSELLER
Sanrio
miki house
Disney
semir
liying
Pepco
Honghuanglan
Annil
Qierte
Esprit
Green Group
D.D cat
Boshiwa
Geographical analysis of Kids Wear Market :
North America
Europe

France
Germany
Spain
UK
Rest of Europe

Asia Pacific

China
Japan
India
South East Asia

Latin America
Middle East and Africa
Kids Wear Market Report delivers comprehensive analysis of :
Market Forecast for 2019-27
Market growth drivers
Challenges and Opportunities
Emerging and Current market trends
Market player Capacity, Production, Revenue (Value)
Supply (Production), Consumption, Export, Import analysis
End user/application Analysis
---
Kids Wear Market was valued at around USD 224.44 million in 2021 & estimated to reach USD 303.3917386 by 2028.
Kids Wear Market is likely to grow at compounded annual growth rate (CAGR) of 4.4% between 2022 to 2028.
Yes, the report includes COVID 19 impact on the market.