Dried Apricots Market is estimated to reach USD 1279.17 million by 2027, growing at a CAGR of 5.3 % between 2019 and 2027
Dried apricots are gaining worldwide popularity owing to their nutritional content. They contain long chain fatty acids and contain various vitamins and thus, aid in the prevention of many diseases. Apricots are considered to be one of the healthiest fruits as they are rich in nutrients, such as carbohydrates, proteins, fats, fibres, vitamins and minerals. In addition, they also contain vitamin A, C, K and B complex and reasonable quantities of organic acids, such as citric acid and malic acid. Recent advancements in the food and nutrition sector have shifted the consumer preference towards nutraceutical rich food products. In stone fruits, dried apricots inhabited a definite position as they provide multiple health benefits and holds significant functional food potential. In addition, published literature appreciates the number of total flavonoids and phenolic acids in dried apricots, which add extra nutritional value and more value to it as a functional food.
In the global dried fruit market, the demand for dried apricots is rising at an average rate from the food, bakery and confectionaries industry. inside the food industry, the demand for dried apricots is increasing from the snacks and ready to cook food sector. The global market is witnessing increasing demand for food products that not only fulfil the basic nutrient requirement but also play a pivotal role in the prevention of diseases and have curing properties. The food components which are fulfilling this demand are mostly phytochemicals, among them, phenolic compounds are considered as very important anti-oxidants. In this context, dried apricots can be considered as a functional food as they are rich in certain biologically active phytochemicals and have been used as a folk medicine for ages now. Dried apricots and apricot snacks are slightly more expensive than related dried fruit snacks, such as chips, bars and other bakery products. Increasing disposable income has allowed customers to make the discretionary purchase of high-cost dried fruit products. Therefore, higher disposable capita earnings will give an upward push to the dried apricots market.
On the basis of product line Dried Apricots Market is divided into sulphured dried apricots, natural dried apricots, and organic dried apricots. Sulphured dried apricots, the most common, are preserved with sulphur dioxide, which not only extends the shelf life but also lightens the colour and keeps the dried fruit soft. Unsulphured and organic fruit is darker and sweeter. Generally sulphured dried apricots are found in natural stores. The natural drying process results in a brown, rather than orange colour. Beautifully sweet and sticky treat.
The major key players present in the Dried Apricots Market are: Malatya Apricot, Chitree, Royal Rifco, The Raw Chocolate, Hebei Longwangmao, Shanxi Bailaoda, Hebei Yongdeheng, and Swanson. The dried apricots industry will be affected by the expected growth in demand for premium lines of dried apricots which are appealing to consumers looking for a better product containing high nutrition content and significant functional potential. Various manufacturers of premium dried apricot products use different captivating advertisements to evoke a sense of authenticity in potential customers. The sales of main dried apricots products are currently mainstream in Europe and Latin America. Premium 'selected' versions target consumers who are willing to pay more for high-quality ingredients and better-dried apricots products.
On the basis of application/end user segment, Global dried apricots are used as edible application, and medicinal application. Consumption of dry fruits as evening snacks or morning breakfast is a growing trend, which will directly increase the consumption of dried apricots as snacks owing to its good taste and vibrant flavor. On the other hand, factors, such as changing lifestyle and growing awareness about the benefits of eating right among consumers, are leading to an increase in demand for healthy snacks. Dried apricots are natural and rich in vitamins, fiber, and minerals, thus, are becoming a popular choice as snacks and in ready-to-cook products.
On the basis of geographical analysis Global dried apricots are divided into several regions such as India, China, Japan, Europe, North America, and South-East Asia. In the Dried Apricots Market, majority request for dried apricots comes from North America and Europe and also the middle east and African region is that the world's largest producer of dried apricots within the global dried fruit market. based on the information from the International Nut , The countries that hold a serious share within the production of dried apricots are Turkey, Iran, Uzbekistan, China and Islamic State of Afghanistan, all at once produces 86 of the full global dried apricot. because of the rise in demand for dried apricots, it is anticipated that there would be higher returns for investors within the close to future.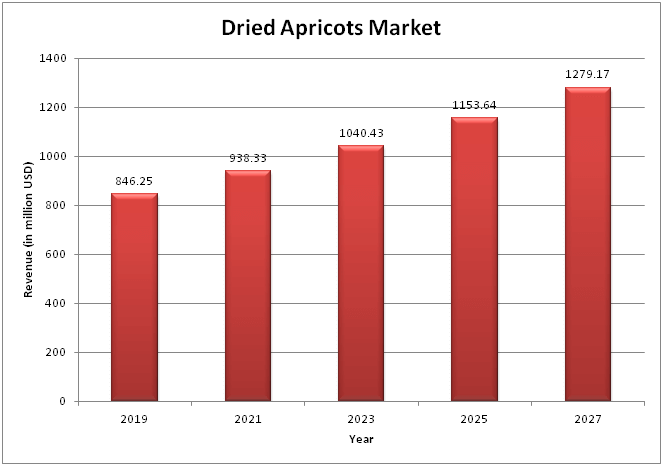 Dried Apricots Market: Product Type
Sulphured dried apricots
Natural dried apricots
Organic dried apricots
Dried Apricots Market: Application
Edible application
Medicinal application
Dried Apricots Market: Competitive Analysis
Report includes accurate analysis of key players with Market Value, Company profile, SWOT analysis. The Study constitutes of following key players in Dried Apricots Market :

Malatya Apricot
Chitree
Royal Rifco
The Raw Chocolate
Hebei Longwangmao
Shanxi Bailaoda
Hebei Yongdeheng
Swanson
Geographical analysis of Dried Apricots Market :
North America
Europe

France
Germany
Spain
UK
Rest of Europe

Asia Pacific

China
Japan
India
South East Asia

Latin America
Middle East and Africa
Dried Apricots Market Report delivers comprehensive analysis of :
Market Forecast for 2019-27
Market growth drivers
Challenges and Opportunities
Emerging and Current market trends
Market player Capacity, Production, Revenue (Value)
Supply (Production), Consumption, Export, Import analysis
End user/application Analysis
---
Dried Apricots Market was valued at around USD 938.33 million in 2021 & estimated to reach USD 1346.958453 by 2028.
Dried Apricots Market is likely to grow at compounded annual growth rate (CAGR) of 5.3% between 2022 to 2028.
Yes, the report includes COVID 19 impact on the market.