Lady Bags Market report is estimated to reach USD 42044.8 million by 2027, growing at a CAGR of 5.1 % between 2019 and 2027
Lady bags are fashionably designed handheld bag used to carry essential items of personal use. Typically, these lady bags are larger than a purse or pouch. Lady bags are accessories that are used to hold objects such as currency and other personal items. The lady bags industry is witnessing a boom, with designer lady bags and other varieties commanding thousands of dollars. Lady bags are essentially bags that also include purses, satchels, and wallets among others that come in a variety of sizes and are a product of certain fashion designs. Lady bags are considered to be some important accessory in the fashion world, especially for women and are considered as a completion piece in the woman's wardrobe.
The lady bags market has always been a trending market in the fashion industry. Lady bags are typically meant for ladies who are usually found carrying it with style and usually found to match it with their attire. There are several drivers that push lady bags growth in the market. The usage of lady bags is predominant with woman, and a rise in the woman workforce over the years has boosted the growth of the lady bags market. Recently, the lady bags market has experienced a shift from bigger totes to smaller along with the increasing preference for off-price channels driven by demand from brand conscious millennial population. Moreover, the growing affluence in the emerging economies and awareness of better brands of lady bags has had a significant influence in the market. However, counterfeit products of lady bags are always a major restraint acting in the lady bags industry. Additionally, high import duties and declining store presence coupled with decreasing global GDP growth have been affecting the growth of the lady bags market.
The Lady Bags Market can be segmented on the basis of different lady bags types and distributional channel. On the basis of type, the lady bags market can be further divided into satchel, bucket bag, clutch, tote bag, backpack, baguette bag, hobo bag and athletic bags. Amongst the lady bags products, satchel and tote bags are the latest trend in the lady bags industry. The large designer brands are preferring to stay in sync with the fashion and manufacturing lady bags that cater to the demand of the Lady Bags Market. Furthermore, the Lady Bags Market has been segmented on the basis of distributional channel which includes, departmental store, single-branded stores and online distribution channel. Online distribution channel of lady bags are gaining importance due to easy convenience and presence of large number of brands.
The major players present in Lady Bags Market are LV, Hermes, Fozens, Prada, Fendi, Dunhill, Chanel, Gucci, Versace, and valentino. The Lady Bags Market has both branded and un-branded companies and they are competing continuously with their price and new product launches. The major players dominating the Lady Bags Market are Coach, Kate Spade, LVMH, Michael Kors, Ted Baker, Baggit, Hidesign, Fossil and Gucci are a few among other leading producers of lady bags in the world. On the basis of application side Lady Bags Market is used for little girl, for young lady, for middle aged lady, for old lady; for daily uses as lady bags are very essential for women as a fashion apparel as well as necessary items for daily uses.
On the basis of geographical condition Global lady bag market is divided into several areas such as India, China, Japan, North America, Taiwan, South-East Asia and Europe. In North America, the demand for lady bags is growing in the US with the rising demand for affordable luxury lady bags along with the presence of top brands in the country. The arrival of numerous lady bags brands and their easy availability through offline and online retail stores augmented the demand for lady bags among consumers in the US. In developed economies, the replacement cycle of luxury lady bags is high compared to the developing countries which is driving the market growth in North America and Europe region. Availability of affordable high quality lady bags and demand for durable shoulder bags and purses are supporting the market growth in the Asia-Pacific region. In Asia-Pacific region, China holds largest amount of each category which is derived from leather and fabric raw material. Key players in Asia-Pacific region are focusing on Bangladesh's leather market, seeking to draw investors and to increase the market share in leather lady bags market.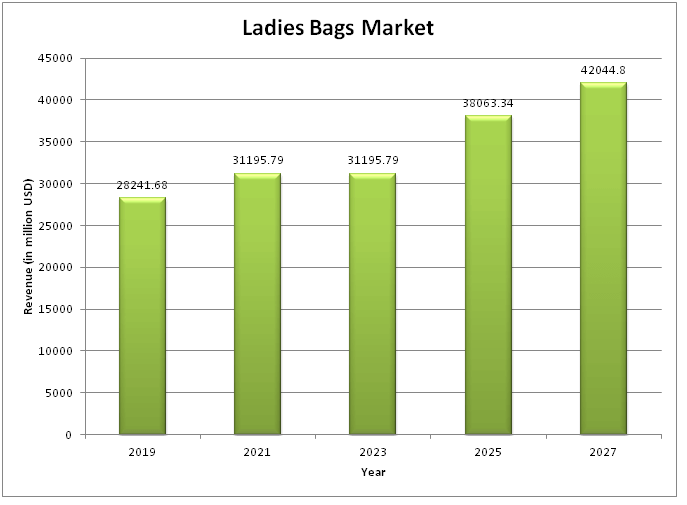 Lady Bags Market report : Product Type
Handbags & purses
Backpacks & bookbags
Shoulder bag
Lady Bags Market report : End User
Lady Bags Market Report : Competitive Analysis
Report includes accurate analysis of key players with Market Value, Company profile, SWOT analysis. The Study constitutes of following key players in Lady Bags Market report :

LV
Hermes
Fozens
Prada
Fendi
Dunhill
Chanel
Gucci
Versace
IKEA
Valentino
Geographical analysis of Lady Bags Market report :
North America
Europe

France
Germany
Spain
UK
Rest of Europe

Asia Pacific

China
Japan
India
South East Asia

Latin America
Middle East and Africa
Lady Bags Market Report delivers comprehensive analysis of :
Market Forecast for 2019-27
Market growth drivers
Challenges and Opportunities
Emerging and Current market trends
Market player Capacity, Production, Revenue (Value)
Supply (Production), Consumption, Export, Import analysis
End user/application Analysis
---
Ladies Bags Market was valued at around USD 31195.79 million in 2021 & estimated to reach USD 44189.08412 by 2028.
Ladies Bags Market is likely to grow at compounded annual growth rate (CAGR) of 5.1% between 2022 to 2028.
Yes, the report includes COVID 19 impact on the market.