Global Infection Surveillance Systems Market by Product Type (Hardware, Software, Services ) by Solution( On Premise, Web Based, Training & Consulting, Implementation) by Application /End User(Hospitals, Home Cares, Clinics, Sanitation)
11-DEC-2017 | Number of pages: 120| Report Code:PSMR-00101| Report Format : PDF | Status : Published
Report Description
Overview
Global Infection Surveillance Systems Market: Summary
Infection Surveillance Systems is designed to support decision making in infection prevention and control (IPC) programs by improving surveillance practices . Hospital-acquired infections (HAIs) has become serious concern globally. It occurs in at least 48 hours into a patient's hospital stay that were neither present nor incubating at the time of patient admission. HAIs are critical safety concerns for patients, healthcare professionals and healthcare systems. Infection surveillance system has emerged as support to evidence-based prevention and control programs in order to reduce HAI prevalence.
Infection Surveillance Systems Market has shown tremendous growth from 2012 and expected to reach 1.09 billion by 20124 at CAGR of 15.65 % between 2015-24. Increasing occurrences of Hospital-acquired infections (HAIs) globally is main force driving Infection surveillance System Market. United States Infection surveillance System Market is expected to reach USD 600 million by 2024 holds almost 60% of market shares. Infection surveillance System is also emerging very rapidly in Europe, China, Japan, India and South Korea.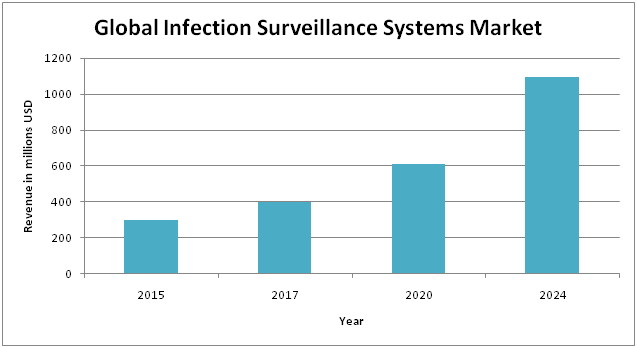 Infection Surveillance Systems is need for accurate diagnosis of Hospital-acquired infections (HAIs). Infection surveillance systems information can inform prioritization of infection prevention efforts. World Health Organization (WHO) offers simplified definition of HAI to use in limited context for clinical diagnosis. United States Centers for Disease Control and Prevention (CDC) also offers standardized HAI definitions to follow in United States. A multi-disciplinary HAI steering committee has developed new Infection surveillance System which satisfies WHO definitions and collect accurate infection data. The use of electronic surveillance systems (ESSs) also used in many hospitals to control -acquired infections (HAIs).
Infection Surveillance Systems on downside :
• Requires prolonged surveillance,
• Varied majorly in accordance to treatment.
• Challenging to implement in many low to middle-income countries (LMICs)
• Microbiology laboratory and IT infrastructure requires
• Patient records may be incomplete, inconsistent and hence unusable in Infection surveillance System.
Surgical site infections, which can occur up to thirty days post-operatively, may be difficult to conduct. These challenges may lead to non- or under-detection of HAI's with resultant missed opportunities to institute the appropriate medical treatment. In LMICs prevalence of HAIs ranges from 5% to 70% among hospitalized patients, with surgical site infections being the most common. Highest HAI rates were found in intensive care unit (ICU), Neonatal ICU and Orthopedics / burn unit .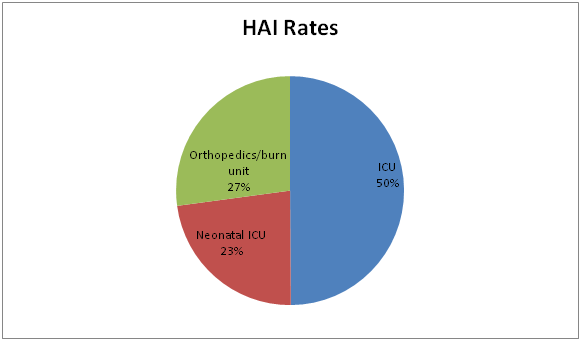 Important applications of Infection Surveillance Systems:
• Hospitals
• Clinics
• Home Cares
• Sanitation
Global Infection Surveillance Systems Market: Product Type Analysis
• Hardware
• Software
• Services
Global Infection Surveillance Systems Market : Product Type Analysis
• On Premise
• Web Based
• Training & Consulting
• Implementation