Global Sulphur Recovery Market is estimated to reach USD 3256.76 million by 2027, growing at a CAGR of 5.5 % between 2019 and 2027
Sulphur is widely used in petroleum industries as it helps in gaining traction across various industry segments. In the current scenario, sulphur is recovered as a by-product of oil & gas industry followed by coal gasification. Sulphur recovery is a process of harnessing sulphur from hydrogen sulphide. It ranks for its large volume and ready availability and as the most abundant element in the world. Its end use application is required in fertilizers, rubber, cosmetics and pharmaceutical industries. It needs to be eliminated during the coal gasification & extraction process in order to avoid catalyst poisoning & prevent fouling.
Hydrogen sulphide (H2S) has its presence in a number of gaseous waste streams from oil refineries, natural gas plants and wastewater treatment among other processes. These streams usually contain sulphur, water vapour, carbon dioxide, trace quantities of hydrocarbons and ammonia. Waste gases with ammonia and sulphur are termed as sour gases, whereas those without the presence of ammonia are referred to as acid gases. These waste streams are used to recover sulphur just before flaring them. Sulphur recovery from sour or acid gas involves application of the Claus Process using the reaction between hydrogen sulphide and sulphur dioxide (produced in the Claus Process furnace from the combustion of H2S with air and/or oxygen).
The study covers detail analysis, growth and forecast of the Sulphur Recovery Market. The report includes market analysis on global and regional level. The study covers historical data analysis from 2014 to 2017 and market forecast for 2019 to 2027 based on revenue generated. The study includes market value in terms of revenue in billion USD for years 2014-27 and compound annual growth rate (CAGR) in % for from 2019-2027. The market is expected to show constant growth between 2019-2027.
The report comprises value chain analysis for each of the product segments. Value chain analysis offers in depth information about value addition at each stage. The study includes drivers and restraints for Sulphur Recovery Market along with their impact on demand during the forecast period. The study also provides key market indicators affecting the growth of the market. Research report includes major player analysis with shares of each player inside market, growth rate and market attractiveness in different end users/regions. Our study Sulphur Recovery Market helps user to make precise decision in order to expand their market presence and increase market share.
The report provides Sulphur Recovery Market Dynamics ,includes industry growth drivers, challenges, opportunities , risk, constraints as well as threats .Reports also includes Manufacturing Cost Analysis mainly included Raw Materials Analysis, Price Trend of product, Mergers & Acquisitions, Expansion, Key Suppliers of product, Concentration Rate of Sulphur Recovery Market, Manufacturing Process Analysis. Research Report contains Market Effect Factors analysis mainly included Technology Progress, Consumer Needs Trend, External Environmental Change.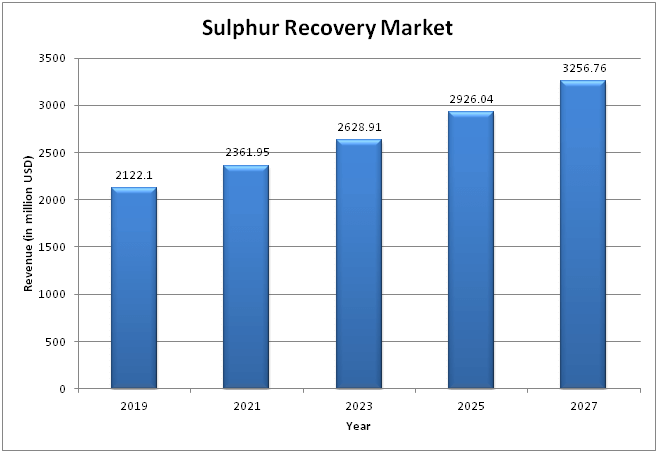 Global Sulphur Recovery Market: Product Type
Claus Process
Tail Gas Treatment
Global Sulphur Recovery Market: Application
Global Sulphur Recovery Market: Competitive Analysis
Report includes accurate analysis of key players with Market Value, Company profile, SWOT analysis. The Study constitutes of following key players in Global Sulphur Recovery Market:

Royal Dutch Shell
Jacobs Engineering Group Inc.
Exxon Mobil
The Linde Group
Chiyoda Corporation
John Wood Group Plc.
Technip FMC
Flour Corporation
GTC Technology US
CB&I
Sunway Petrochemical Engineering
Amec Foster Wheeler
Worley Parsons Ltd.
Geographical analysis of Global Sulphur Recovery Market:
North America
Europe

France
Germany
Spain
UK
Rest of Europe

Asia Pacific

China
Japan
India
South East Asia

Latin America
Middle East and Africa
Global Sulphur Recovery Market Report delivers comprehensive analysis of :
Market Forecast for 2019-27
Market growth drivers
Challenges and Opportunities
Emerging and Current market trends
Market player Capacity, Production, Revenue (Value)
Supply (Production), Consumption, Export, Import analysis
End user/application Analysis
---
Sulphur Recovery Market was valued at around USD 2361.95 million in 2021 & estimated to reach USD 3435.879445 by 2028.
Sulphur Recovery Market is likely to grow at compounded annual growth rate (CAGR) of 5.5% between 2022 to 2028.
Yes, the report includes COVID 19 impact on the market.