Amino Acid Based Formula Market is estimated to reach USD 2522.39 million by 2027, growing at a CAGR of 8.3 % between 2019 and 2027
Amino acid-based formula, also known as an elemental formula, it is a type of infant formula made from amino acids. Amino acids, often referred to as the building blocks of proteins, are compounds that play many critical roles in your body. It is very essential for vital processes like the building of proteins and synthesis of hormones and neurotransmitters. The amino acids are in the simplest form, making it easy for the body to process and digest. Rising availability of amino acid-based formula in pouches, in tandem with smaller conventional containers such as tubs, leading to impressive sale in recent years.
Large variety of formulas has been established for young infants with different tolerance limits, such as soy-based formulas and amino acid-based formulas. Soy-based formulas might be recommended in light of their lactose tolerance or cow's milk protein tolerance, the American Academy of Paediatrics considers their use for feeding preterm or low-birth-weight infants unadvisable. Amino acid-based formulas however are considered to be the first preference in infant formulas, as they can be fed to new-born as well as young infants intolerant to casein hydrolysates, soy protein isolates, and cow milk proteins.
The study covers detail analysis, growth and forecast of the Amino Acid Based Formula Market. The report includes market analysis on global and regional level. The study covers historical data analysis from 2014 to 2017 and market forecast for 2019 to 2027 based on revenue generated. The study includes market value in terms of revenue in billion USD for years 2014-27 and compound annual growth rate (CAGR) in % for from 2019-2027. The market is expected to show constant growth between 2019-2027.
The report comprises value chain analysis for each of the product segments. Value chain analysis offers in depth information about value addition at each stage. The study includes drivers and restraints for Amino Acid Based Formula Market along with their impact on demand during the forecast period. The study also provides key market indicators affecting the growth of the market. Research report includes major player analysis with shares of each player inside market, growth rate and market attractiveness in different end users/regions. Our study Amino Acid Based Formula Market helps user to make precise decision in order to expand their market presence and increase market share.
The report provides Amino Acid Based Formula Market Dynamics ,includes industry growth drivers, challenges, opportunities , risk, constraints as well as threats .Reports also includes Manufacturing Cost Analysis mainly included Raw Materials Analysis, Price Trend of product, Mergers & Acquisitions, Expansion, Key Suppliers of product, Concentration Rate of Amino Acid Based Formula Market, Manufacturing Process Analysis. Research Report contains Market Effect Factors analysis mainly included Technology Progress, Consumer Needs Trend, External Environmental Change.
Organic infant formulas based on amino acid is emerging trend especially in North America. Organic Infant Formula and Baby's Only Organic Dairy Formula successfully met FDA regulations for infant nutrition. Infant formula manufacturers have made numerous improvements in their products, by adjusting or adding ingredients in response to research developments and trends. Additionally, these manufacturers adopt attractive packaging solutions such as ready-to-use plastic bottles having easy-to-grip shapes, for providing convenience to busy parents in carefully tending to their children. Key companies contributing to expansion of the amino acid-based formula include Ausnutria, Abbott, Apatmil, Mead Johnson, Neocate and Nestle. Neocate, EleCare and Enfamil Puramino.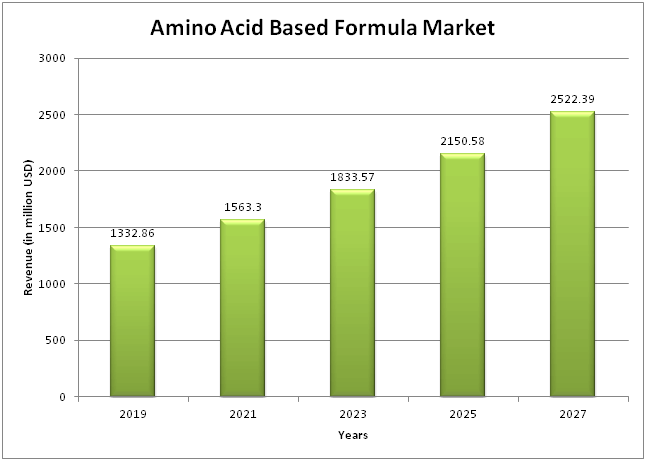 Amino Acid Based Formula Market: Product Type
Amino Acid Based Formula Market: Application
Birth to 3 Months
4 to 7 Months
8 to 12 Months
12 Months & Above
Others
Amino Acid Based Formula Market: Competitive Analysis
Report includes accurate analysis of key players with Market Value, Company profile, SWOT analysis. The Study constitutes of following key players in Amino Acid Based Formula Market:

Neocate
Abbott
Ausnutria
Nestle
Mead Johnson
Aptamil
EleCare
Enfamil Puramino
Geographical analysis of Amino Acid Based Formula Market:
North America
Europe

France
Germany
Spain
UK
Rest of Europe

Asia Pacific

China
Japan
India
South East Asia

Latin America
Middle East and Africa
Amino Acid Based Formula Market Report delivers comprehensive analysis of :
Market Forecast for 2019-27
Market growth drivers
Challenges and Opportunities
Emerging and Current market trends
Market player Capacity, Production, Revenue (Value)
Supply (Production), Consumption, Export, Import analysis
End user/application Analysis
---
Amino Acid Based Formula Market was valued at around USD 1563.3 million in 2021 & estimated to reach USD 2731.753601 by 2028.
Amino Acid Based Formula Market is likely to grow at compounded annual growth rate (CAGR) of 8.3% between 2022 to 2028.
Yes, the report includes COVID 19 impact on the market.