Global Low Silica Zeolite Market is estimated to reach USD 4145.13 million by 2027, growing at a CAGR of 3.1% between 2019 and 2027
Zeolites is the group of three-dimensional hydrated microporous alum inosilicate minerals that are primarily used in water filters and as water softeners. They are also known as molecular sieves as they can selectively sort molecules using the size exclusion process. These minerals have relatively porous structure. This makes them suitable for usage in detergents, concrete, petrochemical, nuclear, refrigeration, and various other end-user industries. Zeolites are usually available in natural and synthetic forms; however, synthetic zeolites are used on a much higher scale than naturally occurring zeolites. Structure of zeolites mainly encompasses silicon-oxygen-aluminium linkages, which form pores of identical size on upper crest of the mineral.
Zeolites have regular internal cavities and interconnected networks of different sizes and shapes. The different internal structure of zeolites is attributed to diverse crystal structure and chemical composition. The application of zeolites in detergents and petroleum industries is likely to act as a key driver for the zeolite market during the forecast period. Zeolites have unique and exceptional features due to their structural chemistry, acidity, and porosity. They can be used as catalysts in FCC and hydrocracking applications, as detergent builders, as drying agents in natural gas, and to trap volatile organic compounds.
Zeolites are used in industrial applications for their high adsorption capacity of water, separation properties, and controllable pore sizes, which enables selective adsorption or separation based on molecular size. Synthetic zeolites are extremely efficient in drying polar liquids such as methanol and ethanol. Zeolites are classified on the basis of their frameworks into LTA, Faujasites, and MFI. The nature of zeolites depends largely on the silica-to-alumina ratio. They have different pore sizes such as 3A, 4A, 5A, 8A, and 10A which is important during their use as a molecular sieve for adsorption. They can be used for the commercial dehydration of unsaturated hydrocarbons, for industrial gas drying, and for the separation of normal paraffin from hydrocarbon.
Global low silica zeolite market can be categorized into Natural Zeolite and Synthetic Zeolite. Zeolites are mostly available in two forms: natural and synthetic. Natural zeolites are used in both industrial as well as other applications. These are typically used as adsorbent materials. Natural zeolite structure has more acid resistant silica to grip the structure together compared to the synthetic class of zeolites. This makes natural zeolites more suitable for usage in the agriculture industry as feed additives. Union Carbide commercialized synthetic zeolites as a novel class of industrial materials that could be used for purification and separation in 1954.
The most basic applications were the drying of natural gas and refrigerant gas. However, the range of conventional applications improved with the introduction of new synthetic zeolites. Synthetic zeolites have a very high similarity towards cation and thus can be used as detergent builders. Synthetic zeolites may be classified into three groups based on the aluminium and silicon ratio in the zeolites framework. Accordingly, low silica zeolites contain the silicon/aluminium ratio =1, intermediate silica zeolites contain silicon/aluminium ratio between 2 and 5 and high silica zeolites contain silicon/aluminium ratio more than 10. The ratio difference makes these zeolites suitable for specific purposes.
As per application side, the global low silica zeolite market can be segmented into Petrochemicals, Light Industry, Building & Concrete and Catalyst. Zeolites in natural and synthetic forms are majorly used in the detergent industry for their delicate ion exchange property. Thus, growth of the detergent industry is expected to be the leading driver for the zeolites market. However, the market is estimated to lose its share in developed regions to developing regions in the next few years due to the introduction of liquid detergents and zeolite-free detergents. Furthermore, its application as catalysts is estimated to be the next major application of zeolites. This is likely to boost the demand for zeolites in several end-user industries.
In terms of region, Asia Pacific is estimated to be the major market for zeolites during the forecast period, mainly due to the sizeable and continued growth in detergent and water treatment industries. Considering the remarkable growth in the water treatment industry, emerging economies such as India, Thailand, Malaysia, and Brazil are anticipated to be the biggest markets for zeolites in the next few years. Demand for natural and synthetic zeolites in other end-user industries such as petrochemical, medical, and agriculture is estimated to remain moderate in developed countries such as the U.S., Mexico, Canada and countries in Europe owing to the modest growth of end-user industries using zeolites. Also, developing countries are estimated to be the key markets for zeolites during the forecast period.
Some of the key players operating in the low silica zeolite market UOP (Honeywell), CECA (Arkema), BASF, Zeochem AG, Tosoh Corporation, W.R. Grace, Zeolyst, Bear River, Blue Pacific Minerals and Clariant. These companies have adopted growth strategies such as expansions and new product launches to increase their presence in the zeolites market.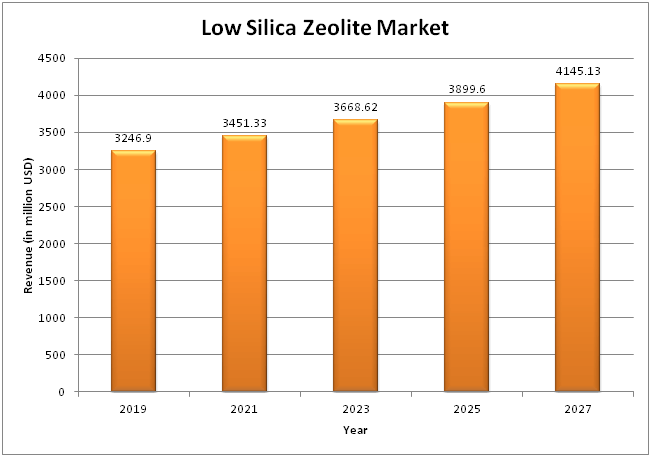 Global Low Silica Zeolite Market: Product Type
Natural Zeolite
Synthetic Zeolite
Global Low Silica Zeolite Market: Application
Petrochemicals
Light Industry
Building & Concrete
Catalyst
Global Low Silica Zeolite Market: Competitive Analysis
Report includes accurate analysis of key players with Market Value, Company profile, SWOT analysis. The Study constitutes of following key players in Global Low Silica Zeolite Market:

UOP (Honeywell)
CECA (Arkema)
BASF
Zeochem AG
Tosoh Corporation
W.R. Grace
Zeolyst
Bear River
Blue Pacific Minerals
Clariant
Geographical analysis of Global Low Silica Zeolite Market:
North America
Europe

France
Germany
Spain
UK
Rest of Europe

Asia Pacific

China
Japan
India
South East Asia

Latin America
Middle East and Africa
Global Low Silica Zeolite Market Report delivers comprehensive analysis of :
Market Forecast for 2019-27
Market growth drivers
Challenges and Opportunities
Emerging and Current market trends
Market player Capacity, Production, Revenue (Value)
Supply (Production), Consumption, Export, Import analysis
End user/application Analysis
---
Low Silica Zeolite Market was valued at around USD 3451.33 million in 2021 & estimated to reach USD 4273.632205 by 2028.
Low Silica Zeolite Market is likely to grow at compounded annual growth rate (CAGR) of 3.1% between 2022 to 2028.
Yes, the report includes COVID 19 impact on the market.