Global Solder Balls Market by Product Type (Lead Solder Balls, Lead Free Solder Balls) Solder Type (Eutectic, Non-Eutectic) by End User(Automotive,Electronic) Industry Analysis, Volume, Share, Growth, Challenges, Trends, and Forecast 2016–2024.
26-Oct-2017 | Number of pages: 105| Report Code:PSMR-00056| Report Format : PDF | Status : Published
Report Description
Overview
A solder ball also know as a solder bump is a ball of solder that provides the contact between the chip package and the printed circuit board. It can also be used in stacked packages in multichip modules. The solder balls can be placed either with manually or by automated equipment, and are held in place with a tacky flux. In BGA package, solder ball is small sphere of solder that provides the contact between the BGA package and the printed circuit board. Solder ball could be damaged after fabrication of the BGA package, it could produce bad connections due to bad assembly. PCB which fails due to bad BGA connections can be repaired either by reflowing, or by removing the chip and cleaning it of solder, replacing old solder ball.
Global Solder Balls Market is expected to reach USD 349.4 million by 2024 at a CAGR of 6.8 %. Solder Balls Market is showing growth primarily because of growth of Automotive industry and Electronic industry.Automotive industry is growing at faster rate due to high demand of Automobile globally. While Electronic market in Asia Pacific region has shown tremendous growth due to large population and increase in disposable income.China , Japan , South Korea are the largest manufactures globally helping Solder Balls Market to grow with CAGR of 6.8%.

Technological advanced Solder Balls production and use has emerged as driving factor in growth of Solder Balls Market.Use of Solder Balls in circuit and packaging increase contact reliability significantly this increases life time of device.High performance solder balls are increasing device performance significantly by providing high quality contact in circuit. Availability low toxic material for manufacturing created environmental issue for Solder Balls industry as manufactures are facing lot of problems from government. Leading manufactures are overcoming these environment issue with using lead free material and advanced technique to produce Eco friendly Solder Balls.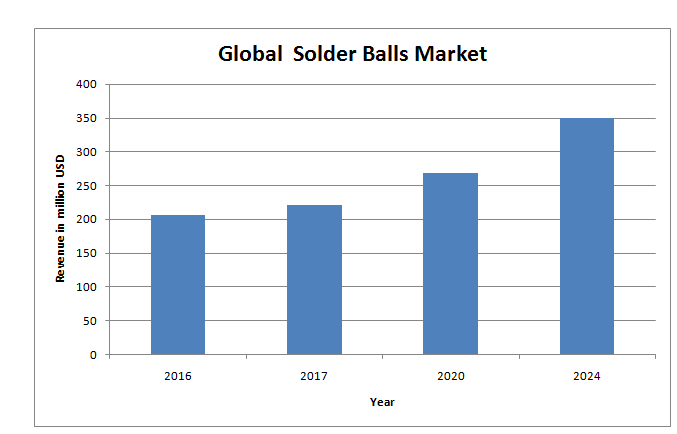 Global Solder Balls Market: End Users/Application Analysis
• Automotive
• Electronic

Global Solder Balls Market : Product Type Analysis
• Lead solder balls
Optimized to offer excellent wetting of leaded component, while the tin provides tensile strength in the solder joint, the lead provides ductility and greatly assists in dampening the temperature coefficient differences.
• Lead free solder balls
Ideal to offer excellent wetting of lead free component and board finishes.