Shea Butter Market is estimated to grow at a CAGR of % between 2022 and 2028
Overview
Shea Butter is an edible vegetable oil which is separated from sun-dried kernels of the Shea tree. A fatty material access from the nuts of the Shea tree, used in food and cosmetic skin preparations and skin moisturizing. The absorption of natural vitamins and fatty acids in Shea Butter makes it strangely nourishing and moisturizing for skin. It is generally used to relief dry skin and to help to secure the skin's natural oils. Shea Butter has been used as a cosmetic ingredient from years. Shea Butter is safe to eat if its hundred percent unrefined, grades A that comes from a good source.
Raw Shea Butter is commonly used in cooking in African region and safe to consume. The powerful antioxidants and vitamins in Shea Butter like vitamin A, which is helpful in reducing dark circles and also help to reduces the appearance of blemishes and dark spots as well as speed up the healing process of blemishes and dark spots on the skin. Shea Butter has vitamins A and E, Both vitamins soothe and moisturize chapped lips and dry skin. Increasing demand in cosmetic industry driving growth of Shea Butter Market .
Product type & Competitive analysis
An important market remains in the European Union, US which buys Shea mainly for cosmetics and chocolate formations. The average price for Shea Butter is much lower than the world market prices for cocoa butter & can be used as replacement. The key element driving growth of the Shea Butter Market involved the growing demand for cocoa butter options in chocolate and confectioneries, increasing utilization of chocolate and bakery products, increase of product premiumization in the food and beverages industry, and soaring Shea Butter utilization by cosmetics and personal care products manufacturers.
The study covers detail analysis, growth and forecast of the Shea Butter Market. The report includes market analysis on global and regional level. The study covers historical data analysis from 2014 to 2017 and market forecast for 2019 to 2027 based on revenue generated. The study includes market value in terms of revenue in billion USD for years 2014-27 and compound annual growth rate (CAGR) in % for from 2019-2027. The market is expected to show constant growth between 2019-2027.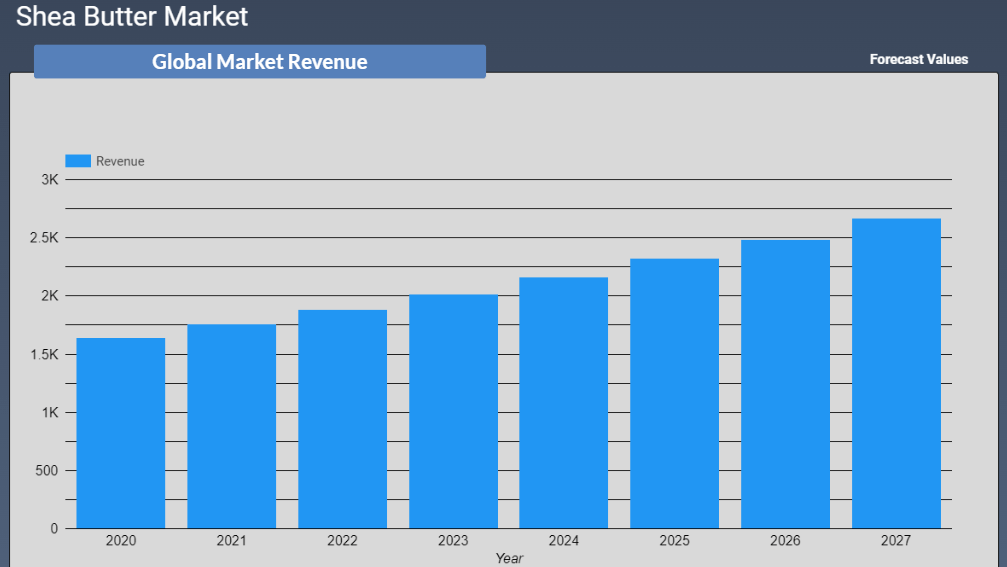 Application & Regional analysis
The report comprises value chain analysis for each of the product segments. Value chain analysis offers in depth information about value addition at each stage. The study includes drivers and restraints for Shea Butter Market along with their impact on demand during the forecast period. The study also provides key market indicators affecting the growth of the market. Research report includes major player analysis with shares of each player inside market, growth rate and market attractiveness in different end users/regions. Our study Shea Butter Market helps user to make precise decision in order to expand their market presence and increase market share.
The report provides Shea Butter Market Dynamics ,includes industry growth drivers, challenges, opportunities , risk, constraints as well as threats .Reports also includes Manufacturing Cost Analysis mainly included Raw Materials Analysis, Price Trend of product, Mergers & Acquisitions, Expansion, Key Suppliers of product, Concentration Rate of Shea Butter Market, Manufacturing Process Analysis. Research Report contains Market Effect Factors analysis mainly included Technology Progress, Consumer Needs Trend, External Environmental Change.

Shea Butter Market : Product Type
Processed Shea Butter
Refined Shea Butter
Shea Butter Market : Application
Cosmetics
Medicine
Food Industry
Shea Butter Market : Competitive Analysis
Report includes accurate analysis of key players with Market Value, Company profile, SWOT analysis. The Study constitutes of following key players in Shea Butter Market :

The Savannah Fruits Company
IOI Loders Croklaan
Ghana Nuts Ltd
StarShea
Akoma Cooperative
Geographical analysis of Shea Butter Market :
North America
Europe

France
Germany
Spain
UK
Rest of Europe

Asia Pacific

China
Japan
India
South East Asia

Latin America
Middle East and Africa
Shea Butter Market Report delivers comprehensive analysis of following parameters :
Market Estimates & Forecast from 2022 to 2028

Market Intelligence to consolidate decisions

Market growth drivers, emerging and current market trends

Challenges and Opportunities overview

In-detailed segment & End user/application analysis

Top player Production insight, Revenue (Value), market share, recent developments & future outlook

Supply (Production), Consumption, Export-Import analysis

Covid 19 impact & sustainability strategies in a post-pandemic market
---
Shea Butter Market was valued at around USD million in 2021 & estimated to reach USD by 2028.
Shea Butter Market is likely to grow at compounded annual growth rate (CAGR) of % between 2022 to 2028.
segment dominated the global market in terms of revenue generation. region is likely to show the highest growth rate between 2021 to 2028.
Yes, the report includes COVID 19 impact on the market.