Meat Free Foods Market is estimated to grow at a CAGR of 7.1 % between 2022 and 2028
Overview
Meat-Free Foods can help to lose weight and reduce the risk of cancer, heart failure, obesity. Plant-based foods such as fruits and vegetables are generally high in nutrition and low in calories, and are important parts of a heart-healthy diet. Increasing heath concerns especially heart and obesity related issue turning large population to use veg diet. Meat-Free Foods are becoming integral part of lifestyle and hence Meat Free Foods Market is growing at significant growth rate.
Product type & Competitive analysis
Product wise the meat-free foods are divided into mainly in four types which are Veganism, Buddhist Vegetarianism, Lacto Vegetarianism, Ovo Vegetarianism and other. Veganism is a type of vegetarian diet that excludes meat, eggs, dairy products and all other animal-derived ingredients. Distinctions may be made between several categories of veganism. Dietary vegans refrain from consuming animal products, not only meat but also eggs, dairy products and other animal-derived substances. The concept of lacto-vegetarianism among a significant number of people comes from ancient India. Ovo vegetarianism is a type of vegetarianism which allows for the utilization of eggs but not dairy products, in comparison with lacto vegetarianism. Veganism segment covers largest market share and estimated to grow at impressive CAGR between forecasted period.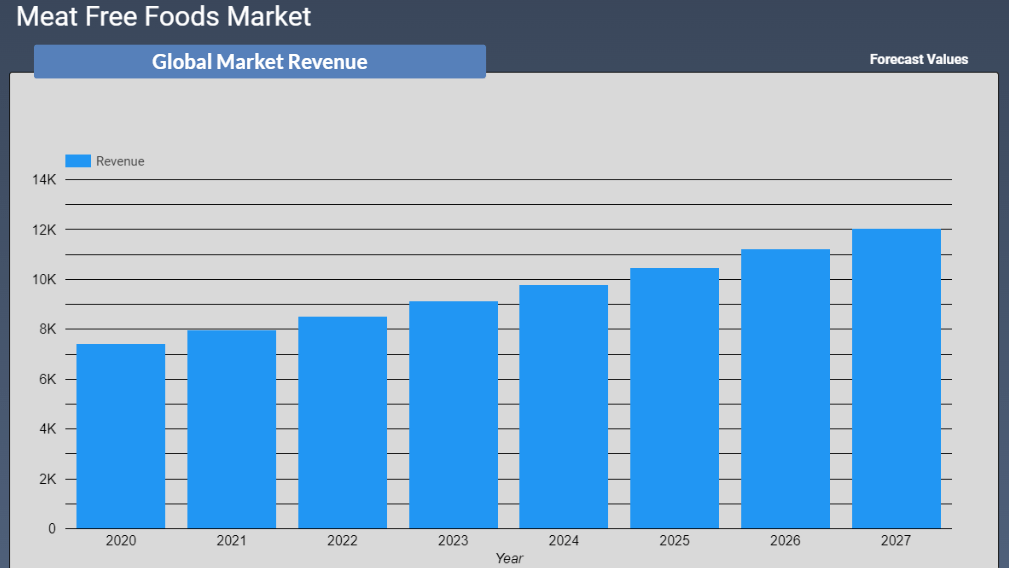 Application & Regional analysis
The study covers detail analysis, growth and forecast of the Meat Free Foods Market. The report includes market analysis on global and regional level. The study covers historical data analysis from 2014 to 2017 and market forecast for 2019 to 2027 based on revenue generated. The study includes market value in terms of revenue in billion USD for years 2014-27 and compound annual growth rate (CAGR) in % for from 2019-2027. The market is expected to show constant growth between 2019-2027.
Europe dominated the Meat Free Food Market due to increase in the number of production of meat-free foods as well as more inclination towards meat-free food. The report comprises value chain analysis for each of the product segments. Value chain analysis offers in depth information about value addition at each stage. The study includes drivers and restraints for Meat Free Foods Market along with their impact on demand during the forecast period. The study also provides key market indicators affecting the growth of the market. Research report includes major player analysis with shares of each player inside market, growth rate and market attractiveness in different end users/regions. Our study Meat Free Foods Market helps user to make precise decision in order to expand their market presence and increase market share.
The report provides Meat Free Foods Market Dynamics ,includes industry growth drivers, challenges, opportunities , risk, constraints as well as threats .Reports also includes Manufacturing Cost Analysis mainly included Raw Materials Analysis, Price Trend of product, Mergers & Acquisitions, Expansion, Key Suppliers of product, Concentration Rate of Meat Free Foods Market, Manufacturing Process Analysis. Research Report contains Market Effect Factors analysis mainly included Technology Progress, Consumer Needs Trend, External Environmental Change.

Meat Free Food Market : Product Type
Veganism
Buddhist Vegetarianism
Lacto Vegetarianism
Ovo Vegetarianism
Other
Meat Free Food Market : Application
Restaurant
Household
Other
Meat Free Food Market : Competitive Analysis
Report includes accurate analysis of key players with Market Value, Company profile, SWOT analysis. The Study constitutes of following key players in Meat Free Food Market :

Brecks
Gardein
VBites Foods
Beyond Meat
Marlow Foods
Clearspring
Lightlife Foods
BOCA
Aldi
Hain Celestial
Fry Group Foods
Cedar Lake Foods
Atlantic Natural Foods
Bean Supreme
Butler Foods
Fantastic World Foods
Field Roast
Dragonfly Foods
Geographical analysis of Meat Free Food Market :
North America
Europe

France
Germany
Spain
UK
Rest of Europe

Asia Pacific

China
Japan
India
South East Asia

Latin America
Middle East and Africa
Meat Free Foods Market Report delivers comprehensive analysis of following parameters :
Market Estimates & Forecast from 2022 to 2028

Market Intelligence to consolidate decisions

Market growth drivers, emerging and current market trends

Challenges and Opportunities overview

In-detailed segment & End user/application analysis

Top player Production insight, Revenue (Value), market share, recent developments & future outlook

Supply (Production), Consumption, Export-Import analysis

Covid 19 impact & sustainability strategies in a post-pandemic market
---
Meat Free Foods Market was valued at around USD 7972.52 million in 2021 & estimated to reach USD 12886.11234 by 2028.
Meat Free Foods Market is likely to grow at compounded annual growth rate (CAGR) of 7.1% between 2022 to 2028.
segment dominated the global market in terms of revenue generation. region is likely to show the highest growth rate between 2021 to 2028.
Yes, the report includes COVID 19 impact on the market.