Almond Extract Market is estimated to grow at a CAGR of 7.5 % between 2022 and 2028
Overview
Almond Extract is a concentrated liquid that provides almond flavour to foods. Artificial almond extract is generated from Benz aldehyde, ethyl alcohol, and water. Pure almond extract is made from three most important ingredients which are alcohol, water, and bitter almond oil. Almond extract contains some alcohol which is acts as a solvent to extract flavour and it is full of proteins, vitamins and minerals. Almond extracts is generated by cold pressing the almond seeds and then mixing that colds pressing almond seeds with alcohol. Almonds are great source of fiber and healthy fats and Extract are low in carbohydrates.
Almond extract is healthy for skin, hence used heavily in cosmetics industry. Due to moisturizing properties, strengthening hair and skin global demand of Almond extract has increased significantly. Along with cosmetics it is used in a wide variety of cooking recipes like sweet dishes or desserts. The almond extract has a very strong flavour and generally used in moderation. Market holds massive potential because of food industries continues to bring new products with various flavours.
Product type & Competitive analysis
Natural OR Organic food products market is growing at exponential growth rate mainly because of increasing health awareness of large population especially in Asia Pacific. With an improved supply chain efficiency for almond and R&D for improved varieties of almond with lesser perishability can improve the state of raw material availability for the almond extract market. Delivering quality and cost effective strategies are working magnificently for major manufacturers. Global Almond Extract Market is becoming more competitive primarily because of low entry barrier and high demand of product in the market.
The study covers detail analysis, growth and forecast of the Almond Extract Market. The report includes market analysis on global and regional level. The study covers historical data analysis from 2014 to 2017 and market forecast for 2019 to 2027 based on revenue generated. The study includes market value in terms of revenue in billion USD for years 2014-27 and compound annual growth rate (CAGR) in % for from 2019-2027. The market is expected to show constant growth between 2019-2027.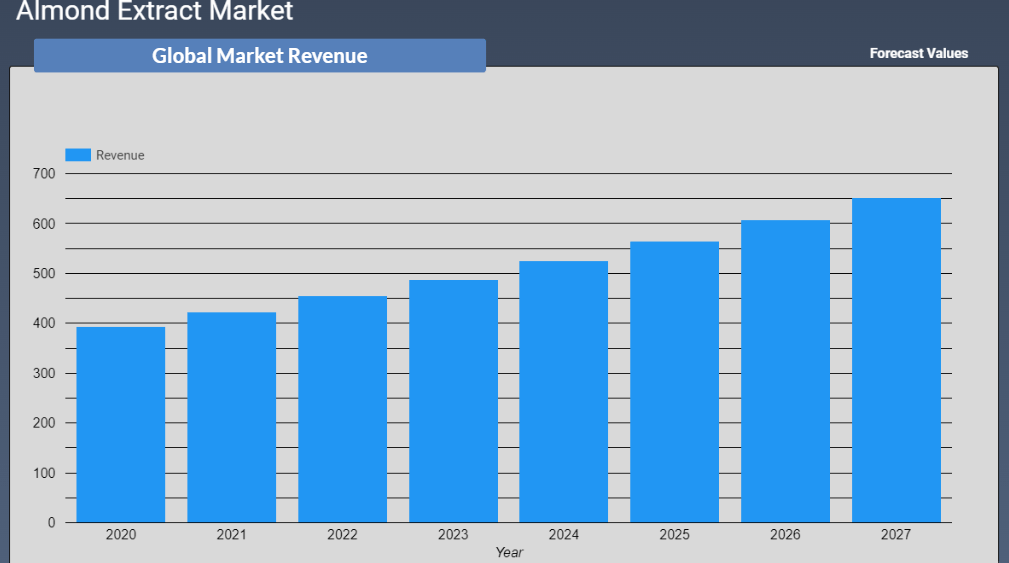 Application & Regional analysis
The report comprises value chain analysis for each of the product segments. Value chain analysis offers in depth information about value addition at each stage. The study includes drivers and restraints for Almond Extract Market along with their impact on demand during the forecast period. The study also provides key market indicators affecting the growth of the market. Research report includes major player analysis with shares of each player inside market, growth rate and market attractiveness in different end users/regions. Our study Almond Extract Market helps user to make precise decision in order to expand their market presence and increase market share.
The report provides Almond Extract Market Dynamics ,includes industry growth drivers, challenges, opportunities , risk, constraints as well as threats .Reports also includes Manufacturing Cost Analysis mainly included Raw Materials Analysis, Price Trend of product, Mergers & Acquisitions, Expansion, Key Suppliers of product, Concentration Rate of Almond Extract Market, Manufacturing Process Analysis. Research Report contains Market Effect Factors analysis mainly included Technology Progress, Consumer Trend, External Environmental Change.

Almond Extract Market : Product Type
Pure Extract
Mixed Extract
Almond Extract Market : Application
Almond Extract Market : Competitive Analysis
Report includes accurate analysis of key players with Market Value, Company profile, SWOT analysis. The Study constitutes of following key players in Almond Extract Market :

Nielsen-Massey Vanillas
McCormick & Company
Queen Fine Foods
Waitrose
Simply Organic
Beanilla Vanilla
Geographical analysis of Almond Extract Market :
North America
Europe

France
Germany
Spain
UK
Rest of Europe

Asia Pacific

China
Japan
India
South East Asia

Latin America
Middle East and Africa
Almond Extract Market Report delivers comprehensive analysis of following parameters :
Market Estimates & Forecast from 2022 to 2028

Market Intelligence to consolidate decisions

Market growth drivers, emerging and current market trends

Challenges and Opportunities overview

In-detailed segment & End user/application analysis

Top player Production insight, Revenue (Value), market share, recent developments & future outlook

Supply (Production), Consumption, Export-Import analysis

Covid 19 impact & sustainability strategies in a post-pandemic market
---
Almond Extract Market was valued at around USD 422.72 million in 2021 & estimated to reach USD 701.3132525 by 2028.
Almond Extract Market is likely to grow at compounded annual growth rate (CAGR) of 7.5% between 2022 to 2028.
segment dominated the global market in terms of revenue generation. region is likely to show the highest growth rate between 2021 to 2028.
Yes, the report includes COVID 19 impact on the market.