The Palm Seed Oil is a plant oil acquired from the palm kernel or edible seed of the oil palm fruit. Palm Seed oil is scientifically known as Elaeis guineensis jaq. Palm Seed oil is edible and remains solid at room temperature. It is more saturated than palm oil and coconut oil. Palm seed oil is widely used as confectionery fats and its products are also used in the manufacture of dairy, meat and coconut milk product analogs. Apart from its main usage as frying/cooking oil, Palm seed oil can be used as salad oil. In their powdered form, Palm Seed Oil can be used in multiple application in convenience food preparation. Development of functional food or nutraceutical products from palm micronutrients such as tocotrienol-rich fraction, carotene, squalene and co-enzyme Q10 is also an in-thing. Utilization of the high technology processes would further enhance the nutrition and health benefits, and applications of Palm kernel oil and its micronutrients in the food industry. .
The Palm Seed Oil Market is projected to make a significant growth in the forecasted period due to the various factors. The Palm Seed oil is skin friendly and that's the reason it is usage in cosmetic industry. Growing concerns regarding the harmful side-effects of chemicals present in cosmetics and toiletries are expected to play a major role in promoting palm kernel oil in the Market throughout the forecast span. Moreover, the Market trend is shifting towards the use of naturally obtained cosmetics and personal care products as there are many benefits of it as there is very small amount of chemical present in such products. It is increasing the demand of the palm seed oil in the Market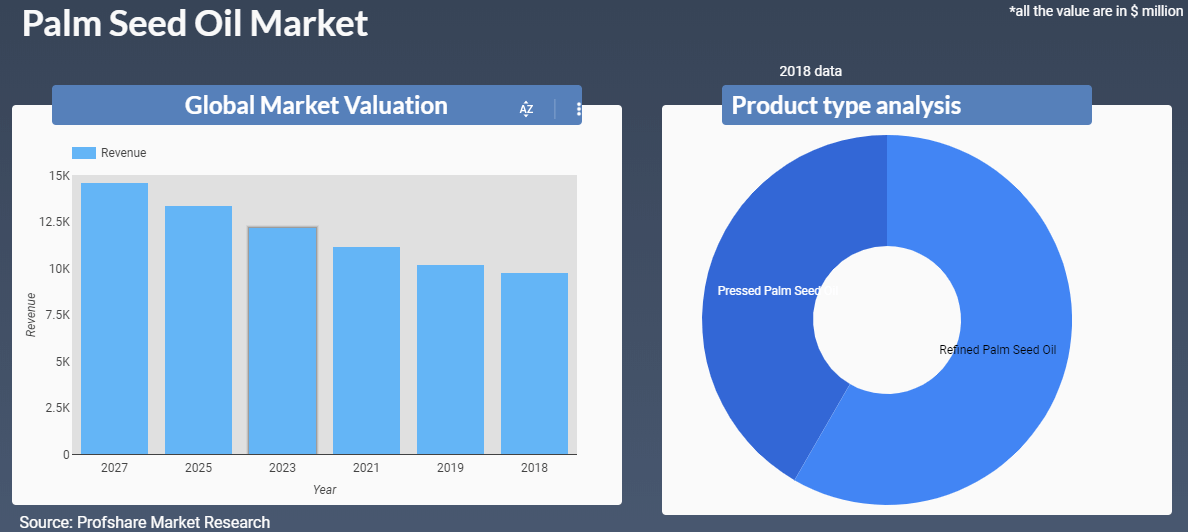 The study covers detail analysis, growth and forecast of the Palm Seed Oil Market. The report includes market analysis on global and regional level. The study covers historical data analysis from 2014 to 2017 and market forecast for 2019 to 2027 based on revenue generated. The study includes market value in terms of revenue in billion USD for years 2014-27 and compound annual growth rate (CAGR) in % for from 2019-2027. The market is expected to show constant growth between 2019-2027.
The report comprises value chain analysis for each of the product segments. Value chain analysis offers in depth information about value addition at each stage. The study includes drivers and restraints for Palm Seed Oil Market along with their impact on demand during the forecast period. The study also provides key market indicators affecting the growth of the market. Research report includes major player analysis with shares of each player inside market, growth rate and market attractiveness in different end users/regions. Our study Palm Seed Oil Market helps user to make precise decision in order to expand their market presence and increase market share.
The report provides Palm Seed Oil Market Dynamics ,includes industry growth drivers, challenges, opportunities , risk, constraints as well as threats .Reports also includes Manufacturing Cost Analysis mainly included Raw Materials Analysis, Price Trend of product, Mergers & Acquisitions, Expansion, Key Suppliers of product, Concentration Rate of Palm Seed Oil Market, Manufacturing Process Analysis. Research Report contains Market Effect Factors analysis mainly included Technology Progress, Consumer Needs Trend, External Environmental Change.

Global Palm Seed Oil Market : Product Type
Pressed Palm Seed Oil
Refined Palm Seed Oil
Global Palm Seed Oil Market : Application
Food Industry
Surfactants
Personal Care
Cosmetics
Agrochemical
Global Palm Seed Oil Market : Competitive Analysis
Report includes accurate analysis of key players with Market Value, Company profile, SWOT analysis. The Study constitutes of following key players in Global Palm Seed Oil Market:

Cargill Inc.
United Palm Oil Industry Public Company Limited
Wilmar International Limited
Sime Darby
Golden Agri Resources Limited
Godrej Agrovet Limited
PT Astra Agro Lestari Tbk
IOI Corp.
London Sumatra
Kulim Bhd
Musim Mas Group
Alami Group
Geographical analysis of Global Palm Seed Oil Market:
North America
Europe

France
Germany
Spain
UK
Rest of Europe

Asia Pacific

China
Japan
India
South East Asia

Latin America
Middle East and Africa
Global Palm Seed Oil Market Report delivers comprehensive analysis of :
Market Forecast for 2019-27
Market growth drivers
Challenges and Opportunities
Emerging and Current Market trends
Market player Capacity, Production, Revenue (Value)
Supply (Production), Consumption, Export, Import analysis
End user/application Analysis
---
Palm Seed Oil Market was valued at around USD 11175.76 million in 2021 & estimated to reach USD 15310.83437 by 2028.
Palm Seed Oil Market is likely to grow at compounded annual growth rate (CAGR) of 4.6% between 2022 to 2028.
Yes, the report includes COVID 19 impact on the market.