Global Non-linear Optical Materials Market is estimated to reach USD 7110.09 million by 2027, growing at a CAGR of 9.5 % between 2019 and 2027
Crystals are the supporters of fresh technology like in photonic industry, electronic industry, fibre optic communications, which depend on materials or crystals such as superconductors, semiconductors, transducers, polarizers, radiation detectors, ultrasonic amplifiers, ferrites, magnetic garnets, solid state lasers, non-linear optics, piezo-electric, electro-optic, acousto-optic, photosensitive, refractory of different grades, crystalline films for microelectronics and computer industries. Crystal growth is an interdisciplinary subject covering chemistry, physics, material science, metallurgy, chemical engineering, crystallography and mineralogy. The search for efficient and new materials in which to carry out investigations on nonlinear optical processes has been very active since the discovery of second harmonic generation (SHG) in quartz crystal by Franken and his co‐workers in 1961.
Nonlinear optical materials use nonlinear dependence of the refraction index on the applied electric field to produce other frequencies. This results in either harmonic generation or frequency shifting. The development of the field was enhanced in parallel with the introduction of lasers, because laser beams possess the energy density necessary to produce nonlinear effects. The clear benefit of nonlinear optical materials to lasers and electro optics became clear in the initial days of lasers, since it enabled expansion of their limited spectral regime. Today, there are a large number of nonlinear optical materials for specific wavelengths, with various damage thresholds, and with various optical characteristics.
The unique characteristics of each nonlinear optical material and its various applications are mutually connected. Nonlinear optics is a branch of optics which studies the nonlinear connections of electromagnetic radiation and the media. The nonlinear contact, which means the matter responds in a nonlinear manner to the incident radiation fields, gives the media a characterization to change the wavelength, or the frequency of the incident electromagnetic waves. However, under high intensity of light, the excited photons in the matrix can be excited to higher energy level, and emitted light with higher energy than the input light energy. This is nonlinear optics, in which fresh waves have been generated.
By product type, the global non-linear optical materials market can be segmented into Second Order Nonlinearity and Third Order Nonlinearity. Second-order nonlinearity and third-order nonlinearity was measured by second- and third-harmonic generation of the glass, respectively. Second-order nonlinearity can be seen in thermally poled SiO2 glass models. The intensity of the second-harmonic generation depends on the concentration of some additives such as OH or TiO2. On the other hand, third-order optical nonlinearity can be available all kinds of glasses. The magnitude of third-order optical nonlinearity mostly depends on the linear refractive index of the glasses.
As per application side, the global non-linear optical materials market can be categorized into Electronics, Automotive and Aerospace. Nonlinear optical (NLO) materials are widely used by electronics industry and automotive technology. In addition, the assembly technology described here can be used for other nonlinear crystal types. As well as for space applications, this method can be used for solid-state lasers in medical technology or materials processing. Parts of the research described here were carried out on behalf of the Federal Ministry for Economic Affairs and Energy within the framework of the R&D project. They have grant numbers 50EE1235 and 50EP1301. The work is part of a joint project between DLR RfM and CNES within the scope of the German-French MERLIN satellite project.
In terms of region, the global non-linear optical materials market is divided into key regions such as North America, Europe, Asia-Pacific, and Rest of the World (RoW). North America accounted for the largest market share in the global non-linear optical materials market. Europe held the second largest market share in the total non-linear optical materials market. This regional market is anticipated to report steady rise in the near future, thanks to the significant rise in the automotive industry. Asia Pacific is expected to be the fastest growing region owing to rapidly growing industrialization and urbanization in India and China. In Asia Pacific, China holds the most prominent market for non-linear optical material due to the ongoing industrialization in this country, which has led to a robust growth in the Aerospace industry in China. Overall, the Asia Pacific non-linear optical materials market is expected to experience a considerable rise in the near future.
The industry is consolidated in nature with the presence of giant global players. This had resulted in increased competition between the manufacturers and the distributors. Key companies in the industry include CASIX, Inc, Cleveland Crystals, Inc, Coherent, Inc, Conoptics, Inc, Cristal Laser SA, Crystal Technology, Inc, Deltronic Crystal Industries, EKSMA OPTICS, Fujian Castech Crystals, Inrad Inc, JDS Uniphase Corporation and Laser Optics. The prominent market players maintain the competitive edge in the global market by spending more on research and development activities to bring innovative solutions for diversified industries. The leading players in the non-linear optical materials Market are striving to bring down the prices further and bring in new innovative formulations into the market.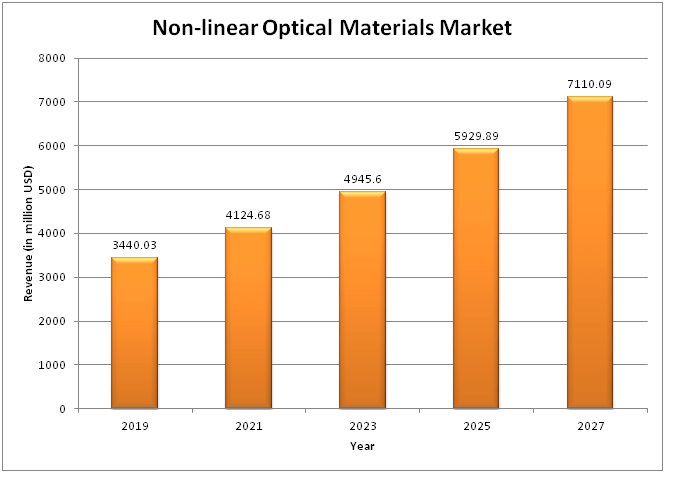 Global Non-linear Optical Materials Market: Product Type
Second Order Nonlinearity
Third Order Nonlinearity
Global Non-linear Optical Materials Market: Application
Electronics
Automotive
Aerospace
Global Non-linear Optical Materials Market: Competitive Analysis
Report includes accurate analysis of key players with Market Value, Company profile, SWOT analysis. The Study constitutes of following key players in Global Non-linear Optical Materials Market:

CASIX Inc.
Cleveland Crystals Inc.
Coherent Inc.
Conoptics Inc.
Cristal Laser SA
Crystal Technology Inc.
Deltronic Crystal Industries
EKSMA OPTICS
Fujian Castech Crystals
Inrad Inc.
JDS Uniphase Corporation
Laser Optics
Geographical analysis of Global Non-linear Optical Materials Market:
North America
Europe

France
Germany
Spain
UK
Rest of Europe

Asia Pacific

China
Japan
India
South East Asia

Latin America
Middle East and Africa
Global Non-linear Optical Materials Market Report delivers comprehensive analysis of :
Market Forecast for 2019-27
Market growth drivers
Challenges and Opportunities
Emerging and Current market trends
Market player Capacity, Production, Revenue (Value)
Supply (Production), Consumption, Export, Import analysis
End user/application Analysis
---
Non-linear Optical Materials Market was valued at around USD 4124.68 million in 2021 & estimated to reach USD 7785.54636 by 2028.
Non-linear Optical Materials Market is likely to grow at compounded annual growth rate (CAGR) of 9.5% between 2022 to 2028.
Yes, the report includes COVID 19 impact on the market.