Global Methacrylate Market is estimated to reach USD 15662.26 million by 2027, growing at a CAGR of 5.5 % between 2019 and 2027
"Methacrylate's" term is comination of both methacrylic acid and its methacrylate ester derivatives. Polymers and plastics that have a wide range of beneficial features can be manufactured using primary chemical name Methacrylates. Scratch resistance, stability, long durability, hardness are some of the characteristic properties of Methacrylate. Consumer exposure to methacrylate monomers from completed products made with methacrylate-based polymers is typically very low, and both oral and dermal exposures under normal use are considered to be insignificant. In some products like cements or glues, resins or other finishes, consumers may be exposed to liquid monomers until the adhesive or coating cures or dries.
For these resources, package labels provide safety information, with instructions to use the product in a well ventilated area and prevent skin contact. Exposure to methacrylate monomers is most probable to happen through worker inhalation and skin contact during production, transportation or use of these compounds. The U.S. Occupational Safety & Health Management has cleared a exposure limit for methyl methacrylate of 100 parts per million (ppm) for an 8-hour time-weighted average, or the average value of an exposure over an 8-hour work shift.
Factors driving the rising use of methacrylate are the application growth achieved through the improved quality of methacrylate monomers and increased demand for Poly methyl methacrylate (PMMA) in moulding compounds and acrylic sheets. Rapidly growing demand for methacrylate in applications, competitive manufacturing costs, and high economic growth rate are the favourable forces driving the market of methacrylate monomers globally. Moreover, the manufacturers of methacrylate are spending a substantial amount of money in R&D and focusing towards its capacity plans. The deficiency of raw material for the production of methacrylate is the major restraint for the market growth. Due to the shortage of raw material, manufacturers are unable to produce the material in bulk.
By product type, the global methacrylate market can be categorized into Solution and Emulsion. Polymerizations of partially neutralized methacrylic acid (MAA) were made in both solution and emulsion systems. Polymerizations of MAA in solution were performed at an overall degree of neutralization ranging between 0 and 1. The rate of polymerization of the acid is found to decrease as the degree of neutralization increases due to increased electrostatic repulsion of the dissociated acid species (anions). The degree of neutralization of the unreacted monomer increases as the conversion increases. A kinetic model based on a copolymerization mechanism is used to describe the reaction behaviour. In some measure neutralized methacrylic acid was also polymerized with styrene in a seeded emulsion system. The reaction rates of both the acid and styrene decrease as the overall degree of neutralization increases. A previously established emulsion copolymerization kinetic model is extended to account for reaction of the anions and used to investigate the overall "terpolymerization" of the acid, anions, and styrene.
As per application side, the global methacrylate market can be segmented into Automotive, Construction, and Electronics. Among these, the automotive segment is projected to grow at the highest CAGR during the forecast period, in terms of value. One of the uses of methacrylate in the automotive industry is mainly for automotive glazing. Evonik Industries supplies PMMA products under the brand name PLEXIGLAS to be used in aircraft passenger cabins, helicopters, submarines, automotive windshields, and as glazing systems for rear side windows, roofs, and rear windows. PLEXIGLAS covering, launched by Evonik, is 40% to 50% lighter than conventional glass, which is of great interest to vehicle manufacturers.
In terms of region, the global methacrylate market is divided into key regions such as North America, Europe, Asia-Pacific, and Middle East and Africa. Asia Pacific is expected to be the largest methacrylate market during the forecast period. Asia Pacific has occurred as the leading customer of methacrylate owing to the rising demand from various applications in the region, increasing disposable income, and easy access to resources. The growth of the methacrylate market in the Asia Pacific region is mainly driven by China, which is going substantial growth fuelled by the rising investments in the infrastructure required for establishing manufacturing facilities for methacrylate in the country.
Rapidly rising demand for methacrylate in applications, high economic growth rate and competitive manufacturing costs are the favourable forces driving the market of methacrylate in this region. The Chinese and Indian governments have been relaxing the regulations for private investments in various industries such as automotive, construction, electronics, and medical for a few years. Due to these factors, the methacrylate manufacturers are increasing their production capacities in various Asia Pacific countries, thus driving the market. Middle East & Africa is projected to emerge as the second major consumer in the next few years.
Key companies in this market include Evonik Industries, Mitsubishi Rayon Group, Sumitomo Chemical Company Ltd., The Dow Chemical Company, Chi Mei Corporation, Kuraray Group, Asahi Kasei Corporation, LG MMA Corp., Makevale Group, Shanghai Jing-Qi Polymer Science Co. and, Polycasa N.V. Major participants have developed novel manufacturing processes to gain a competitive advantage. For instance, Lucite International has developed Important technology, an entirely novel technique to produce MMA by using carbon monoxide, ethylene, and methanol as raw materials. This technology has significantly improved the operating economies and has also helped reduce the capital investment. Companies are also engaged in strategic initiatives to consolidate their position, which is likely to boost investments in product line extension and capacity expansion.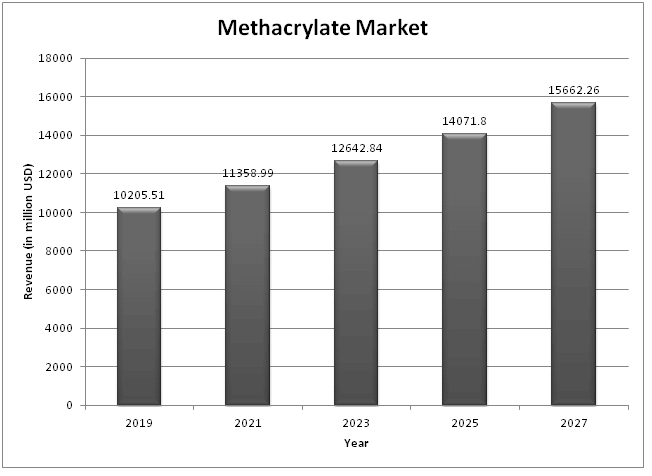 Global Methacrylate Market: Product Type
Global Methacrylate Market: Application
Automotive
Construction
Electronics
Global Methacrylate Market: Competitive Analysis
Report includes accurate analysis of key players with Market Value, Company profile, SWOT analysis. The Study constitutes of following key players in Global Methacrylate Market:

Evonik Industries
Mitsubishi Rayon Group
Sumitomo Chemical Company Ltd.
The Dow Chemical Company
Chi Mei Corporation
Kuraray Group
Asahi Kasei Corporation
LG MMA Corp.
Makevale Group
Shanghai Jing-Qi Polymer Science Co.
Polycasa N.V.
Geographical analysis of Global Methacrylate Market:
North America
Europe

France
Germany
Spain
UK
Rest of Europe

Asia Pacific

China
Japan
India
South East Asia

Latin America
Middle East and Africa
Global Methacrylate Market Report delivers comprehensive analysis of :
Market Forecast for 2019-27
Market growth drivers
Challenges and Opportunities
Emerging and Current market trends
Market player Capacity, Production, Revenue (Value)
Supply (Production), Consumption, Export, Import analysis
End user/application Analysis
---
Methacrylate Market was valued at around USD 11358.99 million in 2021 & estimated to reach USD 16523.68604 by 2028.
Methacrylate Market is likely to grow at compounded annual growth rate (CAGR) of 5.5% between 2022 to 2028.
Yes, the report includes COVID 19 impact on the market.