Global Marigold Oleoresin Market is estimated to reach USD 2368.4 million by 2027, growing at a CAGR of 4.3 % between 2019 and 2027
Global marigold oleoresins market is expected to grow significantly, owing to the rising demand for natural aroma and flavour in food. Marigold Oleoresin is a dark brown gluey liquid extracted from marigold. Marigold has history dating back to Aztec times was considered a magical and religious flower. Even till date in present time, it is widely used to decorate houses and its garlands offered to gods in Indian culture. But Marigold offers effective medical properties as well. It contains anti-inflammatory, antifungal & antibacterial compounds as it is rich source of Xanthophyll called lutein. Lutein is an oxycarotenoid present in Marigold extracted oleoresins and is an effective antioxidant.
The smaller proportion of other constituents are zeaxanthin, fatty acids such as linoleic acid, oleinic acid, palmitic acid Lutein esters, tocopherol (α, β, γ, δ). Lutein is a natural food colorant used in beverages, confectionery products, dairy products, cereals, eggs, sauces, desserts, processed fruits, frozen products. Marigold oleoresin is widely used in the pharma industry because of its medicinal attributes. Lutein is beneficial for treating AMD i.e. Age-related Macular Degeneration & improving eye health as it neutralizes free radicals. This yellow pigment is well known for its antioxidant & anti-cancer activities. It also has antiseptic properties and used in treatment of acnes and burns. It is used in animal feed particularly in poultry i.e. for imparting colour to the egg-yolks.
The demand for marigold oleoresins is increasing worldwide, owing to their microbial advantages, uniformity in flavour and pungency, ease of storage, and transport. The global market for marigold oleoresins is poised to surge exponentially in the forthcoming years. Major drivers propelling the growth of marigold oleoresins market are the increasing health consciousness among consumers, the rising consumer preferences for natural ingredients in fragrance, beauty products, medicines, and food. However, the increasing prices of products with high quality are expected to hamper the growth of the market to an amount in the near future.
By product type, the global marigold oleoresin market can be segmented into Food Grade and Medicine Grade. Marigold Oleoresin Food Grade is a liquid of natural pigment that is bright yellow in colour and extracted from the pellet of the marigold. This low residual solvent functions as a colouring agent and food additive, and promotes oxidation resistance and stabilization. It is used to produce better pigmented eggs, and for colouring bakery products, juices, mustard, pastas, vegetable oils, and other foods requiring a marigold-like colour without altering the taste. For medicine grade purpose it is used for improving eye health, antiseptic for treating burns & acnes, skin care & topical products, multi-vitamin medicinal formulations.
As per application side, the global marigold oleoresin market can be categorized into Food & Beverages, Pharmaceuticals, and Cosmetics. Among all of the segments, food and beverages segment is the leading segment and expected to contribute highest revenue over the forecast period. Food and beverages segment can be sub-segmented into food industry include confectionery, snacks products, noodles, sauces, etc. and beverages industry include soups, ready to drink juices and canned beverages. The growing food & beverages sector, especially in Asia Pacific, is predicted to boost the market. Rising consumer awareness regarding the health benefits associated with the product has prompted pharmaceutical manufacturers to focus on the incorporation of marigold oleoresin extracts for formulating drugs. The various health benefits of the product coupled with increased product demand for drug formulations are factors projected to drive the market over the forecast period.
In terms of region, the global marigold oleoresin market can be divided into key region such as North America, Europe, Asia-Pacific, and Rest of the World (RoW). Among all of these, Europe holds the largest market share in the global marigold oleoresins market followed by Asia-Pacific. The high inclination for natural ingredients and extracts used in the preparation of a wide range of food products are driving the market for marigold oleoresins in Europe. Production of marigold oleoresins is much more profitable than the production of raw materials alone in this region.
Asia-Pacific is contributing a decent revenue share to the oleoresins market owing to the rising preference of natural ingredients in this region. Countries such as China and India prefer a variety of spices in meat and vegetable preparations. As a result, spice oils have been gaining a huge demand in this region. Moreover, increasing population and rising per capita disposable income are few of the key drivers driving the marigold oleoresins market in this region. North America is also expected to witness increasing demand from the growing pharmaceutical and food processing industry. Moreover, shift in consumer preferences towards a healthy alternative has driven the market growth of marigold oleoresin over the forecast period.
Major companies have established their dominance in the market by higher integration throughout the value chain. These companies also have long-term contracts with raw material suppliers as well as research institutes for product innovation. Companies are focusing on increasing their production capacities by expanding their operations to different regions. The key companies in the market are Ozone Naturals, CCGB, Bolise Co. Ltd, Aturex, Plant Lipids, DeYuan Bio-Tech Co. ltd, Olive Lifesciences, Maker Group, Zhongjin Natural Pigment Co. Ltd, and Chenguang Biotech Group Co. Ltd.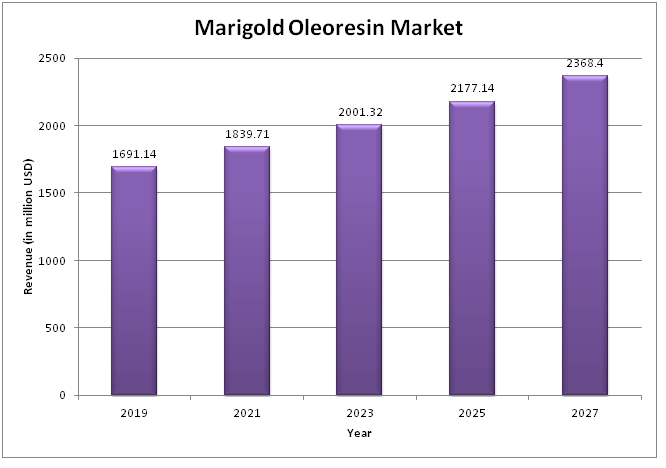 Global Marigold Oleoresin Market: Product Type
Food Grade
Medicine Grade
Global Marigold Oleoresin Market: Application
Food & Beverages
Pharmaceuticals
Cosmetics
Global Marigold Oleoresin Market: Competitive Analysis
Report includes accurate analysis of key players with Market Value, Company profile, SWOT analysis. The Study constitutes of following key players in Global Marigold Oleoresin Market:

Ozone Naturals
CCGB
Bolise Co. Ltd
Aturex
Plant Lipids
DeYuan Bio-Tech Co. Ltd.
Olive Lifesciences
Maker Group
Zhongjin Natural Pigment Co. Ltd.
Chenguang Biotech Group Co. Ltd.
Geographical analysis of Global Marigold Oleoresin Market:
North America
Europe

France
Germany
Spain
UK
Rest of Europe

Asia Pacific

China
Japan
India
South East Asia

Latin America
Middle East and Africa
Global Marigold Oleoresin Market Report delivers comprehensive analysis of :
Market Forecast for 2019-27
Market growth drivers
Challenges and Opportunities
Emerging and Current market trends
Market player Capacity, Production, Revenue (Value)
Supply (Production), Consumption, Export, Import analysis
End user/application Analysis
---
Marigold Oleoresin Market was valued at around USD 1839.71 million in 2021 & estimated to reach USD 2470.242151 by 2028.
Marigold Oleoresin Market is likely to grow at compounded annual growth rate (CAGR) of 4.3% between 2022 to 2028.
Yes, the report includes COVID 19 impact on the market.