Global Marijuana Market is estimated as USD 11.92 billion in 2017 and expected to reach 180.32 billion by 2026 at healthy CAGR of 35.23%. United States at the retail level to soar by roughly 30% and rec sales are expected to surpass medical this year for the first time ever. Medical marijuana sales also are expected to buoy the industry, fueled in part by the expected launch of MMJ markets in Maryland and Hawaii. At the same time, fledging medical marijuana programs in states such as Illinois, Nevada and New York could post impressive growth in recent years.

Cannabis are commonly called as Marijuana, which is a flowering herb. It has psychoactive and physiological effects when inhaled or ingested. Marijuana offer treating symptoms of illness and other medical conditions with use of extract of Marijuana plant or complete unprocessed Marijuana plant. The awareness of benefits associated with Marijuana is growing among medical professionals and medical research associations.The potency and THC level of same plant may not be always consistent and hence across the plants with different cultivars. THC level of cannabis is highly dependent on the way plant has grown. Marijuana, hash or hashish are the preparations produce by the Cannabis sativa species of the Cannabis plant category. Sinsemilla is the unfertilized flowering tops of female plant with high level of THC.

Marijuana will soon become a commodity crop like the corn industry which means a race to the bottom on the pricing is almost certain. Growers that won't distinguish on brand will be forced to move cultivation to low cost markets across globe and export out. It is observed that recently various manufacturing companies planning to open or move cultivation to the likes of North Africa, Balkan States, and West-Indies etc. For ex, the Sri-Lankan government has taken the lead role with the launch of an official cannabis plantation to supply the US medical market and it will produce more than 25 tons a year under military protection.

On application side Medical cannabis has been a legal treatment option across globe for certain health conditions, including arthritis. The Arthritis Society is a leading advocate for research into the use of cannabis for medical purposes. One the most intriguing potential applications for Marijuana is cancer treatment. Marijuana may counter the side effects of chemotherapy, but oncologists globally are researching whether Marijuana plant can be used as sure medicine to treat cancer . Technological advancement leading to replace Rick Simpson Oil treatment for cancer which has been carried out with large pool of patients. According to study cannabinoids can be most effectively used against cancer if combined in a such manner that allows it to act synergistically with one-another.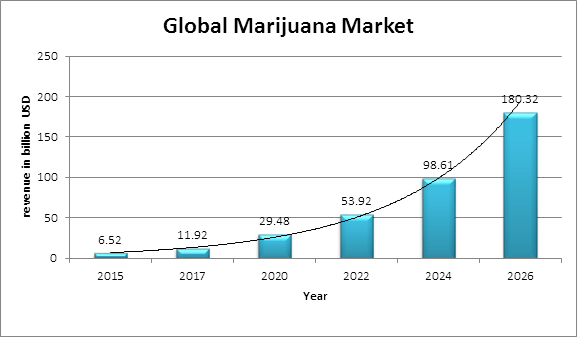 Global Marijuana Market : Product Type
Global Marijuana Market: Application
Chronic Pain
Mental Disorders
Cancer
Global Marijuana Market : Competitive Analysis
Report includes accurate analysis of key players with Market Value, Company profile, SWOT analysis. The Study constitutes of following key players in Global Marijuana Market :
Canopy Growth Corporation
GW Pharmaceuticals, PLC
Marijuana, Inc.
United Cannabis Corporation
Cannabis Sativa, Inc.
GreenGro Technologies
Aurora Cannabis
United Cannabis Corporation
Cara Therapeutics.
GBSciences, Inc.
Lexaria Bioscience Corp.
Aphria (Liberty Health Sciences)
American Cannabis Company, Inc
HAPA Medical Holding B.V.
Geographical analysis of Marijuana Market:
North America
Europe

France
Germany
Spain
UK
Rest of Europe

Asia Pacific

China
Japan
India
South East Asia

Latin America
Middle East and Africa
Global Marijuana Market Report delivers comprehensive analysis of :
Market Forecast for 2018-26
Market growth drivers
Challenges and Opportunities
Emerging and Current Market trends
Market player Capacity, Production, Revenue (Value)
Supply (Production), Consumption, Export, Import analysis
End user/application Analysis
---
Marijuana Market was valued at around USD million in 2021 & estimated to reach USD by 2028.
Marijuana Market is likely to grow at compounded annual growth rate (CAGR) of % between 2022 to 2028.
Yes, the report includes COVID 19 impact on the market.