The global mobile health (mHealth) market is valued at USD 20.3 billion in 2016 and is expected to reach USD 336.1 billion by the end of 2026, growing at a CAGR of 32.4% between 2016 and 2026. Mobile health (mHealth) is a general term used for medicine and health care over mobile phones, tablets, PDAs, computers and other wireless technology in medical care. eHealt is a branch of healthcare. Mobile health technology performs functions, such as obtaining vital signs, delivering information to doctors and allowing remote exams, on tablets, cell phones and other portable devices.

The primary function of Mobile health the use of mobile phones and communication devices for obtaining information immediately to diagnose illnesses, track diseases and provide timely information to educate consumers about preventive health care services especially in underserved countries. Mobile health is also used for disease surveillance, treatment support, epidemic outbreak tracking and chronic disease management and is already being used to monitor a variety of conditions including heart disease, diabetes, autism, insomnia and asthma.

Mobile health devices and wearable technologies are becoming increasingly popular as the number of individuals using these devices to monitor and manage their health is predicted to grow rapidly to over 1 billion by 2018. The most common applications for mobile health include education and awareness, diagnostic and treatment support, disease and epidemic outbreak tracking, healthcare supply chain management, remote data collection, remote monitoring, healthcare worker telecommunication and training, telehealth / telemedicine, chronic disease management.

Health care providers use mobile health technology to access clinical information , collaborate with care teams e.g., with secure text messaging, communicate with patients, offer real-time monitoring of patients and provide health care remotely also called telemedicine. Patients use mobile health technology to track their own health data through mHealth apps, access their clinical records through mobile-enabled patient portals and communicate with their providers e.g., through HIPAA compliant e-mail and secure text messaging. Mobile health technology is used for training and education relative to health issues to medical students and interns working in remote communities.

North America is the largest mobile health (mHealth) market followed by Europe and Asia Pacific. Asia Pacific will remain as the fastest growing market in forecast period. Mobile health market is growing rapidly due to increase in awareness of diseases, higher penetration of mobile platform, increasing demand for better healthcare services, increasing demand for better healthcare services, government initiatives for digital health, stringent regulations regarding patient safety and patient care, low cost and convenience of medical devices, technological innovations, integration of wireless technologies, affordability of smartphones, aging population and increasing disposable income.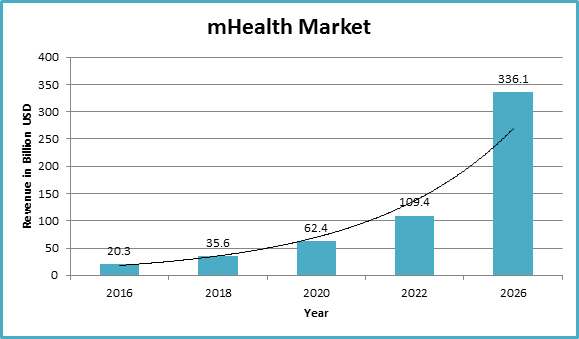 MHealth Market : Product Type
MHealth Market: Application
Cardiovascular diseases
Diabetes
Respiratory diseases
Neurological diseases
MHealth Market : Competitive Analysis
Report includes accurate analysis of key players with Market Value, Company profile, SWOT analysis. The Study constitutes of following key players in Global MHealth Market:
AT&T
LifeWatch
• Boston Scientific
Omron Healthcare
Philips Healthcare
Sanofi
Bayer Healthcare
Johnson & Johnson
Masimo
Geographical analysis of MHealth Market:
United States
Europe
China
Japan
South Korea
India
MHealth Market Report delivers comprehensive analysis of :
Market Forecast for 2018-26
Market growth drivers
Challenges and Opportunities
Emerging and Current Market trends
Market player Capacity, Production, Revenue (Value)
Supply (Production), Consumption, Export, Import analysis
End user/application Analysis
---
MHealth Market was valued at around USD million in 2021 & estimated to reach USD by 2028.
MHealth Market is likely to grow at compounded annual growth rate (CAGR) of % between 2022 to 2028.
Yes, the report includes COVID 19 impact on the market.