The global liver disease treatment market is valued at USD 10.7 billion in 2016 and is expected to reach USD 31.2 billion by the end of 2026, growing at a CAGR of 11.3% between 2016 and 2026. Liver disease is any disturbance of liver function that causes illness. Liver disease is also referred to as hepatic disease. Liver disease is a broad term that covers all the potential problems that cause the liver to fail to perform its designated functions. There are different causes of liver disease which include alcohol abuse, cirrhosis, cells inflamentation e.g. hepatitis, obstruction of bile flow e.g. cholestasis, blood flow to the liver may be compromised and many more.

Liver disease treatment market is rapidly growing due to aging population, excessive alcohol consumptions, changing lifestyle patterns, government and NGO awareness programs, increasing consumption of unhealthy fast food diets, increasing prevalence of liver diseases and rising investment in research and development. Strict government regulations for drug approval, high cost involved in R&D increases prices of drugs, side effects happened while liver disease medications are some of the factors that are acting as barriers for the growth of this market.

North America is the largest liver disease treatment market followed by Europe and Asia pacific. Well-established healthcare infrastructure, high level of awareness, higher healthcare spending and developed regulatory framework are main factors for growth of liver disease treatment market in North America and Europe. Asia Pacific will remain as the fastest growing market in forecast period due to the high-untapped opportunities, growing medical tourism industry, supportive government initiatives, ncreasing disposable income and improving healthcare infrastructure and increasing investments by manufacturers.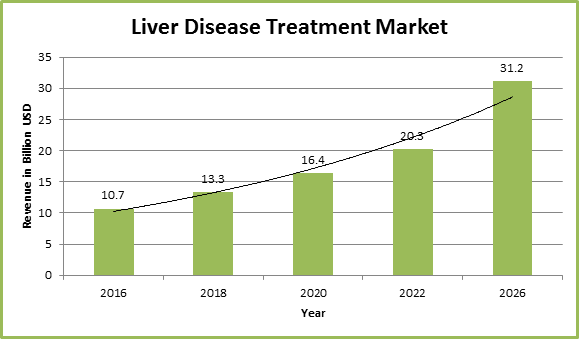 Liver Disease Treatment Market : Product Type
Anti-Rejection Drugs/Immunosupressants
Chemotherapy Drugs
Targeted therapy
Vaccines
Liver Disease Treatment Market: Application
Liver Disease Treatment Market : Competitive Analysis
Gilead Science
Bayer AG
AstraZeneca
GlaxoSmithKline
Merck & Co
Sanofi
Pfizer
F. Hoffmann-La Roche
Novartis AG
Johnson &Johnson
Geographical analysis of Liver Disease Treatment Market:
North America
Europe
China
Japan
Rest of Asia
Liver Disease Treatment Market Report delivers comprehensive analysis of :
Market Forecast for 2018-26
Market growth drivers
Challenges and Opportunities
Emerging and Current Market trends
Market player Capacity, Production, Revenue (Value)
Supply (Production), Consumption, Export, Import analysis
End user/application Analysis
---
Liver Disease Treatment Market was valued at around USD million in 2021 & estimated to reach USD by 2028.
Liver Disease Treatment Market is likely to grow at compounded annual growth rate (CAGR) of % between 2022 to 2028.
Yes, the report includes COVID 19 impact on the market.