Global Blu Ray Players Market is valued at USD 1.31 billion in 2017 and is expected to reach USD 4.16 billion by the end of 2026, growing at an impressive CAGR of 13.7 % between 2018 and 2026.
Blu-ray is major High Definition disc formats that delivers higher quality viewing and listening experience than DVD format. Blu-ray technology was introduced with intention of replacing DVD globally, but still DVD format is being used. DVD format has its own limitation such as lower storage space, video resolution and less serving video experience. Single layer DVD can store upto 4.7 GB of data while Blu-ray has way higher storing capacity of 25 GB. Comparison based on laser technology shows that DVD players use 650nm wave length to read DVD discs with use of Red laser. Blu-ray player use red laser with 405nm wavelength hence offers better quality than DVD format.
In Blu-ray Player red laser penetrate through grooves on bottom layer of disc to read the content. As the grooves on the disc are very compact it allows to store more data when compared with DVD format. Blu-ray has protective layer on data side to make it scratch resistance to increase life of disc and disc plyer. In today's world viewing experience that matters most for any viewer. Technologically viewing experience is directly related to image resolution offered by disc players. DVD format can offer standard resolution of 480p (pixel) of solution that can be extended upto 520p while blu-ray technology offers image resolution of 1080p that leads to crispy video display.
Blu-ray Player Market is growing at impressive growth rate primarily due to enhanced video and audio quality. Compatibility of Blu-ray Player technology also dominantly responsible for market growth. In DVD player there is no way you could ever play Blu-ray disc but on other side Blu-ray players can operate backwards means you can play DVD as well as Blu-ray disc with it. Blu-ray Player Market is not only driving by Hardware part but software also contributed to growth of market. Nowadays many computer and laptops coming with Blu-ray player and software installed , if software is not installed you can buy it at very reasonable cost.
Geographical analysis of Blu Ray Players Market is includes regions such as Asia Pacific, North America, Europe and Rest of the World. It offers the in detail analysis of Market with market share, volume , growth , opportunities and challenges in respective regions. North America holds the highest market shares while Asia-Pacific is second highest Blu Ray Players Market revenue wise. Asia-Pacific market is growing at very fast rate of 18 % while North Americas growth rate is 16 % . Digital urbanization, high population count, increased in disposable income are the factors majorly contributing to growth in Asia-Pacific regions. Europe market is also showing impressive growth in revenue in recent years as many manufacturing plants have been setup in Europe. Middle east, South America and Africa market is expected to grow at constant rate during forecasted period.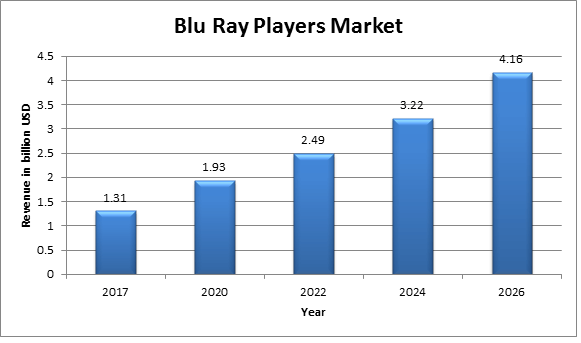 Blu Ray Players Market: Product Type
Blu Ray Players Market :Disc Type
Blu Ray Players Market :Application
Consumer Electronics
Automobiles
Entertainment
Global Blu Ray Players Market: Competitive Analysis
Report includes accurate analysis of key players with Market Value, Company profile, SWOT analysis. The Study constitutes of following key players in Global Blu Ray Players Market:

BMW Motorrad International
Terra Motors Corporation
Jiangsu Xinri Electric Vehicle Co. Ltd.
Vmoto Limited
Boston Scientific
Mahindra GenZe
Geographical analysis of Blu Ray Players Market:
North America
Europe

France
Germany
Spain
UK
Rest of Europe

Asia Pacific

China
Japan
India
South East Asia

Latin America
Middle East and Africa
Blu Ray Players Market Report delivers comprehensive analysis of :
Market Forecast for 2018-26
Market growth drivers
Challenges and Opportunities
Emerging and Current market trends
Market player Capacity, Production, Revenue (Value)
Supply (Production), Consumption, Export, Import analysis
End user/application Analysis
---
Blu Ray Players Market was valued at around USD million in 2021 & estimated to reach USD by 2028.
Blu Ray Players Market is likely to grow at compounded annual growth rate (CAGR) of % between 2022 to 2028.
Yes, the report includes COVID 19 impact on the market.