Global Quantum Dot Display Market is valued at USD 2.23 billion in 2017 and is expected to reach USD 11.86 billion by the end of 2026, growing at a CAGR of 20.4 % between 2018 and 2026.
Quantum Dot Display (QLED) the name because TVs use quantum dot technology on LED panel, QLED is a combination of Quantum dot and LED Quantum dot+ LED= QLED. This quantum isn't actually the new technology, it's the fourth generation of quantum dot first introduced in 2015. Quantum dot Display works by placing layer or film of quantum dots in front of regular LED backlight panel. This layer is made up of tiny particles each tiny particle emits its own individual color depending on its size i.e. in between 2 and 10 nanometers. Different colors on display are due to the size of the particles as it dictates the wavelength of light that it emits. Quantum dot display is nothing but the display device that uses quantum dots(QD) with semiconductor nanocrystals which can produce monochromatic red, green and blue light.
On the basis of technology Display technologies segmented As QLED and QDEF. In QLED in front of regular backlight panel layer or film of quantum dots is placed and quantum dot technology on an LED panel. OLED (organic light emitting diode), QLED is a superior technology with a number of advantages over OLED. The lighting is really what sets the two technologies apart. On the basis of component types use Display segmented as Glass tube, LED and Film. Glass tubes are cylindrical hollow-wares, its shape combined with the huge variety of glass types such as borosilicate, find, alumino silicate, soda lime, lead or quartz glass. It also allows the use of glass tubing in many applications. LED is a type of semiconductor component, its photoelectric properties convert electrical energy into light.
Quantum Dot Display used widely in manufacturing Television, Wearable Devices, smartphones, and medical devices. QLEDs exhibit unique characteristics that surpass other types of LEDs, such as high color purity, high brightness with low turn-on voltage, high resolution RGB array pattering, and ultrathin form factors. QLEDs can be successfully applied to more advanced devices such as flexible white QLEDs. Unconventional QLEDs each technology provide many opportunities in novel electronics and optoelectronics. QLEDs can be successfully integrated with various wearable electronic devices, including wearable sensors, data storage modules, touch interfaces, and flexible wireless data transfer devices for fully integrated systems.
North America is estimated for the largest and most lucrative market share for Quantum Dot Display market globally and the Asia Pacific is projected to grow at fastest rate due to radical growth in rapid industrialization in countries such as China and India. Asia Pacific region is expected to grow at the highest CAGR during forecast period. Global Quantum Dot Display market is highly concentrated and competitive in nature due to the presence of large manufacturers operating in it included LG, Sharp, CSOT, AUO, BOE, Nanosys, Microvision Inc. These all are the key players in Quantum Dot Display Market.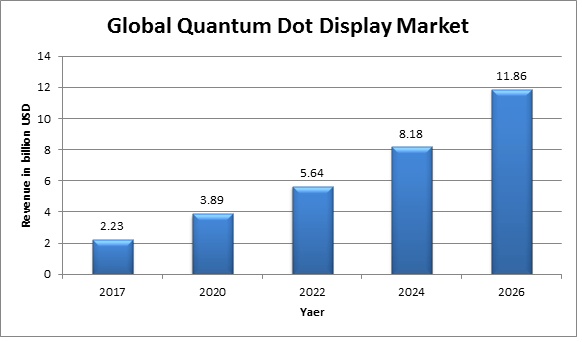 Quantum Dot Display Market : Product Type
Quantum Dot Display Market: Component Type
Quantum Dot Display Market : Application
Television
Wearable Devices
Smartphone
Medical Devices
Global Quantum Dot Display Market: Competitive Analysis
Report includes accurate analysis of key players with Market Value, Company profile, SWOT analysis. The Study constitutes of following key players in Global Quantum Dot Display Market:

LG
Sharp
CSOT
AUO
BOE
Nanosys
Microvision Inc.
Geographical analysis of Quantum Dot Display Market:
North America
Europe

France
Germany
Spain
UK
Rest of Europe

Asia Pacific

China
Japan
India
South East Asia

Latin America
Middle East and Africa
Quantum Dot Display Market Report delivers comprehensive analysis of :
Market Forecast for 2018-26
Market growth drivers
Challenges and Opportunities
Emerging and Current market trends
Market player Capacity, Production, Revenue (Value)
Supply (Production), Consumption, Export, Import analysis
End user/application Analysis
---
Quantum Dot Display Market was valued at around USD million in 2021 & estimated to reach USD by 2028.
Quantum Dot Display Market is likely to grow at compounded annual growth rate (CAGR) of % between 2022 to 2028.
Yes, the report includes COVID 19 impact on the market.