Global Automotive Torque Converter Market is estimated to reach USD 11631.98 million by 2027, growing at a CAGR of 5.4 % between 2019 and 2027
A torque converter can be recognized as a device which acts as a link between the transmission and the engine, letting a vehicle engine to spin separately from the transmission. The growth in the manufacture of automatic transmission (AT) vehicles has directed to vision opportunities for torque converter market over the forecast period for its advantage of reduced use of clutches ensuing to more ease in gear shifts. Thus, the global market place for torque converters in automobile is expected to grow temperately during the forecast period. Such ease in driving is likely to attract more buyers globally for vehicles that have automatic transmission systems.
Other benefits such as less-skill requirements, high-efficiency, ease in driving and lesser records of accidents are some of the factors to opt for automatic transmission systems in medium and heavy duty passenger vehicles and trucks. Therefore, it is expected to observe sturdy growth in torque converter market over the forecast period. Also manufacturers are inclining towards optimizing torque converters to enhance its technology and operating efficiency by reducing weight and size of torque converter, better lock up range, automated manufacturing processes and other. Such emerging procedures in manufacture of torque converter are expected to show solid evolution in torque converter market during the forecast period.
The study covers detail analysis, growth and forecast of the Automotive Torque Converter Market. The report includes market analysis on global and regional level. The study covers historical data analysis from 2014 to 2017 and market forecast for 2019 to 2027 based on revenue generated. The study includes market value in terms of revenue in billion USD for years 2014-27 and compound annual growth rate (CAGR) in % for from 2019-2027. The market is expected to show constant growth between 2019-2027.
The report comprises value chain analysis for each of the product segments. Value chain analysis offers in depth information about value addition at each stage. The study includes drivers and restraints for Automotive Torque Converter Market along with their impact on demand during the forecast period. The study also provides key market indicators affecting the growth of the market. Research report includes major player analysis with shares of each player inside market, growth rate and market attractiveness in different end users/regions. Our study Automotive Torque Converter Market helps user to make precise decision in order to expand their market presence and increase market share.
The report provides Automotive Torque Converter Market Dynamics ,includes industry growth drivers, challenges, opportunities , risk, constraints as well as threats .Reports also includes Manufacturing Cost Analysis mainly included Raw Materials Analysis, Price Trend of product, Mergers & Acquisitions, Expansion, Key Suppliers of product, Concentration Rate of Automotive Torque Converter Market, Manufacturing Process Analysis. Research Report contains Market Effect Factors analysis mainly included Technology Progress, Consumer Needs Trend, External Environmental Change.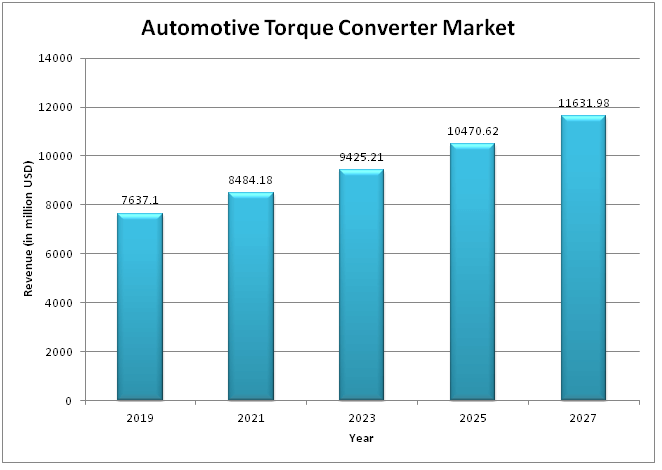 Global Automotive Torque Converter Market: Component
Clutch Plate
Damper
Impeller
Turbine
Stator
Global Automotive Torque Converter Market: Application
Automatic Transmission (AT)
Continuously Variable Transmission (CVT)
Dual-Clutch Transmission (DCT)
Global Automotive Torque Converter Market: Competitive Analysis
Report includes accurate analysis of key players with Market Value, Company profile, SWOT analysis. The Study constitutes of following key players in Global Automotive Torque Converter Market:

EXEDY
Schaeffler
ZF
Valeo
Kapec
Aisin AW
BorgWarner
Jatco
Yutaka Technologies
Allison Transmission
Punch
Aerospace Power Hi-tech
Hongyu
Geographical analysis of Global Automotive Torque Converter Market:
North America
Europe

France
Germany
Spain
UK
Rest of Europe

Asia Pacific

China
Japan
India
South East Asia

Latin America
Middle East and Africa
Global Automotive Torque Converter Market Report delivers comprehensive analysis of :
Market Forecast for 2019-27
Market growth drivers
Challenges and Opportunities
Emerging and Current market trends
Market player Capacity, Production, Revenue (Value)
Supply (Production), Consumption, Export, Import analysis
End user/application Analysis
---
Automotive Torque Converter Market was valued at around USD 8484.18 million in 2021 & estimated to reach USD 12260.10388 by 2028.
Automotive Torque Converter Market is likely to grow at compounded annual growth rate (CAGR) of 5.4% between 2022 to 2028.
Yes, the report includes COVID 19 impact on the market.